A job advert for more than 100 panel members to help develop new technical qualifications has been posted for the Department for Education, with payments expected to top half a million pounds.
It explained the DfE is seeking experienced industry professionals who would like to help shape the "future technical education system", as set out by Lord Sainsbury last summer.
They will serve on "panels of professionals" that will "develop occupational standards for new technical qualifications, as part of flagship reforms to England's post-16-skills system".
The vacancies are for a one year term, with payments set to be £1,000 on a quarterly basis to employers of panellists, and £2,000, again quarterly, for chairs.
With 10 on a panel that would work out at £48,000 for each one.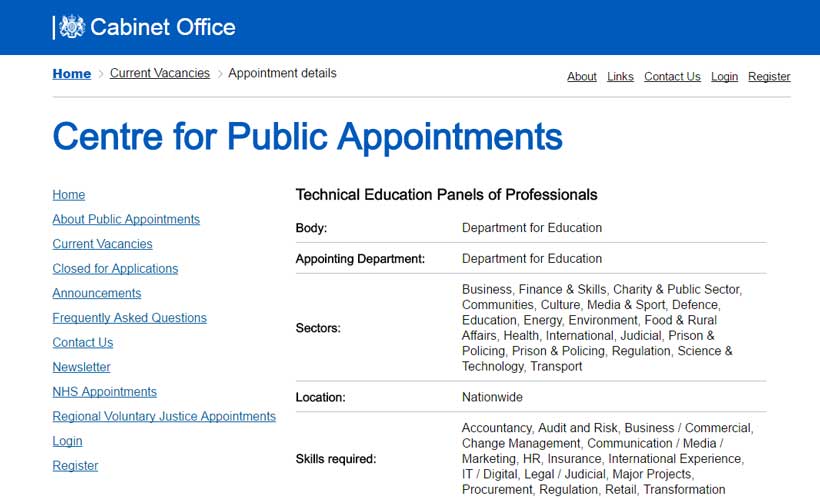 And assuming there will be 11 panels, based on the various industries listed, the annual cost would be just under £530,000.
The sectors covered are digital; legal; finance and accounting; engineering and manufacturing; health and science; construction; childcare and education; agriculture; environmental and animal care; business and administrative; catering and hospitality; and creative and design.
Plans were set out by the government for a radical overhaul of the post-16 vocational qualification system, to replace 20,000 courses with "15 high-quality" technical qualifications, through its Skills Plan published in July, based on wide-reaching recommendations from Lord Sainsbury.
It is understood that four of these routes, which are set to be "primarily delivered through apprenticeships", aren't covered by the new panels of professionals.
The new job advert, posted through the Cabinet Office, added that panels "will be formed in phases", with successful applicants added to an "approved register of industry professionals".
Four of these routes, which are set to be "primarily delivered through apprenticeships", aren't covered by the new panels of professionals
The DfE, it stated, will aim to notify successful applicants "in the spring" of this year.
It explained the reasoning behind the planned payments, which will cover travel expenses that could be high with the location for the new roles only listed as "nationwide".
"These are critical roles that will require successful applicants to spend time away from their day job," the advert states. "In recognition of this, as a panel member, your employer will receive £1,000 on a quarterly basis.
"If you are a panel chair, your employer will receive £2,000 on a quarterly basis.
"These payments will also cover any travel expenses incurred in attending meetings."
It added: "We welcome applications from those self-employed and will receive payment directly to your company bank account for your time commitment."
The advert said the DfE would "broadly expect" each panel to meet between once a month and every six weeks for a year, and that "panel members will undertake some additional work outside of meetings – we would expect this to be up to one day per month".
It added this applies for one-year fixed term appointments, from the point of being allocated to a panel, with "the possibility of an extension".
"This is an exciting opportunity – both for practising industry professionals, or representatives of an industry, through a recognised professional body or trade association – to shape and improve technical education across England," the advert stated.
Applicants should complete an expression of interest form, and email this to employer.panels@education.gov.uk, by February 13.