Apprenticeships minister Robert Halfon has paid his first visit to a career college, attending London South East Colleges' Hospitality, Food and Enterprise Career College in Orpington.
He was treated to afternoon tea by students and praised the college's work in supporting "those from disadvantaged backgrounds to get onto the ladder of opportunity".
In light of this, FE Week has decided to revisit the concept of career colleges, to find out how they are getting along since the first one opened at Hugh Baird College in Merseyside in September 2014.
The area reviews are the reason behind the slow uptake of career colleges, according to the leader of the trust tasked with overseeing their development.
In 2013 Lord Baker, who founded the Career Colleges Trust, laid out his plans for "a new concept in further education".
FE colleges would, he said, launch a network of 40 career colleges over the following four years, which would be designed to focus on training from 14 years old, with each one specialising in a different sector and working directly with employers.
But FE Week has found that only 12 are up and running at present, and three more are set to launch by the end of 2017.
One of these is the Greater London-based Hospitality, Food and Enterprise Career College – part of London South East Colleges – which apprenticeships and skills minister Robert Halfon visited this week.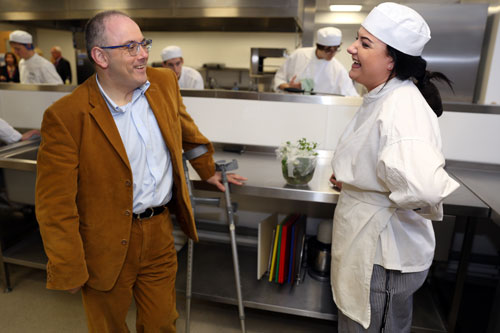 In an exclusive interview with FE Week, the trust's current chief executive Ruth Gilbert ascribed the underwhelming figures to the disruption that was caused when the post-16 area reviews were announced in September 2015.
She explained there was initially a healthy level of interest in the concept, which requires sponsorship from a lead FE college, at an average cost of around £30,000 to £40,000 for the first year – though there is no fixed annual fee as each college has different requirements.
However, providers apparently "retrenched" once their attention was diverted by major structural changes that were in many cases foisted upon them through area reviews.
"We had five [colleges] who paused any planning activity with us, pending the outcomes of their area review," she said.
"Understandably, a lot of FE colleges stopped development activity and were very focused on immediate structure and the politics and administration of the review."
Former education secretary Lord Baker agreed that since 2013 "the FE landscape has changed dramatically" during a "tough period".
He said: "Funding cuts, reforms and area reviews have all put a huge amount of pressure on the sector – meaning that many colleges have not had the opportunity to innovate or invest.
"The trust has a very small team but its impact is far-reaching and I am confident that the movement will continue to flourish and grow."
Coming out of the area reviews could be a positive development for the creation of further career colleges
However, Ms Gilbert was more optimistic that momentum might pick up again after the last of the area reviews are completed in the spring.
The trust plans to take stock of the landscape in July, before the three new career colleges open in September.
She said the college mergers coming out of the area reviews could be a positive development for the creation of further career colleges.
"The fact that you've got group infrastructures now, some of them are talking to us about how career colleges might help them to differentiate themselves, some of them are hoping it will be a catalyst for wider employer engagement," she said.
She pointed to London as a region that had failed to engage with the career colleges initiative, saying: "I'm disappointed in London because, despite being such a hotbed of employment and growth, we've probably found that the hardest area.
"But we're very mindful that London colleges have been going through their own revolution with multiple mergers and a number of quality challenges as well – and criticism nationally for having low levels of apprenticeships."
David Hughes,the chief executive of the Association of Colleges, said it was up to individual colleges to choose whether a career college would be right for them.
He said: "Colleges will make their own decisions about the best partnerships for them to support their learners, so interest and take-up will always vary."
The story so far
Lord Baker launched the concept of career colleges in his 2013 book '14-18: A New Vision for Secondary Education'.
Drawing on ideas from the US, he described career colleges as a pathway providing "general education which is common to all post-14 colleges" alongside "vocational training" to "develop skills for specific occupations".
Initial support for career colleges was provided by two charities, the Edge Foundation and the Helping Hands Trust.
The start of the programme was not problem-free, with one planned career college failing to open because the lead sponsor college was unable to commit to the full requirements for the project. However, no money was lost.
Since 2013, 12 career colleges have been set up across the country, and three more are planned for September this year.
What exactly is a career college?
Each one is effectively a "college within a college", offering practical training and education for 14- to 19-year-olds, and designed for specific industries with direct input from employers.
Their specialisms are wide-ranging and respond directly to skills shortages in the area of the FE colleges that establish them.
Their work-led curriculums are developed by employers and the Career Colleges Trust charity, based on national and international best practice.
Although they were both invented by Lord Kenneth Baker, careers colleges differ from university technical colleges, which are a form of government-backed academy with a prescribed school constitution and a university sponsor.
Career colleges are not directly supported by the Department for Education, but because they are run by FE colleges, learners are funded through the usual public mechanisms available for 14- to 19-year-olds.