FE Week's third Annual Apprenticeships Conference was off to a flying start this morning, after a warm welcome from the BBC's Kirsty Wark to a packed exhibition hall at the International Convention Centre in Birmingham.
Ms Wark (pictured above), who will host for the full three days, set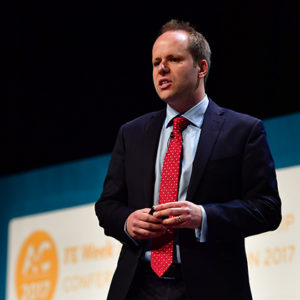 the scene for delegates and looked back on the first ever FE Week ACC in 2015, which she also presented.
FE Week editor Nick Linford (pictured left) followed her onto the stage to walk the audience through a pre-conference questionnaire, designed to test the mood on the government's reforms just over a month before the long-awaited launch of the apprenticeship levy.
The responses suggested more policy optimism amongst delegates than 12 months ago, but concerns about the impact the reforms on small and medium-sized employers, and the overall quality of provision remained very high.
"It's up to you to work together to ensure high quality is maintained," Mr Linford advised the delegates.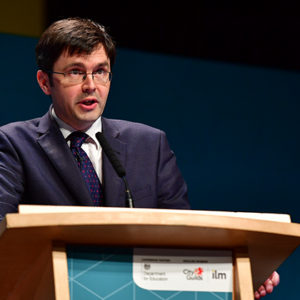 Next up was the Department for Education's director of apprenticeships David Hill (pictured right), who gave an update on the apprenticeship reforms, which he labeled "the most significant change in the funding of FE in a generation".
He began by outlining the four key aims of the apprenticeships programme, which were "to create more apprenticeships", "to meet the skills needs of employers", "to create progression for apprentices", and "to widen participation".
Importantly, during questions after his speech, Mr Hill told providers not to "do a deal at a price you can't deliver quality for".
He also attempted to reassure delegates in the audience on a common point of concern for many, saying that the delayed results of the non-levied allocations for small and medium-sized employers are "imminent" rather than "civil-service imminent".
In discussing the new re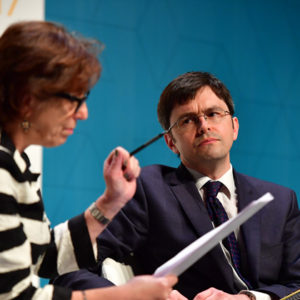 gister of approved training providers, launched last week, he acknowledged that dozens of eligible colleges had unexpectedly not made the cut, but declined to answer a question from the host on whether keeping them off was a mistake.
Do not do a deal at a price you can't deliver quality for
He also said that the RoATP would bring more "quality and rigour" to the apprenticeships market.
Look out for more coverage on the FE Week website and make sure to follow the events on Twitter, using the hashtag #FEWeekAAC2017.