Colleges' status as independent corporations could be at risk under Labour's plan for free lifelong learning, Jeremy Corbyn has said.
The service, which Mr Corbyn compared to the National Health Service, would offer "cradle-to-grave education free at the point of use".
The party leader outlined plans for a National Education Service during his keynote address on the first afternoon of the Association of Colleges annual conference in Birmingham on November 14.
And speaking to FE Week after he came off stage, he revealed that this could see colleges changing their status.
"We feel there's a danger with the independent model of college education that they get too far away from local communities and local education authorities," he said.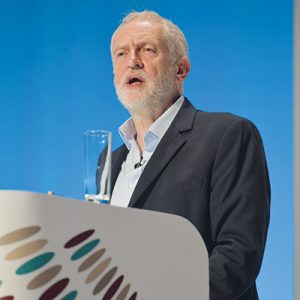 "And what we're looking to is a model that will bring them closer to that, but not removing the important connection with local industry," the Labour leader continued.
He and shadow education secretary Angela Rayner will be working on their proposals "over the next few months", after which they would have a clearer picture of the role colleges could play in the education service, he said.
Mr Corbyn was also asked about colleges' accountability during a Q&A with the audience after his speech.
He harked back to the time before colleges were incorporated, in 1993, when he described them as "very much the production of local education authorities".
"They're not anymore, they're often very, very separate – often far too separate," he said.
But he insisted he is "not trying to destroy the independence that's there".
"It's about having an effective relationship that does maintain the links with LEAs, central government and the employers who are often very involved in the management of colleges," he added.
During his speech Mr Corbyn said the National Education Service would offer free courses to allow people of any age to upskill or retrain at any point, based on the idea that both "the whole of society" and the individual benefit through education.
"It will be a realisation of the fact that every child and adult matters, and that all areas of skill and learning deserve equal recognition," Mr Corbyn told delegates.
The service was one of the Labour party's main FE pledges during this year's general election.
Included was a pledge to scrap upfront fees and advanced learner loans for adult learners wanting to upskill or retrain by increasing the adult skills budget to £1.5 billion.
On the question of funding, posed by conference host Steph McGovern, Mr Corbyn said the cash would come through "increased taxation on corporations and the wealthiest" at a level similar to that in other European Union countries.
Mr Corbyn also asked the chancellor for "investment in infrastructure, new technologies and people" ahead of next week's budget announcement.
"It's no exaggeration to say that education is in a perilous state: funding has been cut year upon year," he said.
"The government must wake up to the damage these cuts are causing to colleges and the entire educational system, the damage it is doing to students' learning, and the damage it is doing to staff morale.
"Next week's budget is an opportunity to break with that damaging record – and it must be taken."
Mr Corbyn spoke about the country's productivity crisis which he said was evidence of the "damaging failure" of the Conservative government's austerity drive.
"Consider the fact that in mid-2017, productivity levels were lower than they were a decade ago, despite the huge technological advance of the last 10 years," he continued.
 "Increasing productivity is not about squeezing out every last drop of energy from working people," he said.
"It's about investing in people's lives, investing in their education, their skills and their futures – as well as the infrastructure and technologies of the future.
"With increased automation in the workplace, we need to be offering more opportunities than ever before for people to take on the jobs of the future.
"In the 21st century, the economies that succeed are those that invest, most of all in people."
FE Week is the premier media partner at this year's AoC Conference. There will be more coverage of the conference in our 16-page supplement sponsored by NOCN, and the next edition of FE Week.
Caption: FE Week senior reporter Jude Burke interviewing Jeremy Corbyn. Inset: Mr Corbyn speaking at conference