Colleges hit by a nationwide cyber attack on FE and higher education providers were today told that "blocks" had been put in place to prevent further problems.
Janet (formerly the Joint Academic Network), which provides more than 18m users in the UK research and education community with high speed connections to the internet, suffered distributed denial of service (DDoS) attacks from Monday.
There are 326 FE colleges in the UK with at least one connection to the Janet network, excluding sixth form and specialist colleges, according to a spokesperson at Jisc, which manages the network.
She said the attacks had resulted in reduced connectivity and disruption for all Janet customers. In a DDoS attack, many sources are used to overwhelm a service with large amounts of network traffic, leading it to shut down and become unavailable to its intended users.
Despite the disruption, Jisc said today that "blocks which have been put in place to stop the attacks are working effectively".
One college affected by the attacks on the Janet network was Stockport College, which tweeted (see below) on Tuesday that it was "experiencing some difficulties with our network provider".
Please bear with us. We are experiencing some difficulties with our network provider, JaNET, which may cause some disruption to our website.

— Stockport College (@stock_college) December 8, 2015
The college also posted a banner (pictured right) on its website, warning of the problems.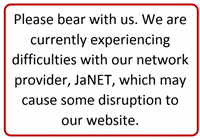 Jisc announced on Tuesday that it had had to reduce public updates via Twitter and its website due to suspicions that the information was being used to inform attacks. One DDoS attack was launched directly on jisc.ac.uk, which meant the website had to be temporarily closed.
Tim Kidd, executive director, Jisc technologies, said: "We understand the importance of connectivity to colleges, universities and other public sector organisations. We are doing everything in our power to ensure normal service in resumed as soon as possible, and in the meantime to minimise any disruption that users of the Janet network may be experiencing. We apologise for any inconvenience caused."
Jisc is carrying out an ongoing investigation into the cause of the attacks and said: "Long term we are already reviewing and improving our systems so that we can reduce the impact of any future attempts on service delivery for our customers."
The Association of Colleges declined to comment on the impact of the network disruption on UK colleges. Stockport College is yet to comment further.