Leeds City College is looking to take on a new apprenticeship subcontractor for up to £400,000-worth of provision, despite a Skills Funding Agency plea to the sector to run more of the training directly.
The college has posted the invitation to tender on the gov.uk 'Contracts Finder' site.
It said that the college "is seeking to recruit an organisation to deliver apprenticeships in the health and social care business sector, with a contract value up to £400,000 of Adult Skills Budget funding".
The closing date for applications is January 4, with the contract scheduled to start on January 25 and run until the end of July 2017.
It comes after SFA funding and programmes director Keith Smith (pictured above) warned at the Association of Colleges (AoC) conference last month, in Birmingham, that colleges should be looking to run more apprenticeships directly.
He told delegates that they would be facing a "huge challenge" when the apprenticeship levy comes into play and allowed subcontractors to received funding directly from the government.
Mr Smith said: "You might be benefiting at the moment from subcontracting bringing money in, but from April 2017 those subcontractors will take that capacity and they will get funded directly through the apprenticeship voucher system."
Leeds City College used the gov.uk site earlier in the year to advertise "a further opportunity to join a select group of subcontractors to deliver high quality apprenticeships in the Yorkshire and Humber region, with a particular focus on the Leeds City Region and Local Enterprise Partnership priorities".
The college said it was looking for four organisations to deliver up to £800,000 of apprenticeships in engineering, ICT, retail, business administration and health and social care at the time, but no one was awarded the contract and the opportunity was closed.
When asked by FE Week on Monday (December 14) why it was using the government tendering site to find apprenticeship subcontractors, David Gaughan, director of apprenticeships, said: "We are required to use the website by the Public Contract Regulations, 2015.
"The college engages with subcontractors in order to better meet customer needs.
"We work with providers who effectively reach priority learners in the community and who can demonstrate positive employment outcomes."
Mr Gaughan added that the college sometimes subcontracted "to access or engage with a new range of customers, to support another provider develop capacity or quality, to provide niche delivery where the cost of developing direct delivery would be unsustainable, or to work with providers that offer sector specific Local Enterprise Partnership priority engagement".
He added that all sub-contractors "will be subject to the college due diligence process".
Commenting on Mr Smith's concerns about subcontracting, Mr Gaughan said: "The college is developing capacity to deliver more apprenticeships across all of its curriculum areas and is already at advanced stages of commencing the delivery of the new Trailblazer apprenticeships as part of the apprenticeship reform programme.
"The college strategy is to reduce reliance on sub-contractors in the future," he added.
It comes after Skills Minister Nick Boles also raised the issue of subcontracting in his speech at the AoC conference.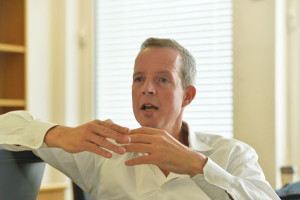 Mr Boles asked college leaders: "Why on earth are you letting these guys nick your lunch?" and challenged his audience to aim for FE colleges to be responsible for two thirds, instead of only one third at present, of all apprenticeship training by 2020.
When questioned this week on the issue of colleges tendering for subcontractors, a spokesperson for the SFA said: "We continue to monitor all lead providers' subcontracting arrangements."