City and Islington and Westminster Kingsway Colleges have announced that they plan to "merge" from August next year.
But while the move is likely to lead to services such as human resources, marketing, finance and IT being shared, governors from both colleges confirmed that the separate identities of the two colleges will be maintained — including their individual names and brands.
A spokesperson for both colleges said that that governors from City and Islington and Westminster Kingsway met on December 9 "to consider options with respect to closer collaboration" and agreed that "merger would best serve the interests of students, staff, and employers".
Andy Wilson, principal of Westminster Kingsway College (pictured above), was asked by FE Week why they were not going down the more traditional merger route of combining brands.
He said: "It could be seen in some ways as a federation, but there is only going to be one corporation, because that's a lot more efficient way to operate.
"The problem with a federation is that you are trying to service more than one corporation which takes a lot of effort.
"So we'll have a single corporation but it will be like a group of colleges.
"We're expecting to get a single allocation. And then at the corporation level we will divide that up between the two colleges. It's early days."
Alastair Da Costa, chair of governors at City and Islington College, said: "I am delighted that the two boards have agreed to merge.
"It is a really positive and bold move which will enable us to meet the needs of Londoners and those students who travel from other parts of the South East, to benefit from the specialist training and education that both colleges deliver."
City and Islington College was rated as 'outstanding' across-the-board by Ofsted in 2008 and Westminster Kingsway received a 'good' overall rating in 2011.
Mr Wilson said: "Essentially the reason for creating a bigger college is so we can save some money on central services and move those resources into continuing to provide excellent teaching and learning and develop new income streams that we're going to require in the future."
He added that he expects services such as human resources, marketing, finance and IT to be shared once the merger has taken place, but staff numbers should remain unaffected.
The spokesperson for both colleges, however, said that "staff will benefit from a collaborative approach to curriculum development, quality and continuing professional development".
Both colleges also said that there are currently no plans to sell any of the buildings of either college.
A shadow board, consisting of governors from both colleges, will be launched in January.
It will look into appointing a chair of the new corporation and other senior management roles in early 2016.
Mr Wilson said: "There will only be one chief executive of the new college, so the shadow board will select one of us.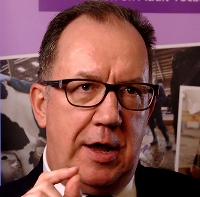 "The selection will take place at the end of January or the beginning of February we hope, but we'll stay in our current positions until the merger takes place at the end of July."
Sir Frank McLoughlin, principal of City and Islington College (pictured right), said: "This is a governor led process.  The shadow board of the new college will have its first meeting in early January and appoint a selection committee which will then appoint the chair of the new college.
"That chair will then join the selection panel to appoint the chief executive officer (CEO) and senior staff before the new college is formed at the start of August.
"Announcements will be made into the New Year on the appointment of the new chair and chief executive."
Based on current figures, the two colleges expect to enrol 26,500 students next academic year, and receive a combined total income of £84m.
The move comes ahead of the colleges' involvement in the London post-16 education and training area review.
The capital was one of six regions that it was announced by the Government on December 3 would be involved in the second wave of area reviews, encompassing 34 general FE colleges and 15 sixth form colleges.
Just like the seven reviews of the first wave, in which 83 colleges are being reviewed, no school sixth forms were listed.