The college boss at the centre of a community dispute about downgraded A-level results has defended keeping an internal review under wraps amid staff and MP outrage.
Students and parents picketed Havering Sixth Form College in August, claiming their teacher-assessed grades had been unfairly changed by leadership.
Following the protest, the college's parent group, New City College, promised a "wholesale" review of whether grade boundaries were applied correctly.
This review concluded around a month ago, and while individual results have been communicated to students, the college has refused to reveal the overall outcome to staff and learners.
Labour MP for nearby Dagenham, Jon Cruddas, said he "finds it concerning" the overall results have not been shared because the situation requires "complete transparency".
Hornchurch and Upminster MP Julia Lopez told FE Week her constituents had "recently" raised concerns with her about the matter.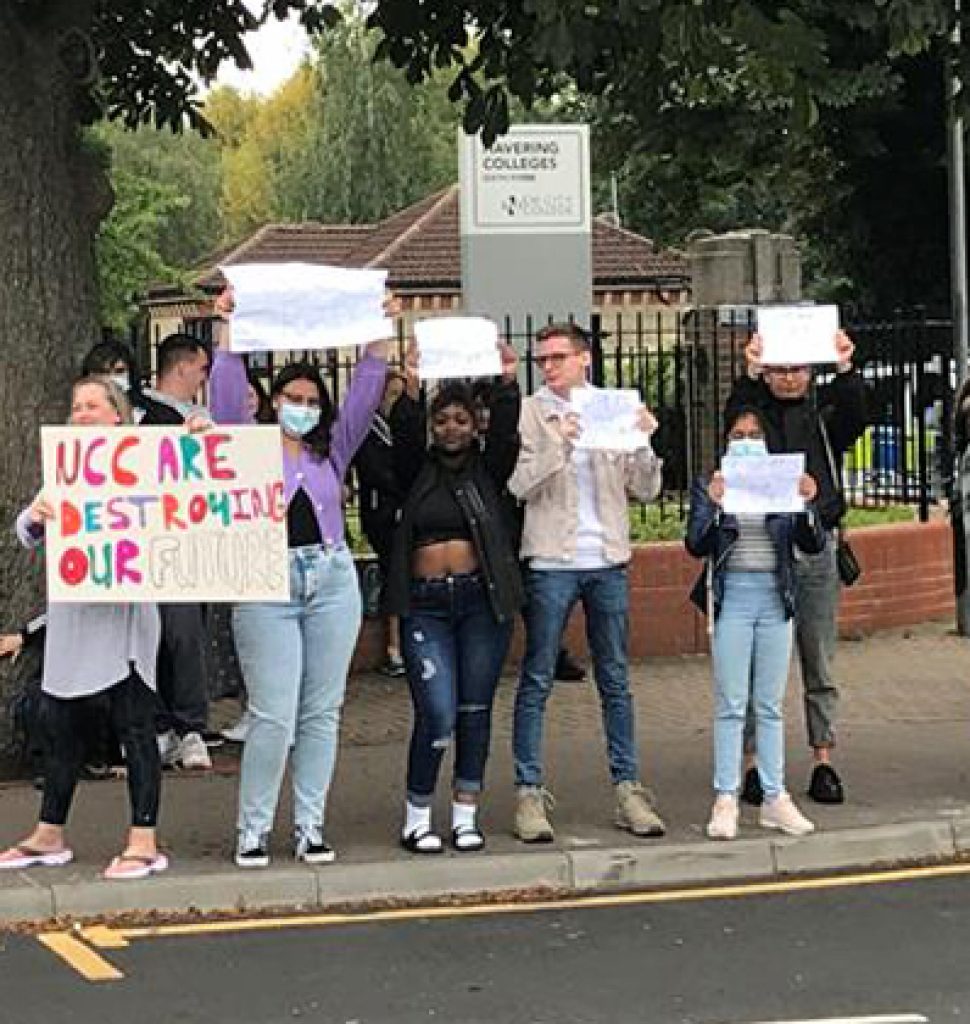 Havering's local National Education Union branch, which said it represents two-thirds of the sixth-form's staff, said teachers had been left to "speculate" on the results.
Speaking to FE Week, New City College's group principal Gerry McDonald said the college did not want to reveal the results of the review as it would affect their "competitive position".
For example, revealing "everything about how many entries we have" would become known to competing providers.
He also said he and Havering Sixth Form College principal Janet Smith held meetings with 120 teachers to answer questions on how the review had been run once it was over.
FE Week has submitted a freedom of information request for the overall findings and McDonald promised a response within the 20-day statutory deadline.
A-level results process explained
After this summer's GCSE and A-level exams were cancelled in January, watchdog Ofqual instructed school and college teachers to set grades for students based on evidence showing the standard at which they were performing. Part of that evidence base included internal tests and mock assessments.
Managers within departments then confirmed these grades.
Ofqual's guidance states the heads of centres, such as principals, were meant to confirm that students' grades are a "true representation of their performance". Exam boards then compared a centre's 2021 grade submission with their performance in 2017, 2018 and 2019, according to the guidance.
This year's exam candidates, if they were unhappy with their grade, were able to appeal in the first instance to their centre and if the centre discovered an error, they would inform the awarding body so it could produce a final grade.
'Unbelievable' teachers and students can only 'speculate' about review results
The Havering dispute arose following accusations the college leadership unfairly altered students' A-level grades set by their teachers.
The NEU's district secretary for Havering, John Delaney, said teachers had been "dismayed at the college's lack of transparency" in how the results of the internal review were decided and how many appeals were successful.
He called it "unbelievable" that teachers and students could only "speculate to the actual results," and said that this was a "professional as much as a public issue.
"The stakeholders have been bypassed: parents, teachers and the whole local community."
The college, he added, "doesn't seem to care".
McDonald defended the college's handling of the results, saying they had run "precisely the same process with A-levels as we did with GCSE English and maths".
The college had entered 4,000 candidates for GCSEs and have only had 50 appeals, but would not reveal the figures for A-level appeals ahead of the college's response to FE Week's FOI request.
On appeals, McDonald said the college had seen a "bandwagon effect… For a particular student, there may have been no final moderation, no change in their original grade whatsoever.
"But they're still appealing it because all their fellow classmates did," and the "vast majority" of students had been able to get into their first- or second-choice university.
While his teachers had not "necessarily agreed with everything, they certainly don't feel they're not informed," he said.
He also argued the college "had a duty" to "ensure there wasn't too much inflation in the system" and it has now been recognised nationally there was "too much inflation" this year.
Ofqual and the Joint Council for Qualifications said they could not comment on whether they were investigating Havering's A-level results.