Students and parents have picketed a London sixth form over accusations the college leadership unfairly altered their A-level grades.
The protesters claim grades handed to students at Havering Sixth Form College were not those set by teachers and were instead changed down by senior managers at the college's parent group, New City College London.
Protest organiser and parent Sarah Bissagar told FE Week her son was predicted an A*, an A and a C and "continually" got top marks in his tests, only to be handed a C, a D and an E.
We're here at @havering6thform at a protest by students and parents against their A-level grades. They are alleging the college management changed their grades AFTER they were set by teachers. Stay tuned to this thread for more 🧵 pic.twitter.com/X84pKhmtwp

— FE Week (@FEWeek) August 16, 2021
She said her son had been applying for jobs and apprenticeships, but employers are not interested now he has got those grades back.
"His mental health is going to suffer massively," she worries.
Bissagar said her son was told after he got his grades back: "The teachers put the marks and they were then amended by the senior level which turned out to be NCC London. 
"These results were meant to be teacher assessments. Why the hell did they change them as they've never taught my son, nor seen him, or know his capabilities," she questioned.
'Why is it our college that loses out?'
This comes after this summer's A-level, GCSE, and a number of vocational results were decided using teacher assessed grades – which led to the number of A-level grades A and above rising to 44 per cent on last year in England. 
Yet this has not been the case at Havering, where protestors have questioned why the college took its performance in 2018/19 into account when deciding this year's results, when the ways students were assessed were so vastly different.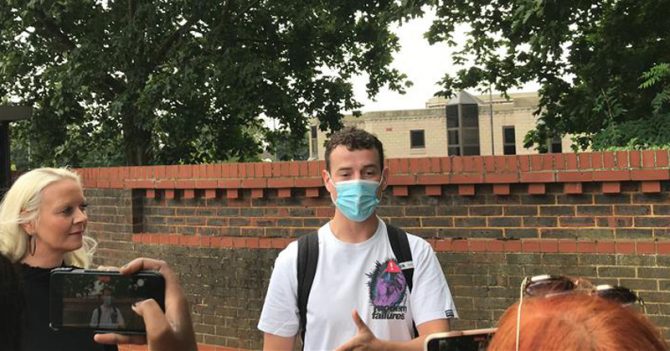 Speaking outside the college today, 18-year-old Matt Cornish asked why, if there has been grade inflation across England, "is it our community's college, with many students from low-income backgrounds, that loses out. We don't understand."
Their protests have already attracted the attention of local MPs Andrew Rosindell and Julia Lopez, the latter of whom was set to meet NCC principal Gerry McDonald today.
Romford MP Rosindell has written to McDonald, in a letter seen by FE Week, that it is "deeply concerning" students in his constituency "have seen their grades downgraded significantly from what their teachers awarded them, putting their whole future at risk".
What was "more concerning" for Rosindell was that those students' teachers were "shocked at the result, indicating new discussions were had with those who know their students best".
In his letter, Rosindell wrote Havering's students should receive the same treatment as students across the country and "should not be penalised for the absence of in-person exams.
"I do not believe students received fair or accurate results for their A-levels," he concluded.
College takes students' protests 'very seriously'
NCC London said that overall, its pass rate for the over 2,000 A-level grades awarded to their students this year rose by 1.3 per cent on 2018/19 – the last year of in-person exams – and the number of B and above grades rose by 1.7 per cent in what they called "a good set of results".
A spokesperson said teachers had set three assessments for each A-level, two of which were taken in March, with a final paper in June, which teachers marked before they all met to ensure scores were consistent. Grades were then generated by applying the 2018/19 boundaries to those scores, before a further moderation meeting where grades were moved up as well as down, the spokesperson said.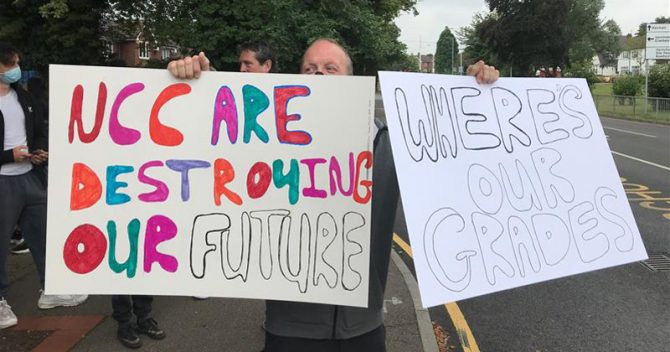 Ofqual's guidance on submitting teacher-assessed grades this summer states exam centres should compare grades for the 2021 cohort to those from 2017, 2018 and 2019 for all A-level subjects combined, "to check that they have not been overly harsh or lenient in their assessment of the 2021 cohort compared to previous years".
NCC says a second moderation process was then undertaken at principal level "to ensure the overall grades awarded were consistent, robust, and in line with historic performance".
The college says the principals' moderation process confirmed the grades from the first moderation stage in most cases, though "in a minority of subjects, grades were adjusted to ensure consistency".
"The process of converting a score into a grade is complex especially for a centre of our scale," they argued, and teachers and students "had concluded the final outcome of the moderation process does not align with their own grade assessment," which is what led to them expressing "dissatisfaction" with the college.
"We take this very seriously and our accelerated appeals process will be concluded next week," the spokesperson said.