Businesses have slammed the government's flagship Kickstart scheme as overly "complex, bureaucratic and slow" – as new figures reveal less than two-fifths of jobs created have been filled. 
Numbers released by minister for employment Mims Davies showed that of the 196,300 Kickstart jobs made available across the UK, just 76,970 (39 per cent) had been started by September 22. 
Sectors heavily impacted by the pandemic, such as hospitality, travel, retail and care, are among those that have struggled most to fill the wage-subsidised placements for the unemployed. 
The north-east – the region with the highest unemployment rate in England – is the area with the lowest take-up.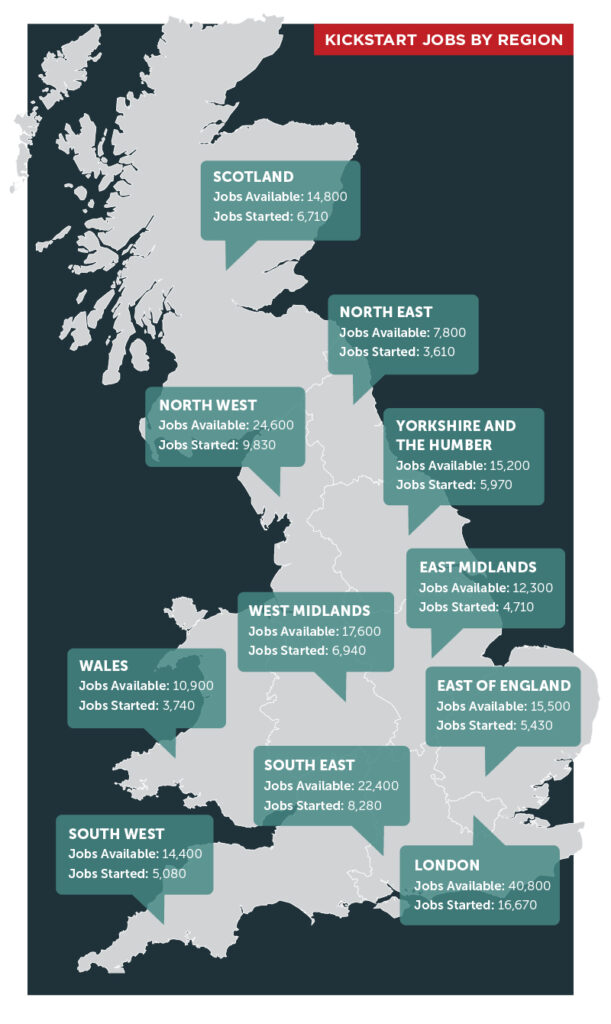 Employers who spoke to FE Week described the process of signing up to the scheme as "clumsy" and surrounded by red tape, which has led to troublesome delays with payments and in some cases caused firms to walk away from it completely. 
There is a cut-off date of December 31, 2021 for young people to start a Kickstart job. It means an average of over 8,500 young people will need to start on the scheme each week between September 22 and the end of December to fill all available roles. 
That is more than double the average number (3,600) taking up a place on the scheme between August and September. 
A target of 250,000 new jobs was set for the £2 billion scheme when it was first announced by chancellor Rishi Sunak in July 2020. 
Federation of Small Businesses national chair Mike Cherry said Kickstart is a "great initiative" but there "remains work to be done". He called for the scheme to be extended into 2022 and eligibility broadened to all ages who are long-term unemployed. 
The Department for Work and Pensions refused to comment on the figures. A spokesperson would only say: "Kickstart continues to deliver vital jobs to help young jobseekers get on track and we're providing local support to employers to help them apply and recruit." 
Kickstart was launched in September 2020 and offers six-month paid work placements to those aged 16 to 24 who are on universal credit and deemed to be at risk of long-term unemployment – with the government picking up their wage bill. 
Initially, small employers had to seek help from "gateway" providers – which include colleges, chambers of commerce and hundreds of private companies – to sign up to the scheme where they have fewer than 30 vacancies. 
Gateway providers in turn receive a £300 per-job placement fee and up to £1,500 for every young person they put through the scheme if they continue to help with job support and training. 
However, a previous FE Week investigation revealed how firms based outside the UK or with no trading history had managed to become approved gateway providers – an issue that led to the DWP scrapping the requirement for small employers to use them from February 3, 2021. 
Many smaller businesses continued to use gateway providers owing to the substantial and complex administrative task the Kickstart scheme encompassed. 
Davies' figures show that social care is the sector with the lowest Kickstart job starts (1,220) compared to available posts (4,800) – a recruitment rate of 25 per cent.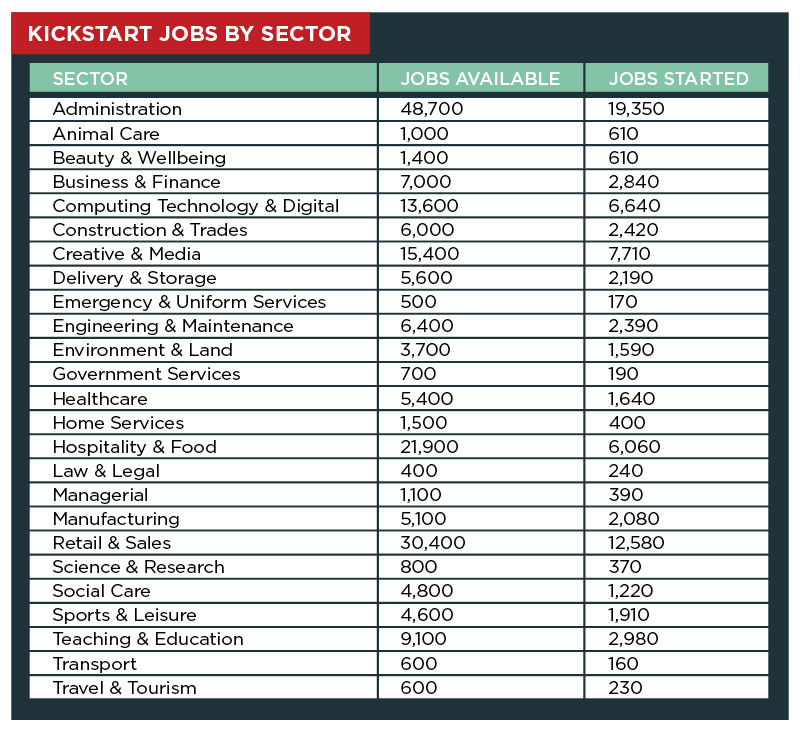 Raj Sehgal, managing director for ArmsCare Ltd (a group of care homes in Norfolk) and a board member of the National Care Association (NCA) which became a gateway provider, has not been impressed with the DWP's handling of the scheme and was "surprised" the figures aren't lower. 
He worked with "somebody quite high up in DWP" on the NCA's submission to onboard Kickstarters, but to "both of our surprise" the bid was initially rejected. 
"We couldn't understand why because I had followed the guidelines and even got somebody from the DWP to look it over and he said it was perfect, yet the powers that be refused it." 
His bid was put through again with "minor tweaks", such as adding full stops to some sentences, and with the help of the DWP official it eventually got through. 
But it took months from start to finish and required "incredible amounts" of information, such as locations, company names and registration numbers, number of Kickstart posts and for each, a job description. "We had to rewrite the book basically, and during the pandemic it was nearly impossible," Sehgal said. 
Philip Price, founder of recruitment firm WorkAdvisor (which has five Kickstarters itself and helped 240 others get on the scheme as a gateway provider), found other small employers "giving up" because of the complexity. 
He told FE Week: "For some employers it is taking months to get approval, which is a big problem for sectors like travel and tourism that needed urgent customer service help.  
"Then once your business is approved, there's a next step where you have to get the job approved. Lots of small employers don't know how to write a good job description that is going to pass DWP credentials. So the job gets refused as well, which is another barrier. 
"Businesses have given up in some cases. It is very bureaucratic." 
UK Hospitality – a trade association for a sector that has filled 6,060 (28 per cent) of the available 21,900 Kickstart jobs – echoed Sehgal's and Price's testimonies. 
"We're hearing reports of poor screening of candidates, an overly slow process of putting candidates forward and businesses having to look elsewhere, or candidates looking elsewhere or losing interest as the process drags on," a spokesperson said. 
"It's particularly bureaucratic for multi-site operators, who have to deal with individual job centres rather than having a central platform."  
The spokesperson added that given the "acute nature" of the staff shortages in hospitality, the low take-up is "concerning and frustrating". 
One example of bureaucracy that faltered Kickstart was shared by Price. He said: "We were approached by a very large travel business, one of the biggest organisations in travel to join the Kickstart scheme, with some excellent jobs. They were declined by the DWP because of a very specific tax situation. They would have been a brilliant Kickstart employer."  
Price also said there were delays to payments for his Kickstart youngsters when they were first hired in April, but this issue was eventually fixed by the DWP. 
Some sectors have simply struggled to find the time to engage with the scheme or find willing unemployed young people to take part. 
Claire Steiner, director and chair of education and training at the Institute of Travel & Tourism – a sector that has filled 230 (38 per cent) of the available 600 Kickstart jobs – said: "There are a handful of businesses that have taken advantage of the Kickstart scheme. However, the last 20 months have not been conducive to opportunities or training programmes for young people as travel and tourism companies have been focussed on survival, with limited business and income being generated. 
"We are now seeing a change as international borders open up and businesses start to look at recruitment again, but there is limited time left on the scheme." 
Kickstart is trying to reinvent the wheel and buckled it

Raj Sehgal
Sehgal calculated that his own group of care homes could take on around 50 Kickstarters but has only been able to fill half a dozen places. 
He explained that candidates and employers were confused by the scheme and questioned why the government didn't try to develop the recognised apprenticeship schemes for the sector instead. 
"Kickstart is trying to reinvent the wheel and buckled it slightly," he said. 
The retail sector has made 30,400 Kickstart jobs available but only managed to fill 12,580 (41 per cent). 
Andrew Goodacre, chief executive of the British Independent Retailers Association, said that since retailers reopened following the third national lockdown, footfall has "never recovered to 2019 levels", which has resulted in "more on furlough and no motivation to recruit". 
"The scheme states any Kickstart role cannot be at the expense of an existing employee. This makes sense, but limits the choice for retailers," he told FE Week. 
"I cannot see retailers turning to this scheme until they have more confidence in sales and footfall. I would like to be more positive but I just do not think this is a good scheme for retailers, especially independents." 
The north-east has the highest unemployment rate in England, according to the latest data from the Office for National Statistics. A geographical breakdown of DWP's Kickstart figures shows the region has the lowest number of people starting a kickstart job (3,610). 
The North of Tyne combined authority, led by Labour mayor Jamie Driscoll, is acting as a gateway provider but refused to say whether or not it was disappointed by the figures for the region.
 A spokesperson did say the authority has this week launched a campaign featuring some of their 100-odd young people and businesses who have benefitted from the scheme to "encourage more employers to come forward and apply for Kickstart placements". 
Sam Windett, deputy director at Learning and Work Institute, said issues in "rollout and focus" have "frustrated" Kickstart's potential to date. "Whilst employers struggle to fill record levels of vacancies, the number of long-term unemployed 16- to 24-year-olds has risen by a third over the pandemic," she added.  
"This points to the need to ramp up, not dial down, support for young people to move into work." 
The DWP did warn that the published Kickstart figures "might be subject to the inaccuracies inherent in any large-scale recording system, which has been developed quickly". 
They have also "not been subjected to the usual standard of quality assurance associated with official statistics, but is provided in the interests of transparency".