The autumn budget will be delivered by the chancellor on November 22, and leading sector bodies have made requests to benefit colleges, and independent and adult learning providers. FE Week looks at key recommendations.
Sorting out major problems dogging non-levy apprenticeship funding is a high priority.
In its pre-budget submission, the Association for Employment and Learning Providers has called for "an open debate" on funding non-levy apprenticeships after April 2019.
Teething issues with the new levy system have been compounded by the saga surrounding funding for apprenticeships in non-levy-paying firms. A second procurement process descended into farce last month, after the first, which was massively over-subscribed, was scrapped.
Only employers with an annual payroll of at least £3 million currently pay the levy, while smaller firms also have to contribute to training costs for the first time, through a 10-per-cent co-investment model. This should involve the government paying 90 per cent of costs from leftover levy revenue.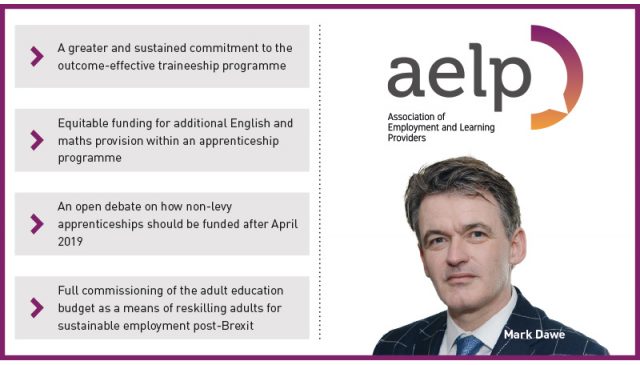 The Association of Colleges also fears the system isn't working and called in its submission for "a review of the rules", which it said grant levy-paying employers control of 110 per cent of funds generated through their levy payments.
This figure is a reference to levy-payers, which get a 10 per top-up of the funds in their digital account, so in theory they can spend 10 per cent more than they pay.
This situation "gives larger employers the first call on training funds" and "squeezes" smaller non-levy paying employers into "second place", the AoC warned. It called for the proportion they control to be reduced to 75 per cent "to release funds to address failures in the training market".
Last week, it was revealed that total apprenticeship starts since the levy launched were down 61 per cent, compared to the same period last year.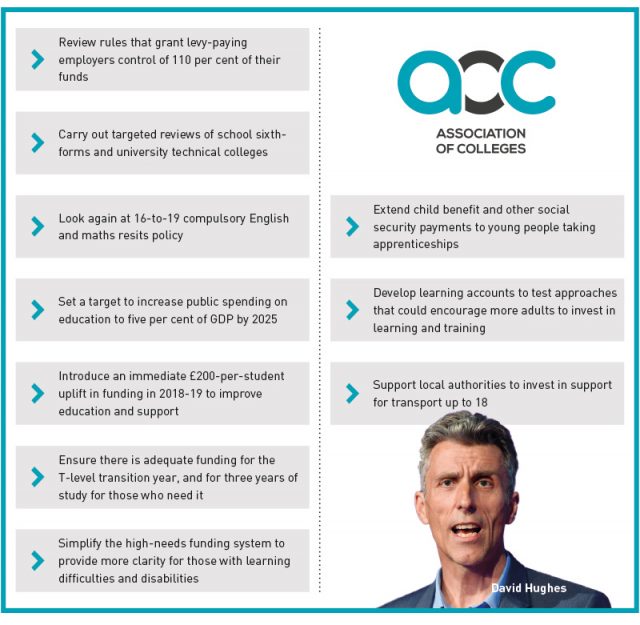 The AoC also wants a crackdown on school sixth forms, reflected in the Sixth Form Colleges Association's plea for "a competitive process for establishing new sixth-form provision".
"It would be sensible for regional schools commissioners and councils to be asked to review sixth forms which are particularly small and/or underperforming," read the AoC's submission.
"There has been no rationalisation of school sixth-forms for more than 20 years as a product of ideology and DfE neglect," it added.
It also wants a review of the struggling university technical college programme.
The AoC and Havering Sixth Form College challenged the DfE last year over its decision to fund a new sixth form at Abbs Cross Academy and Arts College in Hornchurch, Essex.
One standout demand, this time from the adult learning provider membership body Holex, is for the creation of a special adult basic skills fund for low-skill sectors, to ease anticipated home-grown recruitment problems post-Brexit.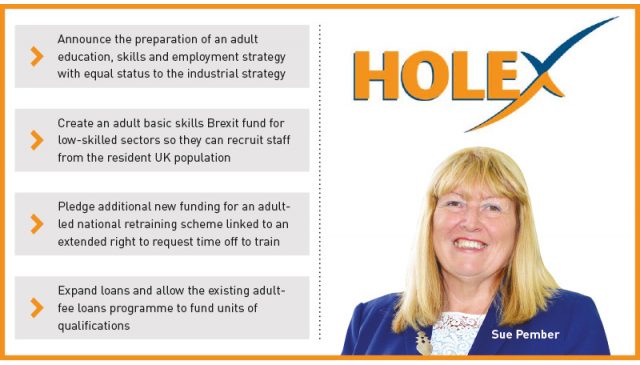 It thinks this should work alongside a new cross-department post-16 education, skills and employment strategy.
Delivering "better value in a post-Brexit economy" also motivated the AELP to ask the government "to consider whether all ESFA non-schools funding and programmes should be subject to open tender".
On loans it called on the government to "allow the existing adult-fee loans programme to fund units of qualifications", and "promote adult level 3 and 4 students by providing maintenance loans".
People also want the DfE to review compulsory 16-to-19 English and maths resits policy, which the AoC supports in principle but warned are "not working".
The AELP wants "equitable funding" for additional English and maths provision for apprenticeships.
It previously drew attention to "the large differential in post-16 funding between English and maths taken as part of an apprenticeship (£471) and that available for the same subjects in the form of classroom provision (£724)".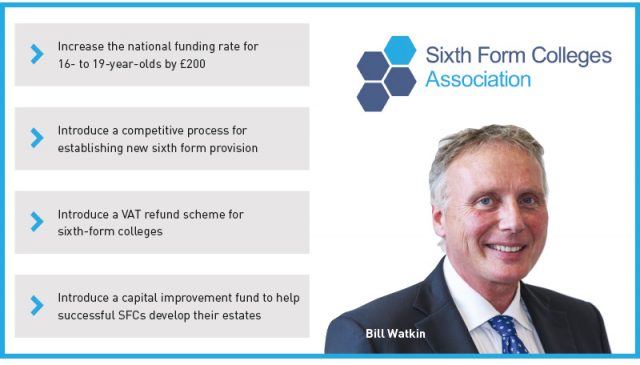 "Our research shows that many providers deliver the learning at a loss within an apprenticeship and AELP believes that all English and maths delivery for apprentices should be funded as a minimum at the equivalent stand-alone rate," it explained.
It also wants a £200 increase to the national funding rate for 16- to 19-year-old learners.
"We estimate that increasing the rate to £4,200 per full-time student would cost £244 million per year to implement," said the SFCA, which "could be partly funded by using the underspend in the DfE's budget for 16-19 education". This amounted to £135 million in 2014/15 and £132 million in 2015/16.
Association of Colleges
Significant requests:
Review rules that grant levy-paying employers control of 110 per cent of their funds
Carry out targeted reviews of school sixth-forms and university technical colleges
Look again at 16-to-19 compulsory English and maths resits condition-of-funding policy
Set a target to increase public spending on education to five per cent of GDP by 2025
Introduce an immediate £200-per-student uplift in funding in 2018-19 to improve education and support
Ensure there is adequate funding for the T-level transition year, and for three years of study for those who need it
Simplify the high-needs funding system to provide more clarity for those with learning difficulties and disabilities
Extend child benefit and other social security payments to young people taking apprenticeships
Develop learning accounts to test approaches that could encourage more adults to invest in learning and training
Support local authorities to invest in support for transport up to 18
Association of Employment and Learning Providers
A greater and sustained commitment to the outcome-effective traineeship programme
Equitable funding for additional English and maths provision within an apprenticeship programme
An open debate on how non-levy apprenticeships should be funded after April 2019
Full commissioning of the adult education budget as a means of reskilling adults for sustainable employment post-Brexit
Holex:
Significant requests:
Announce the preparation of an adult education, skills and employment strategy with equal status to the industrial strategy
Create an adult basic skills Brexit fund for low-skilled sectors so they can recruit staff from the resident UK population
Pledge additional new funding for an adult-led national retraining scheme linked to an extended right to request time off to train
Expand loans and allow the existing adult-fee loans programme to fund units of qualifications
Six Form Colleges Association:
Significant requests:
Increase the national funding rate for 16- to 19-year-olds by £200
Introduce a competitive process for establishing new sixth form provision
Introduce a VAT refund scheme for sixth-form colleges
Introduce a capital improvement fund to help successful SFCs develop their estates