Team UK has retained its top-10 position at WorldSkills this year, after our competitors bagged one gold, three silvers, three bronzes, and 13 medallions of excellence in Abu Dhabi.
Download out free souvenir supplement covering the journey undertaken by TeamUK for WorldSkills 2017. Click here.
Our competitors will be going home with their heads held high after pulling in a medal haul that betters rivals Germany and over 45 other nations, at a competition commonly known as "the Olympics of skills".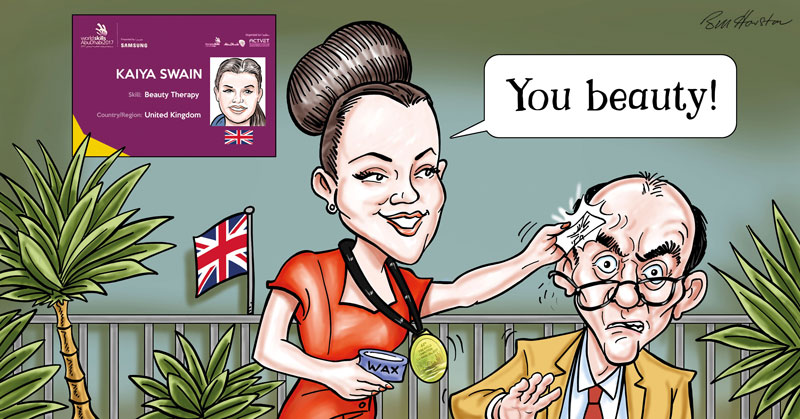 Picking up Team UK's gold was Kaiya Swain, who was voted the world's best young beauty therapist.
The 22-year-old, who trains at Sussex Downs College and runs her own business called Kaiya Rose Beauty, said it was an "absolute honour to represent my country".
"This is a dream come true, I never expected to come out on top," she added.
Kaiya celebrated her gold medal at a spectacular closing ceremony in front of 15,000 spectators tonight at the du Arena, which was broadcast for the world to see.
Kaiya Swain you beauty! She's just been named the world's best young beauty therapist. Here's what it means to her #TeamUK #WS_AbuDhabi pic.twitter.com/cpXl9j4mbD

— FE Week (@FEWeek) October 19, 2017
Team UK's silver medallists included architectural stonemason Archie Stoke-Faiers, 22, from Weymouth College, car-painter Daryl Head, 21, from Thatcham Automative Academy, and visual merchandiser Catherine Abbott, 21, from East Berkshire College.
#TeamUK silver medalist Archie Stoke-Faiers, Architectural Stonemasonry, pretty much lost for words at #WS_AbuDhabi pic.twitter.com/PWJrYULf2Y

— FE Week (@FEWeek) October 19, 2017
The last of our medalists Daryl Head can't hide his emotion as he's named the worlds second best young car painter #TeamUK #WS_AbuDhabi pic.twitter.com/F8hOmhqUzZ

— FE Week (@FEWeek) October 19, 2017
Catherine Abbott didn't expect a medal, but she's bagged a silver in visual merchandising for #TeamUK! Here she is just moments after stepping off the podium #WS_AbuDhabi pic.twitter.com/6Q7A4OUQ3U

— FE Week (@FEWeek) October 19, 2017
And picking up our three bronze medals were plumber Dan Martins, 20, from EAS Mechanical, cabinet-maker Angus Bruce-Gardner, 22, who trains at Waters & Acland, and auto-repairer Andrew Gault, a 20-year-old from Riverpark Training and Development.
A very emotional Angus Bruce-Gardner tells us how it feels to win bronze in cabinet making at #WS_AbuDhabi #TeamUK pic.twitter.com/xU4TRnu4Ya

— FE Week (@FEWeek) October 19, 2017
Dan Martins is absolutely made up with winning bronze in plumbing and heating at #WS_AbuDhabi for #TeamUK pic.twitter.com/F1OYIV1a9R

— FE Week (@FEWeek) October 19, 2017
Andrew Gault picks up bronze in auto body repair – here's what it means to him #TeamUK #WS_AbuDhabi pic.twitter.com/aIxqBmTH02

— FE Week (@FEWeek) October 19, 2017
Team UK finished 10th in the medals table and was the smallest team to make the global top 10. Germany finished joint 12th with Finland.
Thirteen other members of Team UK were awarded a medallion of excellence for reaching the international standard in their skill.
These included Elizabeth Forkuoh in restaurant service, Betsy Crosbie in mechanical engineering CAD, Josh Hunter in bricklaying, Jordan Charters in painting and decorating, Conor Willmott in joinery, Alexander Wood in jewellery, Bridie Thorne in hairdressing, Ruth Hansom in cooking, Adam Ferguson and Will Burberry in landscape gardening, Tom Revell and Sam Hillier in mechatronics, Josh Peek in welding, Joseph Massey in aircraft maintenance, and Shane Carpenter in IT network admin (cyber security).
This year's competition was seen by many as a litmus test for the UK's ability to cope when Brexit kicks in from 2019.
Neil Bentley, chief executive of WorldSkills UK, said the nation's young people have done the country "proud".
"If we celebrate Team UK's success and use it to inspire others to follow in their footsteps – the future of the UK is in safe hands," he added.
Apprenticeships and skills minister Anne Milton, who visited the competition to support the team this week, called upon parents to take note of the results.
"I have been blown away by Team UK," she said. "They have done fantastically well – this is the UK competing on the world stage for skills and achieving great things.
"There will be huge celebrations when they come home. To get to this level is brilliant.
"There is a message here for parents: university is not the only option. The opportunities are boundless if they overcome any bias that they might have. We must ensure that the young apprentices here become an inspiration to others.
"WorldSkills UK is doing a fantastic job supporting these young people, with thousands of hours of input. We need to put all that they are doing – the ethos of this competition, the spirit of these apprentices – into a bottle and sprinkle it across the UK."
Having triumphed through regional heats, a national final, EuroSkills in Gothenburg, the gruelling Team UK selection process and months of intensive training, the 34 young apprentices spent four days in hot competition at the 44th WorldSkills finals beginning last Sunday, October 15.
They were among more than 1,200 other young people from over 50 nations, who are specialists in 51 different disciplines from hairdressing to aircraft maintenance, and plumbing to 3D games design.
China led the medal table with 15 gold medals, seven silvers and eight bronzes. Korea came second on medal points with eight golds, eight silvers, and eight bronzes. Switzerland was third on points, winning 11 golds, six silver, and three bronze.
Keep an eye out for FE Week's souvenir supplement covering TeamUK's journey to WorldSkills Abu Dhabi 2017, published tomorrow morning in partnership with Pearson.
FE Week is proud to be the official media partners for Team UK and WorldSkills UK.