An argument over pay between unions and the Association of Colleges has worsened, after the latter refused to enter negotiations while industrial action is ongoing.
The various FE teaching unions insist that the body which represents the sector has told them it is "not minded to consider" a pay claim for 2018/19 while University and College Union members "remained in dispute over the 2017/18 round at any AoC member college".
This is "unacceptable" to the trade unions – which include the National Education Union, Unite, Unison and GMB as well as UCU – which have claimed in a letter to the AoC's boss that he is "attempting to put pressure on some members of one union".
"Attempting to avoid dialogue" on next year's pay settlement "will not make the issue go away", the letter said – and could in fact "increase the likelihood of greater and more widespread industrial action and disruption in the sector".
"In the absence of a change of heart by the AoC, we will have no choice but to consider alternative approaches with a view to achieving progress for our members," it concluded.
In response, Mr Hughes said: "While a small number of local UCU branches are taking action on the national pay claim, it would not be appropriate to open negotiations on the 2018/19 claim.
"We have written to all the unions to explain our position and we are optimistic that these few remaining disputes will be resolved soon, allowing us to begin negotiations for the next pay round."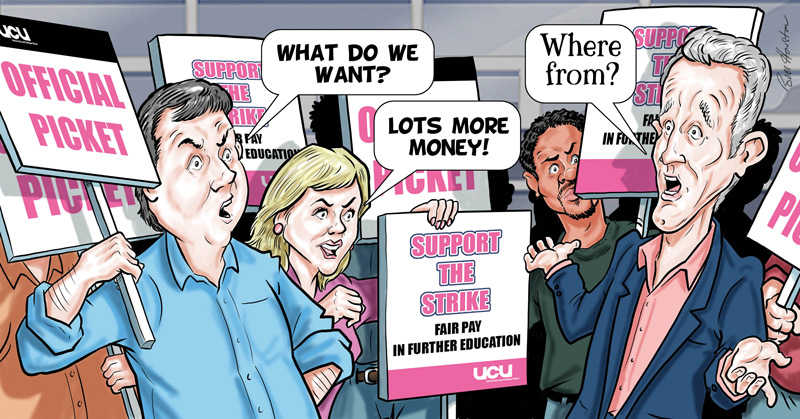 Earlier this week the UCU announced that staff at 10 colleges around the country would walk out for up to seven days during exam season, in the third round of industrial action over a "disappointing" pay offer of just one per cent made by the AoC in September. 
Staff at a number of colleges have already taken strike action twice this year as part of the dispute, with an estimated 1,500 staff walking out in the first round at the beginning of March.
The unions had submitted had submitted a claim for an across-the-board rise of around six per cent in April last year.
But the final offer from the AoC last September was just one per cent, or the sum of £250 "where this is more beneficial".
Mr Hughes expressed regret at the time that it was unable to offer more.
"We wish we were in a position to make a better recommendation, but current funding levels for colleges do not allow us to do so," he said. 
But in today's letter the unions said the AoC's current position "appears to be at odds with your acknowledgement that last year's offer of 1 per cent wasn't enough".
It warned the unions would now "consult members on how to respond to what we regard as an unnecessary provocation which could undermine the credibility and relevance of the AoC to the sector".
Staff at Hull College took action on Wednesday in protest at plans to slash up to 231 jobs at the college, in an attempt to balance the books, while UCU members at Lewisham Southwark College last week voted for strike action over their pay and conditions, which they say have got worse since the college joined NCG.