It is crunch time at the nation's largest college group, which is cutting staff and faces the return of Ofsted for a full inspection over its achievement rates.
NCG will receive visits from two teams of inspectors on Monday, FE Week can reveal.
One team will examine four of its colleges – Newcastle College, Newcastle Sixth-Form College, Kidderminster College and West Lancashire College.
The other will focus on its troubled training provider, Intraining, which is in the process of slashing staff numbers.
Both will be full inspections, which suggests alarm bells are ringing at the inspectorate. It would only be expected to carry out a short inspection, if there were no concerns that NCG's rating could drop from grade two.
The group was rated 'good' in September 2016, following a five-month standoff during which it is understood they successfully overturned Ofsted's plan to award a lower grade. Intraining was also given a grade two in June that year.
However, overall achievement rates at NCG are well below the national average.
In 2016/17, the combined overall apprenticeship achievement rate for NCG's colleges was just 55.6 per cent, while Intraining's was 58 per cent.
Both are 10 percentage points lower than the national average of 67.7 per cent, and lower than the minimum standards threshold of 62 per cent, according to the latest government data.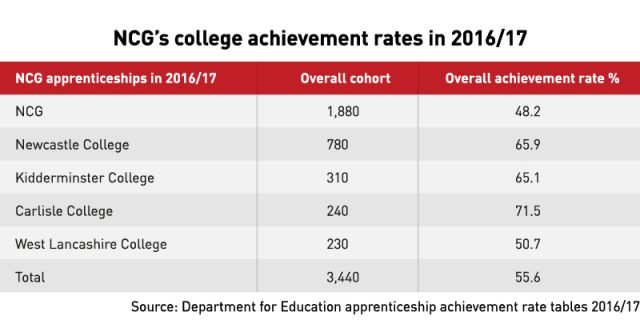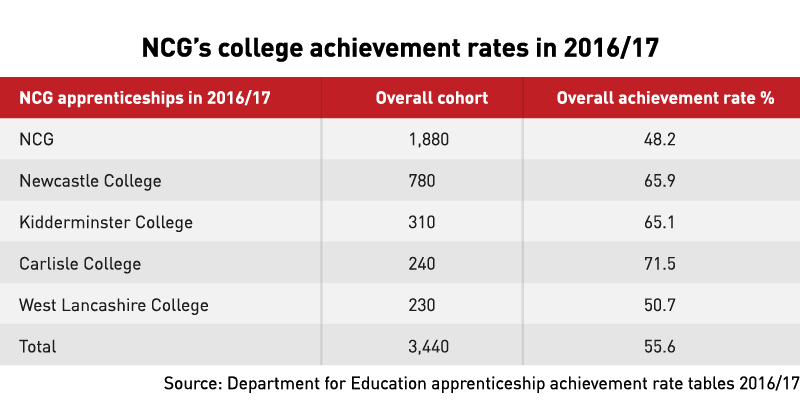 And for the all-important 16-to-18 study programmes, NCG was 4.4 points below the national average of 81.5 per cent.
It is understood that Ofsted wanted to reinspect NCG last year, but it was unable to analyse the group's achievement rates because of "data glitches" which led to it being absent from the 2015/16 tables.
At the same time as dealing with these inspections, NCG is cutting staff numbers by up to a fifth at Intraining and its other private provider Rathbone Training, in an effort to save £3 million.
More than 100 of the 500 employees who work at the two providers face possible redundancy.
The group claims to have run into financial trouble as a result of new rules which restrict subcontracting apprenticeships, as well as the sudden downturn in the uptake of apprenticeships since the introduction of the levy.
"We anticipate a reduction in fewer than 70 roles," Ian Webber, the managing director of both providers, told FE Week on behalf of NCG.
Intraining and Rathbone Training have had their combined ESFA contracts to deliver apprenticeships cut by more than half this year (from £35.8 million to £16.2 million), and the amount it is subcontracting out has reduced by nearly two thirds (from £11.9 million to £4.2 million).
They are now proposing to stop apprenticeship delivery in the south-west and East of England.
Both providers "are currently in consultation with colleagues as part of a process to transform our operations and achieve cost savings," Mr Webber said.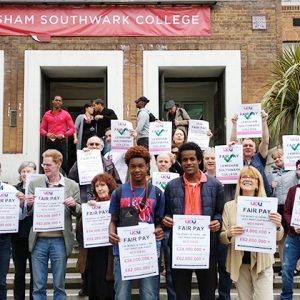 "We need to realise around £3 million savings to align the cost base of both organisations with anticipated income."
The lower level of subcontracting is a "reflection of government changes in funding" and the "success of several partners" who are now on the register of apprenticeship training providers and able to deliver directly.
The introduction of the levy hasn't helped matters.
As of March, there were 206,100 starts recorded for 2017/18, which represents a 24-per-cent drop on the same period last year.
Intraining had already shed more than a third of its 1,200-person workforce back in 2015.
The group was further shaken last month when staff at Lewisham Southwark College, which was involved in a long-distance merger with NCG, voted to strike over pay.
NCG will have Peter Lauener in its corner to deal with the challenges it faces, after the former ESFA boss joined the group as chair earlier this year.
He will work closely with Mr Webber who, when asked if either of his providers were likely to go bust, insisted that "the review of our operations is part of normal business processes to ensure sustainability".