The skills minister has imposed administered status on a cash-strapped college in Luton, due to the "significant" financial challenges it faces.
Anne Milton wrote to Barnfield College on March 26, following a recent investigation by the FE commissioner, Richard Atkins.
He found that its finances were a "major cause for concern", with "significant" operating losses in 2015/16 and 2016/17, which is likely to be repeated in 2017/18.
"This has weakened the college's balance sheet and eroded cash balances to the point where the college will need to sell land or secure commercial loans," Mr Atkins wrote.
He recommended the college should be placed in administered status until "there is sufficient evidence of a significant improvement in financial management and forecasting", an action Ms Milton has now implemented.
The college's financial performance is a major cause for concern
Barnfield suspended its recruitment of new apprentices last month, after it received an 'inadequate' rating for this provision from Ofsted in an overall grade three report.
The college taught around 3,700 learners last year. It was issued with a financial notice to improve by the ESFA in January.
Its turnover has fallen between 2013/14 and 2016/17 whilst also experiencing a year on year decline in income, The FE Commissioner said in his report.
And despite the reductions in turnover, pay costs have not reduced which has resulted in "exceptionally high pay costs as a percentage of turnover and significant operating losses".
The college also has "ambitious" plans for relocation of its two main campuses on a 1.8 acre site which it has acquired in the centre of Luton, Mr Atkins noted.
He said this scheme costs up to £57 million, which is to be financed through a combination of asset sales, local enterprise partnership grant and bridging loans.
A target date of project completion has been set for September 2021.
The FE Commissioner said this capital project is "arguably a distraction to getting the college back on track".
He added that a step change is "urgently required, both in the quality and reliability of financial information coupled with decisive leadership to right-size the college and deliver a realistic and credible financial recovery plan".
In addition to fears about the college's financial health, there were also concerns about its progress made following area review recommendations.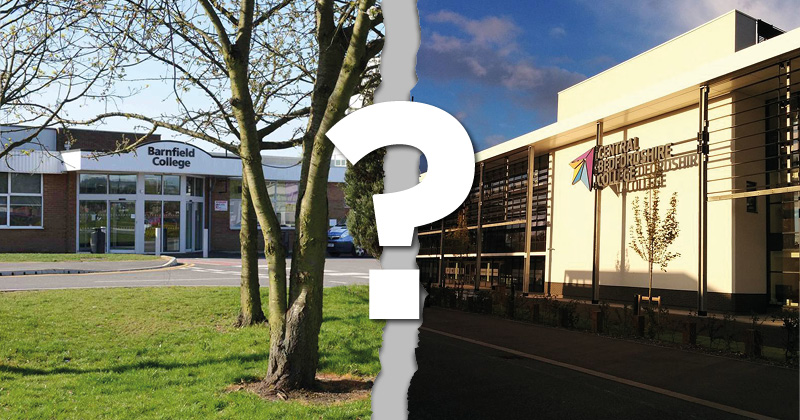 It was supposed to merge with Central Bedfordshire College but a spokesperson for Barnfield told FE Week in September last year that the partnership was taken off the table the previous April, after comments made on the local ITV news by Central Bedfordshire's chair Professor James Crabbe in March, which were taken as a power grab.
Mr Atkins said Barnfield does not currently have a "clear enough picture of its forward financial position to be confident it has a sustainable future as a standalone institution".
He added that his team's assessment considered the pace of improvement as a standalone college "too slow" and that the finances demand a "faster move to a new structure, alongside merger sooner than later whilst there is potential for access to the restructuring fund".
"Whilst the opportunity to request restructuring funds remains open, there is a compelling case to progress with the FE Commissioner-led structure and prospects appraisal recommended by the South East Midlands Local Enterprise Partnership area review," he added.
The FE Commissioner will undertake a full "stocktake" of the college in October 2018.
Administered status means that a member of the ESFA's local team will now observe all of the college's board meetings, and that the college will be required to consult the ESFA about any significant changes to its operations or finances.
A spokesperson for Barnfield College said: "We accept and acknowledge the findings of the FE Commissioner's recent report.
"We are working closely with the FE Commissioner's Office and the ESFA to ensure we move forward swiftly and continue to provide the learners and communities of Luton with a high-quality learning provision."