Another college merger in doubt following 'regrettable' TV comments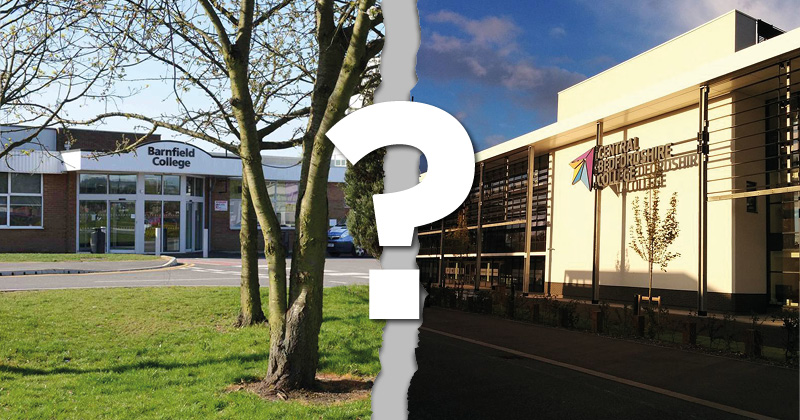 Another college merger has been cast into doubt after one of their chairs made "regrettable" comments on local TV.
At one stage, Barnfield College and Central Bedfordshire College were both "seriously committed" to "exploring the potential" of joining forces, according to the report into the South-East Midlands area review, which ended in March.
But a spokesperson for Barnfield has told FE Week the partnership was taken off the table in April, after comments made on the local ITV news by Central Bedfordshire's chair Professor James Crabbe in March, which were taken as a power grab.
"We felt very strongly that he criticised Barnfield College and appeared to us to position themselves as the takeover partner," she said.
And while, she added, Barnfield does "recognise that the learners of Luton and Dunstable would be better served by one college", the merger won't move on "until we see genuine moves for equal collaboration."
Despite this, a spokesperson for 3,500-learner Central Bedfordshire College, rated good at its most recent Ofsted inspection in March 2016, has insisted today it is still "committed" to the merger and the recommendations made in the area review report.
"Central Bedfordshire College believes that the proposals made in the area based review will help to reduce skills gaps and shortages in the region and provide greater opportunities for education and training for local communities and employers," she said.
This row is the 17th merger recommended by the area reviews to get into difficulty, out of a total of 52 proposed through the process.
The colleges had been carrying out a feasibility study into the possibility of a merger, and a final decision was to have been made by July 31.
But a statement on the Barnfield College website, dated April 23, said the college had withdrawn from the study due to Professor Crabbe's comments.
The college, which has 6,500 learners and was rated as 'requires improvement' at its most recent Ofsted inspection in April 2016, has had a troubled history.
It was subject to intervention by the FE commissioner, who first visited the college in January 2014 after it was assessed as 'inadequate' for financial control by the Skills Funding Agency.
Sir David Collins was back at the college less than a year later, following an 'inadequate'-overall rating from Ofsted in that November.
But his involvement ended in September 2015, when he decided the college had "fully addressed all the areas of concern" identified in his first visit.
In their April 2016 report, Ofsted inspectors noted that the leadership team had taken "decisive action" to turn the college's fortunes around.
Tim Eyton-Jones, Barnfield's principal, told FE Week at the time that his ambition was for the college to be rated 'outstanding' within two years.
Other college mergers to fall through recently include one between North Shropshire College and Reaseheath College, which collapsed last month amid accusations that the government was unwilling to provide the necessary funding, either through the ESFA or the Transactions Unit, which processes requests for cash from the restructuring facility.