Around £600 million of the cash available to colleges for post-area review restructuring remains unallocated – prompting the Department for Education to extend the application deadline.
Just 10 colleges have so far been allocated a combined total of £120 million from the restructuring facility, and the Association of Colleges has blamed the slow take-up on "a lack of transparency".
The Department for Education would not say who the successful applicants are, but FE Week has identified five of the beneficiaries (see table).
English colleges were originally given up to six months after their final area review meeting to apply for funds, but new guidance says they now have until September 2018.
The DfE denied this meant the fund had failed.
"The restructuring facility will run until March 2019 – as has always been the case – so we would not expect it to have been fully spent at this point," a spokesperson said.
He added that "10 colleges have benefitted so far with many more applications under consideration".
"We will publish updated figures in due course as the programme continues to March 2019," he said.
David Hughes, the AoC's chief executive, warned that a "lack of transparency" over the fund was "a problem".
He said the facility was not "being accessed as quickly or effectively enough by some colleges", and for those that had been successful "it's taken too long".
He urged the government to "tell the sector where you've got in terms of what you think is a good position to put a college as a result of restructuring fund support".
"Colleges that might be able to apply are probably not applying, because they're not sure if they're eligible, or if it would work for them, and I think that's a bit of an issue," he explained.
The newly updated guidance says: "If you are considering submitting an application despite it being more than six months since your final area review steering group meeting this is likely to be possible."
Contrary to the DfE's claim that an explanation for the delay was included in the new guidance, no specific reason has been given.
It does, however, note that previously-requested extensions "have usually been agreed to ensure that the restructuring in the sector is effectively planned".
Elsewhere online, the Education and Skills Funding Agency's most recent progress report on the restructuring facility, posted at the same time as the guidance mentioned 47 applications had been made by October.
"As at October 2017 we have received 47 applications for the restructuring facility. This includes 25 sixth-form colleges which have or plan to convert to academy status, the majority of which have not and do not expect to receive any funding to support this conversion," it said.
"We have received 22 applications to support restructurings within the college sector. Ten have been fully approved to date with a total allocation over £120 million up to March 2019. A further four have received compensatory funding for VAT on change of ownership. Total spend to October 2017 is over £60 million."
The restructuring facility, first announced in March 2016, is part of a package of support for colleges to help them implement recommendations arising from the area reviews.
The five beneficiaries FE Week identified were all part of mergers that went through this year.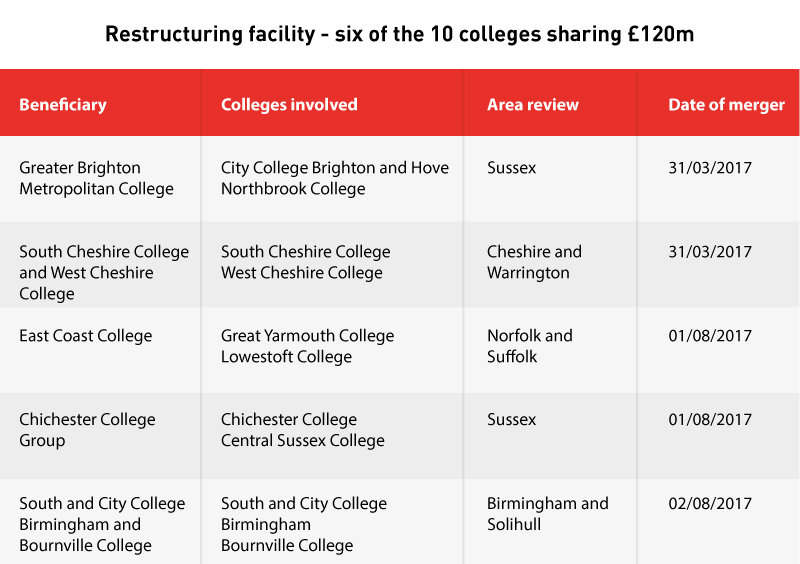 It's not clear who the remaining five successful applicants are; though they may be colleges that have yet to merge or which are implementing other area review recommendations.
The cash, available as a loan, is designed to help with restructuring activities such as a merger.
In addition to area review recommendations, FE Week understands the cash can also be used to implement a merger brokered by the FE commissioner.
The facility is separate from the transition grants, worth between £50,000 and £100,000, which were available to colleges to bring in the skills they needed to make the changes, or in other words, consultants.
The pot amounted to £726 million, with £12 million of that set aside for transition grants, a figure revealed via an FE Week Freedom of Information request in December 2016, after the DfE repeatedly refused to tell us.
In August the DfE published details of all the transition grants it had awarded to date, which totalled £5.6 million, including £1.04 million meant to support mergers that had since failed or significantly changed.
Later that month FE Week reported that a planned merger between Reaseheath College and North Shropshire College had been called off after they failed to secure funding from the restructuring facility.
---
AoC wants funding made available after 2019
The Association of Colleges wants cash from the restructuring facility to be made available beyond 2019.
It made the call as part of its 2017 autumn budget submission, in which it also said the application process should be shorter.
David Hughes said there was a "tail of organisations" that "could benefit from the facility" but which are running out of time.
These are colleges "we need to help them recognise what restructuring they need to do, for which the facility could be really helpful," he said. "I don't think that's their fault."
The budget submission warned that "without policy changes" only part of the fund would be spent by 2019.
Restructuring has proved to be "more complicated than was anticipated", and applications to the facility "take more time and money than necessary".
Mr Hughes said the Department for Education and the Treasury "have been trying to construct a new way of working, and it's taken some time".
"They've taken a private sector approach and they've tried to adapt that to fit the FE sector," he said, although he added that "they've learnt a lot along the way".
The AoC's submission asks the Treasury to "review it, extend it, make it more transparent, more it easier to access".