The Institute for Apprenticeships will soon start evaluating the impact of its controversial funding band reviews, and promises to "take action" where reductions have made delivering apprentice training unviable.
It comes just weeks after FE Week revealed that major retailer Halfords has been forced into scrapping all of its level 2 apprenticeship provision – a move it blamed on the institute's decision to slash funding for the level 2 retailer standard by 20 per cent in December.
"I can confirm that we will be starting to evaluate the impact of the funding review in the coming months," Lucy Rigler, the IfA's  head of funding, said in a blog today.
The institute wants to ensure that quality apprenticeship training is still viable with a reviewed funding band
"We will assess the impact of any changes to funding bands on numbers of starts as well as additional measures where appropriate.
"This process will take time given the staggered implementation of any funding band changes and we will need time to collect enough data to analyse any trends."
She insisted that the institute is "open to ongoing discussions with Trailblazers once we have this data", and it wants to "ensure that quality apprenticeship training and assessment is still viable with a reviewed funding band".
"And where evidence suggests this is not the case, we will want to act," Rigler added.
To date, the IfA has been asked by the skills minister Anne Milton to review 61 apprenticeship standards since May last year. She has so far approved recommendations for 41 of these, with the latest 11 announced last week.
Many decisions involved huge funding cuts, including to the popular chartered manager degree apprenticeship by £5,000 despite a high-profile appeal from employers including the likes of retail giants Tesco and Next.
Just last week, FE Week revealed how Scania, a leading manufacturer of heavy trucks and buses, warned that reducing the funding band for the level 3 heavy vehicle service and maintenance technician standard by £3,000, as the IfA is planning to do, threatens its industry's longterm skills strategy.
The IfA said the evaluation of funding reviews is not based on any particular standard, it is responding to "wider feedback".
Many disputes have arose because employers and providers believe the institute is secretive about how it does funding band calculations.
In an interview with FE Week in February, the IfA's chief executive Sir Gerry Berragan promised to become more transparent about how the costs are arrived at, but said he was not willing to share the formula it uses to calculate funding bands as he fears employer groups will "misuse" it to "inflate their costs".
Rigler said in her blog today the IfA is "fully aware that our work on funding has not always been well-received" and it has now launched its "first wave" of improvements in this area.
"One of the new things we will be doing is ensuring that a funding section is included in intensive workshops our Relationship Managers have with new Trailblazers," she explained.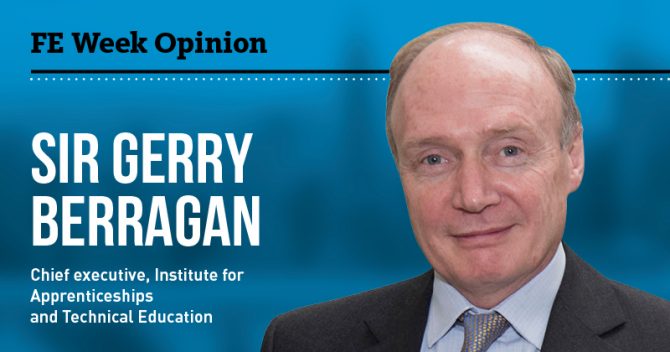 "We have also created a clear decision-making flowchart, showing how we prioritise data points used in funding band decisions and the dependencies between them.
"My team has also developed improved funding forms. This is to help Trailblazers supply the right information first time to help us reach the most appropriate funding recommendation. Employers involved can now use the forms to identify standards they think are similar to their own, to help us draw the right comparisons."
Rigler said the institute will also provide employers with "model forms and answers to frequently asked questions" and has "committed to improving communication with Trailblazers throughout the funding process, to set clear expectations about their input and timescales, and make it clearer how the final funding decision was made".
She added that the IfA has listened to the feedback from Trailblazer Groups about the initial funding band that they receive when an occupational proposal is approved and it's "clear that this hasn't been working as we intended, so it's right that we take this opportunity to remove this from the funding process altogether".
Instead, it will share information about the funding bands assigned to apprenticeships that "share the same characteristics as their own, to give an early sense of likely funding bands and help trailblazer groups with their planning".
Rigler said a second wave of improvements will be announced later in this year "following further review and engagement with stakeholders".