The first thing that greets visitors to Anthony Bravo's office is a glass case con­taining a boxing glove signed by boxing legend Muhammad Ali.
It suggests that Bravo is not what one might consider a 'normal' college leader.
The principal of Basingstoke College of Tech­nology is certainly a colourful figure within the FE sector. It's a reputation he seems aware of.
"When you're 6"5' and your name is Bravo, you're going to remember me, so I might as well try and make you remember me for good things rather than bad things," he says.
The 50-year-old martial arts enthusiast cuts a physically imposing figure, but the main thing that strikes you is his exuberance.
"I love what I do, I love it," he says.
"Changing people, that's been the thing I love most of all — making a difference.
"If I were to have an epitaph, it'd be 'had fun, and he made a difference', and that's what I really, really enjoy.
"I sometimes feel so guilty because I love doing what I do so much that it just doesn't feel like work."
I don't know about other black principals, but I'm really conscious that I'm at the forefront
The desire to stand out and make a difference seems to come from something deeper than simple exhibitionism, however.
"One of the things my mum [Brenda Jean] really drummed into me was 'you've got to try and be the best you can, it doesn't matter what you do — if you're going to sweep the roads you've got to be the best road sweeper in the world'," he says, adding: "She really drummed into me 'if you're in this country, you've got to be so much better than the next white person or else you're not gonna get a look in'.
"When I was six years old, I couldn't read or write my own name and that's partly because although I was born in London, I was brought up in Hampshire, and you've got to understand, 45 years ago it was even more homogenous than it is now.
"There were no black people in Hampshire then and it was quite racist — they used to call me a little monkey and they never taught me to read. They just assumed, 'he doesn't need to read, he's just a black boy'."
Brenda and Bravo's father divorced when Bravo was "very young", and when he was six, she remarried, moving the family back to London.
Bravo's stepfather, Chester, from whom he gets the name Bravo, was the main father figure in his life.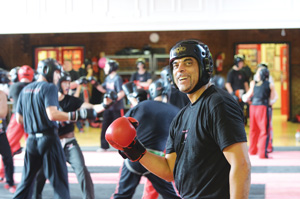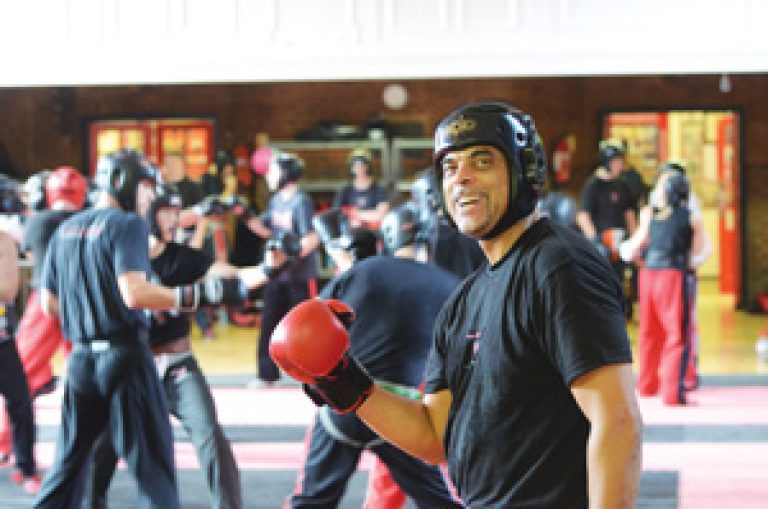 Chester had been an architect in the West Indies and came to Britain in the late 1940s.
"There was no way a black man was going to get a job as an architect back in them days, so he worked for British Rail and he ended up running part of Finsbury Park Station," says Bravo.
"My favourite story about my dad was from the punk era. We used to jump up, throwing our heads around and listen to The Clash.
"We had this party and I was on the first floor and first of all somebody was pogo-ing and they fell out of the window.
"Luckily, there was a balcony so they broke the window and they didn't fall and kill them­selves.
"But then, my mum was downstairs and she saw the ceiling just crack because everybody was jumping at the same time and she went mad. She said: 'Get them out, get them out'.
"And my dad — and I love this so much — said: 'No, no. It's all right, bring them down­stairs, let them go into the cellar, they can't fall any further'."
Chester also emphasised the importance of education to Bravo.
"The quote he always gave me was: 'They can take away everything from you, but they can never take away your education'," he says.
"The other thing I really loved about him was when I failed my exams he didn't give me a hard time."
But Bravo says his children helped him to understand different academic paths.
His stepsons, Kyle and Alex both, completed university, and his daughter, Arianna, the youngest, is studying economics in Notting­ham.
However, his son, Joseph, dropped out of uni­versity in his second year to become a night­club promoter and now has a successful career as a make-up artist for clothing giant TopShop.
"I have to say when he dropped out… I really struggled with that, but I learned from him because even though I wasn't very academic, I forced myself to do it and he didn't," says Bravo.
For Bravo himself, failing his exams "changed my life completely".
After resitting the exams, he went to New­castle to study agriculture and environmental science.
"I liked it so much and I didn't know what to do afterwards, so that's where I trained to be­come a teacher — fate," he says, with a laugh.
But he admits, he might have taken a slight detour from what "fate" had in store for him.
"I thought 'this is awesome, I really love teaching' and then I found out how much teach­ers earn, and I dropped out of the course and got a job with Marks & Spencer," he says.
"I absolutely loved retail, but there was this thing which drew me back to teaching."
However, he said, there was a point, when he was a vice principal at City and Islington Col­lege when he considered leaving the sector again, because he felt there was a lack of promotion opportunities for non-white manag­ers.
"I don't want to say that's the majority and lots of people don't even see colour and that's really nice but it is an issue," he says.
"It is an additional pressure, and I don't know about other black principals, but I'm re­ally conscious that I'm at the forefront.
"But when I started in Marks and Spencer, I was the first black management trainee they'd ever had… and I've been quite lucky in my life. I've been at the sharp edge of a number of things and it makes you think you can do things."
Bravo adds: "I'm not scared to admit to my dreams now because I'm in a position where so many of those dreams have come true.
"I think my job more than anything is to sell and share some of those dreams."
It's a personal thing
What's your favourite book?
I'm reading The Little Big Book of things by Tom Peters, and Bounce by Matthew Syed who's a great table tennis player — that's where the thing about needing 10,000 hours of practice to be world class comes from
What do you do to switch off from work?
Sleep, see my kids, really just the normal stuff, doing a bit of exercise – martial arts. If you're sparring, nothing clears your mind better than trying to avoid somebody hitting you because you can't think about anything else
What's your pet hate?
I hate being late. And the other thing I'm obsessed with is people smoking outside college. If I catch you, I will give you a broom and you have to sweep up a portion of the outside of the front of college. And if you choose not to you'll leave the college
If you could invite anyone to a dinner party, living or dead, who would it be?
Winston Churchill, Bob Marley, Nelson Mandela, Muhammad Ali and Margaret Thatcher, and just for fun I'd have our catering students do the food
What did you want to be when you were older?
I did the career guidance software thing at college and it said I should be an aircraft traffic controller which I always thought was really ambitious
Click here to view Anthony Bravo's kickboxing bouts for charity