Despite passing the 11-plus, Mark Brickley says he wasn't a particularly academic child.
For reasons neither he nor his 81-year-old father, Derek, can recall, he chose not go to grammar school.
So when he left school at 16, the year of the Falklands War "and when unemployment was through the roof," he was keen to learn a skill or trade.
"That was in the time when only the brighter boys and girls tended to go to college, and university seemed even more out of my league," says 47-year-old Brickley, now principal of Kensington and Chelsea College.
"I wanted to make sure I did something that would ensure I had a job for life."
After an apprenticeship in carpentry and joinery, he set up his own specialist building company.
At 24, he decided he wanted a change of direction, but with a young family to support (he became a father at 19), retraining full-time just wasn't an option.
Brickley enrolled in an evening class in computing at Eastbourne College, juggling his studies with work — and bringing up his young family — before becoming a web developer in the early 1990s, specialising in developing computer-based training in the science and medical fields.
"As a 24-year-old young man, and a young father, further education gave me an opportunity to change my life," he says.
So when the opportunity arose to start working in the sector, he jumped at the chance.
After a three-year year stint working as an IT consultant at both the Association of Colleges and a number of UK colleges, Brickley was appointed vice-principal of Guildford College.
Richard Branson doesn't have a degree in business and he seems to have done fairly well for himself
After nine "brilliant" years there, working under three different principals (including David Collins CBE, who was recently appointed FE commissioner), he recently took on the top job at troubled Kensington and Chelsea College.
Following the loss of a major training contract with a prison late last year, the college lost 60 per cent of its funding and Brickley's job is to get things back on track.
His first twelve weeks in the job have been eventful. He's already had to contend with a major flood and a visit from Ofsted (the result of which is due to be published in January). But he remains positive about the future.
"My job is to take the college forward, reposition it and work on our reputation and brand," explains Brickley.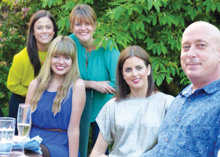 "It [the college] has been through a pretty difficult year or two, and the staff here have really taught me a great lesson and that is that sheer will and desire can go a long way…I think it's a fabulous place to work."
The biggest challenge for the college — and for the sector as a whole, he says — is the "uncertainty and volatility" around funding.
"We're all living with less and expected to deliver more and higher quality. And I don't think there is a college principal in the land who won't recognise those challenges.
"Here in London, there's a perception that Kensington and Chelsea is awash with millionaires and oligarchs who have all this money. But the fact is that 99 per cent of my students come from poor and deprived areas and have significant social issues."
Making sure young people have access to impartial careers advice and guidance is another priority, as is providing high quality vocational training — and not just apprenticeships.
He says: "Most employers I speak to tell me one thing — they want the training to be delivered quickly, they want it to be high impact and they want the outcome, for them, to be more productiveness and more profit. So it's great that the government is investing in apprenticeships but we must remember that's not necessarily what all employers want."
While he is now running a billion pound organisation, Brickley says he still draws on his experience as a young man, running a small firm.
"I was always looking to provide meaningful business opportunities and my job here as chief executive is about helping to develop and grow Kensington and Chelsea College's business," he says.
"I learned very quickly that you have to engage people and you have to look after people's fundamental beliefs.
"I also learned that to be respected, you have to lead from the very front, so you can demonstrate and deliver."
But the dad-of-four admits he has experienced academic snobbery.
"I've had people say to me 'How can you be doing this job when you don't have a degree?' But I believe you don't have to be an academic to make your mark in this world," says Brickley.
"Richard Branson doesn't have a degree in business and he seems to have done fairly well for himself, hasn't he?
"The world shouldn't be about academic versus vocational. It's just about people — different people for different times and different skills.
"I think that anyone who has the ability to study higher education is fantastic — two of my children have — but it's not for everyone."
For Brickley, who describes himself as a "frustrated artist" who would love nothing better than to retire to a beach bar in the Caribbean, "just sitting there with a piece of wood, carving it," leading a college specialising in the creative arts is an added bonus.
He continues to be inspired by his father, now 81, who went from being a plasterer to a sales representative "making a transformation, in his own way at his own time into something everyone told him he couldn't do".
"I can't believe the journey I am on now. When I was appointed here — I started in September — it was one of the proudest moments of my life," he says.
"I'm sure that in 10 years' time, when I am in my 50s, I will look back and go: 'Wow, what a journey'.
Brickley's ultimate aim is to get the college to outstanding status in less than five years and build on the reputation of the college, which has strong links with, among others, the Victoria & Albert, Science and National History Museums.
"I believe FE changes lives, I really do, and that's what I'm always striving to do in this job," he says.
"I've got this thing called the 'toothbrush test'. It's just me, as a human being, looking in the mirror twice a day, brushing saying 'you've done a good job, you've worked hard today and fundamentally you're a decent human being.'
"You only get one crack at this life, and if you can say that honestly, every day, you've done well."
It's a personal thing
What's your favourite book?
The Psychopath Test by Jon Ronson
What do you do to switch off from work?
Spend time with my family
What's your pet hate?
People who are intolerant of others
What did you want to be when you were older?
I wanted to be in the Household Cavalry. I wanted to be one of the life guards in their beautiful tunics
If you could invite anyone to a dinner party, living or dead, who would it be?
Julius Caesar, Margaret Thatcher, Bill Clinton and Russell Brand