The Royal Air Force introduced apprenticeships within 18 months of its formation. One hundred years on, it has more than 3,000: Cath Murray meets the man who looks after them all 
Shortly after taking over as head of apprentice training for the Royal Air Force in 2017, Air Vice-Marshal Warren James bumped into his former cadet flight sergeant at the Cosford airshow.
Peter Hiley was now squadron commander of the same 366 Squadron where James got his first taste of the Air Force as a teenager more than 30 years ago. Delighted, Hiley invited him to meet some of the teenage cadets.
James describes a young cadet messing about with a go-cart, who couldn't get his head around the fact that this impressive figure, decked out in regalia, had once been in his shoes.
"They explained to them I'm an ex-cadet, even though I'm now an air marshal, from the same unit he's come from in secondary school in Sheffield. And he looks at me, 'I don't believe you'. He almost couldn't compute that he could come from where he was to do this."
The cadet challenged him as he was leaving. "If you're really one of our cadets, will you come back to our Christmas dinner?" 
He remembers the moment, six months later, when he turned up with his wife. "This cadet opened the door and he's like 'You meant it'. 'Yeah, I meant it.'"
In his after-dinner speech, James told the cadets to find his picture in the squadron scrapbooks. "I'm not special," he told them. "I didn't come from a fancy family, a clever school. You can look across the Air Force today and we are remarkably more like that than people realise."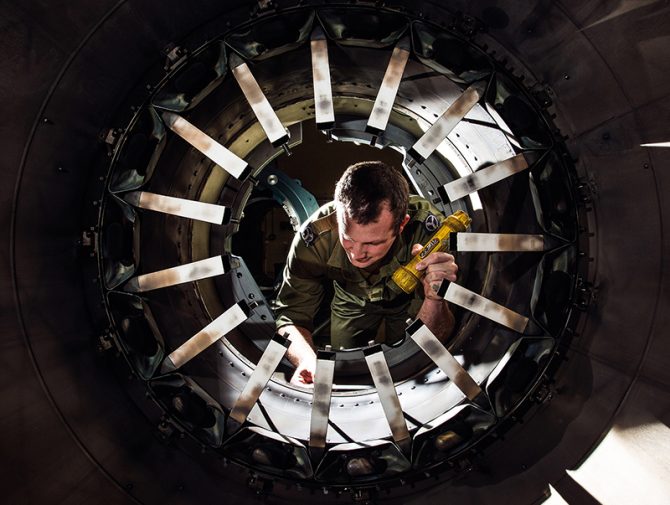 Sitting in his office at the RAF headquarters in leafy High Wycombe, Bucks, the 52-year-old talks passionately about the RAF's role in motivating young people to succeed. "In essence, you're able to say to them 'What's stopping you?' Because it's probably in your head rather than in your ability. There are a lot of youngsters who could do something and be more than they probably believe at the moment, and try it."
He joined at 18, having wanted to fly from the age of six – inspired by his grandfather who, as a steel worker during the Second World War, was in a protected trade so couldn't enlist. "I think he was a bit frustrated, so he duly imprinted this," he says. 
"So I did a bit of time in the air cadets, was very single-minded about what I wanted to do. Then when I was 15 I applied for a scholarship, and to my parents' delight and my surprise, I got one. That guaranteed me a flying scholarship, an Outward Bound course, and direct entry to the service. I joined never imagining 34 years later that I'd be a vice-marshal, basically the chief executive of all Air Force training. And a fair bit of defence training. I've got Army, Navy and Air Force engineers, nuclear, maritime, aviation, ground, electrical are all underneath my current command."
Highlights of his career include Hong Kong in 1997 when all the military bases were handed over to the Chinese. On his wall is a framed picture of a helicopter with the signatures of all the major figures in the handover, from Chris Patten, then governor of Hong Kong, to the Chinese major general who took over the command.
His father was in the merchant navy, then the oil industry, and his mother worked in catering. He and his younger sister grew up in Sheffield, before moving to the tiny town of Lochgilphead on the west coast of Scotland. 
It's funny to think of the RAF as a modern institution, but it's a spring chicken compared with the Army and Navy.
Founded in 1918, its relative lack of history can be a benefit in terms of social mobility, James says. "It has allowed us to just find talent and competence. It doesn't mean that we don't have university graduates and public school boys and girls here, we do. But we have everything and we have them at every level."
One area where they do have history is with apprenticeships. Lord Trenchard, who's often called the father of the Royal Air Force, drove the training agenda from the start. "He got us into apprenticeships within the space of a year and a half of being formed."
One hundred years on, they offer apprenticeships in 24 different trades – from police officer to air traffic controller or dog handler – have an Ofsted outstanding rating, and a completion rate of a staggering 97 per cent across all of their apprenticeships (the national average is 68 per cent).
Having been historically reluctant to toot their own horn, the service started to make more noise in the run up to their centenary, entering and winning the Macro Employer of the Year category at the 2017 National Apprenticeship Awards.
"There's been a good recognition this last couple of years that we ought to stay slightly noisy, all of us," says James. "Because in fact it's a good story. It's positive. And actually we can show the way."
In general they prefer to take a collegiate approach to national competitions, he explains. "I think if the Army, Navy and Air Force went to war to try and compete, you could actually drown it out and you would stop other people from growing – particularly some of the small companies would think, 'I can't compete with that, you're winning everything'. So we deliberately don't. We choose occasionally to step in just to maintain a profile, but we try and work in the background with others – you want others to do well."
Having such established training programmes that already fit its needs, the RAF worked closely with the government on the apprenticeship reforms "so that the changes didn't damage a recognised formula". 
At the same time, he realises the value to the apprentices of having an industry standardised accreditation, which makes their skill transferable. "Everybody always leaves defence eventually, it's just a case of when. So how do you treat them? And what do you do for them on the way through? So there's a virtuous cycle of attract, recruit, train, develop, retain, but then transition."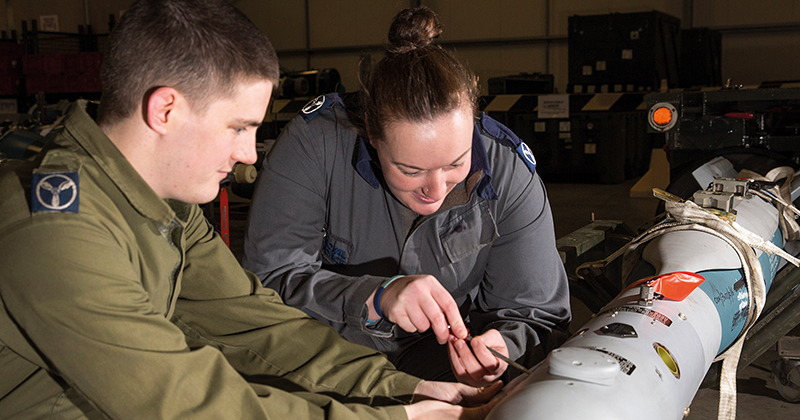 Most of the RAF's 3,000 apprentices are on levels 2 and 3, and the force is clear that it sees apprenticeships as giving career opportunities to young people who may not have been academic high-flyers at school.
To this end, the armed forces were a strong voice against a disproportionate focus on higher-level apprenticeships. "If you're not careful, then you're effectively just supplanting a university education with a degree-level apprenticeship education, and you will cream off exactly the same people," James says, echoing concerns that are rippling through the sector.
"What about the kid who got a B or a C – or didn't even do that – but actually has more common sense than the rest of them put together? Or has a drive to do something that's interesting?"
He describes his own officer training as a "horrible surprise" – the sudden shift from schoolboy to grown-up work. "It wasn't quite what I expected. It wasn't bad, it just was a shock. It's a real change of life, you grow up really quickly."
He rejects my repeated use of the D-word to describe RAF culture, insisting it's less about punishment and more about creating the structure for young people to succeed. "Strict discipline's probably the wrong phrase. There's structure. So there's structure about the way you do your daily life, it's everything from sort of being on time to being smart, to being ready, to being planned. People struggle with that, particularly when they're 16, 17, 18, 19, 20-years-old.
"But our staff are trained to mentor and assist and coach these people through this."
But what if they just have a bad attitude? "If they're not committing or their attitude seems bad, in essence they'll be given the pastoral care to understand why," he says. 
"I'm actually growing somebody for life here, and they're in a job. And part of that job is that bit of training. But there's actually an awful lot more to it. In essence I want an incredibly flexible, adaptable human being who has a skill. But they'll be able to adapt that, move it, change it."