Nazir Afzal is "desperately concerned" about how the government treats FE. One answer, he says, it to raise its profile (and it will require more than a 'Love our Colleges' campaign).
The chair of north Manchester's Hopwood Hall College has encouraged a Channel 4 news presenter to apply to his board and wants to persuade his TV contacts to make a drama about FE on the premise that media engagement is the way to raise the profile of the sector nationally.
"No disrespect to FE Week, but we should be in The Times, The Guardian. We need to be mainstreaming this conversation," Nazir Afzal tells me from a golden throne next to mine.
We've found the only quiet space in a corner of the lobby at the Aagrah Midpoint, a dining venue on a retail estate on the outskirts of Bradford, which, we surmise from the regal furniture, also caters for weddings.
"Why not get a national media person to be on your corporation board?" Afzal says. "Claire [Fallon] wants to be, she lives in Greater Manchester – good friend of mine – and she has applied. We should be identifying where there are gaps on our boards and fill them."
The public might struggle to put a face to Anne Milton
Pronouncements like this are easier to make, perhaps, when you count national journalists among your "good friends", are a go-to interviewee for news programmes and have even had a BBC TV drama starring Maxine Peake made about your work.
Three Girls tells the story of how Afzal, then a chief crown prosecutor, took the decision to prosecute the Rochdale grooming gangs in 2012 at a time when no one else would take the victims seriously.
As well as attracting the ire of some British Pakistanis who believed he was betraying the community, the far right decided ran a letter-writing campaign calling for him to be deported. (One of his fail-safe speech jokes is that he was born in Birmingham and he wasn't going to let them send him back there.) He had protestors outside his house and his children had to be taken to school by taxi for three months.
In 2015 he retired from the Crown Prosecution Service, where he'd worked for 24 years, to become chief executive of the Association of Police and Crime Commissioners – only to resign a year later when he was forbidden from media appearances after the Manchester bombing at the Ariana Grande concert.
"My board were approached by every media group in the bloody world." (He pauses to apologise for swearing.) "The public wanted to hear from me. I wanted to say things about the violence against women and girls element to it. I wanted to talk about how we as communities are addressing this issue. What we need to do. And my board were simply saying I couldn't say anything. So I walked out."
Now he's a freelance consultant he's free to say whatever he wants and is writing his memoirs. He will talk about his origins – the son of Pakistani immigrants, he grew up with seven siblings in a two-up, two-down, in Small Heath, Birmingham, and has previously spoken about being the victim of race-based bullying at school – his career and then "become a bit of a polemic near the end".
So what change does he want to see? "Everything, not just the legal system … the country.
"Things like the fact that we rely on NGOs to deliver the services that the government should deliver. Or with refuge provision, we expect the victim to go into refuge but we leave the perpetrator in his home. Get the perpetrator out and leave her in the home."
Afzal spends one week each month in Pakistan, working for the Department for International Development, and advises the Welsh government on strategies to eliminate gender-based violence.
To steal a half-hour in his busy schedule, I've tracked him down to a conference organised by a charity called Together Against Grooming, where he is, understandably, something of a big deal.
Jo Cox's sister has just approached him to say thank you for a tweet refuting a claim by Peter Hitchens that the MP's killer was mentally ill. He's happy, he tells me, to use his platform to speak out on issues he has expert knowledge on, whatever the backlash.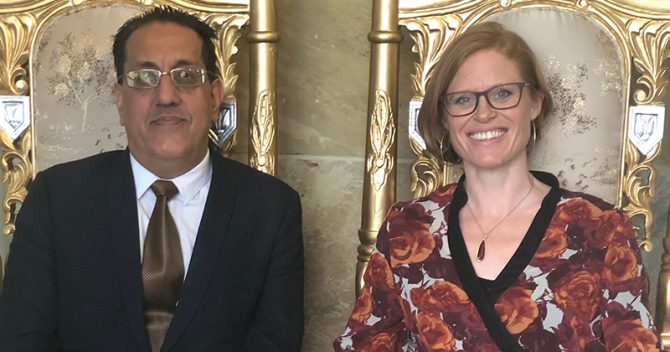 FE is his most recent cause. He's been involved in education for years: he was a governor at West London University, then Brunel University, where he became pro-chancellor.
He describes the five years of graduation ceremonies as "the best days of my life. Three days a year where I'm shaking thousands of hands … so rewarding."
But the more he learned about FE, the more he started to see it as "the poor cousin of the education system. For the past 20-odd years, the investment has been going into schools and, of course, universities.
"But the FE sector, that's just been ignored. You know the data more than me: 45 per cent reduction in [adult education] funding and so on. It makes zero sense to me. So I thought 'Hang on a minute. What's my next challenge in the education sector?' That's the one that attracted me. And then, by pure chance, Hopwood Hall became available and I decided to apply for it."
He's not afraid to use colourful language to describe the inequity in the system. In January he used his regular diary piece in the New Statesman to argue the case for more funding for FE, or "how it has been shafted by Her Majesty's governments, going back years". he paraphrases.
"I'm desperately concerned about how the government treats FE," he says. "Whether we Brexit or not, the skills that we require as a country, where do they come from, if they're not from the FE sector? It just seems so shortsighted to me that the government is not supporting FE in the way that it should."
Afzal's two eldest children have so far taken the university route: one is studying law in Bristol, the other politics in Glasgow. The other two are still at school.
He's critical of the Association of Colleges' Love our Colleges campaign, for having launched "far too late." (It was launched in September, the month before the chancellor's autumn statement.)
"Budgets are organised months in advance. With the spending review coming up we should be engaging really early on to get our messages across to the treasury and others."
Skills ministers need a higher profile, he adds. "Given that I probably can't put a face to Anne Milton myself, the public might struggle."
He attributes the doubling of the budget for the Crown Prosecution Service, from £300 to £600 million between 2000 and 2005, to prosecutors such as himself working hard to raise its profile through "engagement with the communities, using the media more effectively, talking about our casework". He wants FE to take a similar approach.
"We [the CPS] went from being perceived as an organisation that just did a fairly good job, without any fanfare, to one where we blew our own trumpet for years. So when it came to the spending reviews under Blair's government, our budget increased and increased and doubled by the time 2005-06 came around. We could do that for FE."
Public figures such as Steph McGovern, the business presenter for BBC Breakfast, have been blowing the FE horn for years. What would Afzal do differently?
"A lot of people have been through the FE sector and now achieved great success in life. Sizeable people with sizeable personalities, with great profiles. We need to engage with them to become our ambassadors. We need to explain what value we are adding."
To this end he's been instrumental in getting the chairs of all ten Greater Manchester colleges to agree to pool marketing resources and work together on putting out a united message, under the auspices of the Greater Manchester Combined Authority.
But doing it in one city is not enough, he says. "On our own we can only do so much. We need to build capacity, share learning. Ultimately we have one message to deliver, which is about how fantastic FE is and what potential it supports, and the journey it takes people on. We need to do this together."