Adult learners who battled against the odds, against self-doubt and previous bad experiences to return to education were honoured at the Adult Learners'

Week (ALW) awards.
The award winners and nominees, who ranged in age from 19 to 85, as well as the tutors, projects and employers who helped them get there, received their awards at an uplifting ceremony near London's Trafalgar Square on Monday (June 15).
Also in attendance were senior figures from the Skills Funding Agency, Association of Colleges, Association of Employment and Learning Providers, Find a Future, colleges and independent learning providers among others.
The awards came as part of ALW — seven days of events, activities and campaigns to celebrate and raise awareness of lifelong learning, organised by the National Institute of Adult Continuing Education (Niace).
David Hughes (pictured below), Niace chief executive, said: "Awards like this are very special. It's an emotional evening, because some of those winners are just amazing and it's just sometimes important in our society to say 'let's celebrate people who have never really been recognised before'.
"And the impact that has on them and their families and the people around them is immense."
The outstanding individual award winner was Lee Hughes, aged 30 and from Barnsley, who left school with no qualifications and fell into drug addiction.
But after kicking his habit and studying an Access to HE diploma at Northern College, he is now reading modern history at Sheffield Hallam Unviersity.
"It's surreal to win the award," he said. "I'd been written off a few years ago and so to get an award for learning and what I've done is mind boggling."
Lee said he felt the awards were important to inspire other learners.
"It's championing further adult education, so the people who win awards can go out and share their experiences," he said.
"It's never too late to learn – I'm doing things I'd never dreamed of doing a few years ago."
Winner of the newly-introduced patron's award, chosen by Niace patron HRH Princess Anne, Adele Tilley, aged 26 and from Leicester, agreed.
"I think it spurs people on and it shows people around you that you can achieve what you want to achieve," she said.
"Even if you didn't set out like that from the beginning, you don't have to be a high achiever from the beginning to be a high achiever in the end."
Adele grew up in care, which had a huge impact on her schooling, and didn't return to learning until she was 21, having escaped an abusive relationship.
She completed GCSEs in maths, English and ICT, went on to do an access diploma in business management and is now working to gain a master's degree at De Montfort University.
"Starting out was the hardest challenge, taking that first step," she said.
"After that, everything else gets easier, as your knowledge grows so does your confidence.
"I feel totally honoured and elated at the minute — to have won the award is an amazing experience for me.
"I'm sure what I'm going to do in the future to be honest – there are so many opportunities I could take up, I'm going to finish my masters see how the land lies then and take it from there, but whatever it's going to be it'll be big."
However, amid the celebrations there was a sombre note – with more and more chunks being taken from the Adult Skills Budget as part of the austerity cuts, Mr Hughes said he was concerned the that opportunities which this year's award winners had grasped would not be available in the future.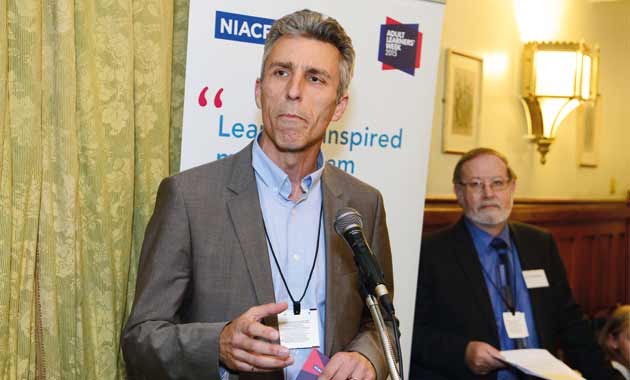 "We've got a real fight on to make sure there's public investment to help people who didn't get a chance the first time round to have another go," he said.
"Because when they do their lives are transformed, the lives of the people around them are transformed and businesses are transformed."
ALW, which ran from June 13 to 19, also saw taster courses and have-a-go sessions up and down the country, offering people the chance to try their hands at hundreds of different skills, from refereeing, circus performing and ukulele to online safety, rocket building and digital photography.
Main pic above: Andrea Sanders (left), European Social Fund outstanding individual, Katie Crisp (right), European Social Fund national young adult learner, Angus Gray (centre left), head of European Social Fund division at the Department for Work and Pensions with members of the Wiltshire Scrapstore team, who won the European Social Fund national project award
————————————————————————————————————————————–
'Back to class Mr Boles'
In the spirit of ALW Labour MP Barry Sheerman (pictured right) called for Skills Minister Nick Boles to be sent back to the classroom.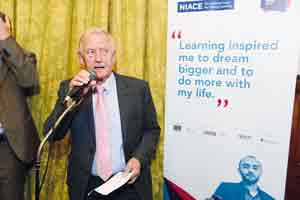 Mr Sheerman made the comments at the House of Commons ALW reception on Tuesday (June 16).
"We have got to fight back, positively, creatively [against funding cuts]," he said.
"I respect Nick Boles as a minister and his passion for this area, and we've got to educate him, transform him and get him on our side, because we aren't going to go under with a whimper, we are going to fight our corner."
Lee Hughes, who picked up this year's outstanding individual ALW award, also spoke at the event, praising his college, Northern College, but said he was "baffled" by the funding cuts, which he described as "counterproductive and wrong". "Compare my meagre education to those in power now," he said.
"Surely if I can spot the flaws in slashing adult education funding, and
the devastating effect it will have on people, then one would think they could spot it too."
————————————————————————————————————————————–
Adult Learners' Week 2015 National Award Winners
Patron's Award
Adele Tilley, 26, Leicester
President's Award
Humber Local Enterprise Partnership (LEP)
Outstanding Individual Award
Winner: Lee Hughes, 30, Barnsley
Finalist: Ishenaisu Ntaibu, 45, Bradford
Finalist: John Pierre-Madigan, 49, Huddersfield
Finalist: Vera Benfield, 85, Croydon
European Social Fund Outstanding Individual Award
Andrea Sanders, 48, Barnsley
European Social Fund National Young Adult Learner Award
Katie Crisp, 19, Cornwall
European Social Fund National Project Award
Wiltshire Scrapstore
Digital Learning Award
Keith Rogers, 43, Canterbury
National Employer Award
Winner: Screwfix
Finalist: Canley Food Packers
Finalist: ZF Lemforder UK LTD
Learning for Work National Individual Award
Jami Blythe, 37, Sunderland
Young Adult Learner of the Year National Award
Mohammed Mahyoub, 23, Warrington
National Project Award
Winner: Back in the game
Finalist: Money House
Finalist: Right Direction — West Yorkshire Community Rehabilitation Company
Tutor of the Year Award
Winner: Karen Scott, 47, Leicester
Finalist: Joan Murray, 60, Skipton
Finalist: Bernadette King, 50, Liverpool