New Shadow Minister for Young People John Woodcock MP said he was "in listening mode" at a special FE Week event at the Houses of Parliament to introduce him to the sector.
The event on Tuesday (June 16) gave 180 representatives from providers, colleges and awarding bodies the chance to tell the Labour MP what opposition policies they would like to see proposed in the new Parliament.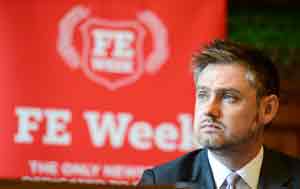 Mr Woodcock said: "I am very much in listening mode. I need to understand from all of you what's happening in the sector… and what your sense is of the big challenges facing you."
He said Labour had "palpably failed" to convince the public it could do better than the Conservatives at the election.
"And that requires some sense of determination yes, that we will do better next time, but also some humility," he said.
"So we need as an opposition to reassess with you, what was right, what was wrong and not going into this simply committed to saying the same things as we were over that last five years with the same results."
Key on providers' list of concerns were issues around provider engagement.
Mike Motley, managing director of TQ Training, told the Shadow Minister: "Employers' involvement with apprenticeships is at about 14 per cent in this country which is paltry."
When Mr Woodcock asked why engagement was so low, and what government could do, Mr Motley told him incentives were key.
He said: "It's about showing them the real benefit and we do all we can through the provider network but I don't think enough is done from a government perspective."
Mr Motley said reaction to the apprenticeship grant for employers, an incentive payment for those who take on apprentices, was that it was too bogged down in bureaucracy.
He said: "The other issue with employers is size — 97 per cent of employment in this country is through small and medium-sized enterprises [SMEs] and they are the hardest to engage."
[slideshow_deploy id='36812′]
Click here for event programme, including list of attendees and here for Mr Woodcock's exclusive post-event interview with FE Week in which he said government had made a "dog's breakfast" of apprenticeship funding
John Hyde, executive chair of HIT Training, said employers needed "stability" in order to commit to apprenticeships.
"If the government wants 3m apprenticeships, they've got to forget Trailblazers and just get on with what we can do," he said.
"We haven't got time to change all the programmes and all the problems that are going to come with it — it's either 3m apprenticeships or Trailblazers, take your pick."
Guy Helman, chief executive of the provider Impact Futures, blamed government strategy for the lack of SME engagement.
"I'd like to know if there's going to be an employer engagement policy where actually deciding on policy we're going to engage with the 97 per cent of SMEs out there in stead of the 3 per cent who are the larger employers," he said.
Mr Woodcock said that while he couldn't say what the government planned to do about the issue, he could "absolutely recognise the need" to engage differently.
"Having seen the way that Whitehall and ministers work from the inside, I can understand why government often does engage with blue chip employers because they have the economies of scale," he said.
"But it's unquestionable that the system is not delivering for small businesses.
"Recognising that problem is not the same as solving it, but I think absolutely we do have to work from that basis."
Key to this, he said, would be understanding why apprenticeships were not "suitable" for small employers and how to communicate better with SMEs.
He added: "FE cannot continue in perpetuity to be the second or third cousin to other areas of education.
"It is extraordinary what many of your institutions have been able to achieve over these last few years given the squeeze — not simply financial squeeze but a squeeze on aspirations from a government which talks to universities, talks to schools and in many ways fails to understand what you are capable of."
Main pic above, from left: panel members Richard Atkins, Association of Colleges president, Stewart Segal, Association of Employment and Learning Providers chief executive, Angela Middleton, chief executive of MiddletonMurray, Nick Linford, director of FE Week publisher Lsect, John Woodcock MP and Paul Steer, OCR head of policy and public affairs