A career in post-school education seems to have been on the cards for Paul Grainger right from the day he started his very first job.
As co-director of the centre for post-14 research and innovation at the Institute of Education (IoE), it's an age group he has long found professionally more rewarding.
His first job, in 1973, was teaching English at Wilsthorpe Comprehensive School, near Derby, but he moved into FE two years later at North East Essex Technical College and School of Art, in Colchester.
"I absolutely loathed teaching in a school. The children had no ambition at all," says the father-of-four, from Birmingham.
"I took to FE straight away as it's education for a purpose — teaching young people to engage in the economy and behave as adults.
"I started off at my first college just lecturing English, but also started teaching for a pre-vocational training course that allowed students to sample several different vocational areas like retail, horticulture, business and caring. I was made head of department for O-level resits in 1980."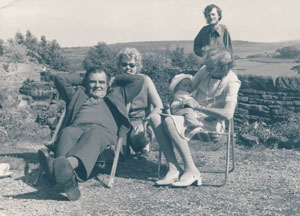 He has been with the IoE, which is part of University College London, since 2006, initially just to run its post-14 network for London providers and local authorities involved with educating the age group.
"It has involved organising a lot of conferences and seminars for like-minded people interested in post-14 education," explains 65-year-old Grainger.
"I was also able to help launch the Centre for Post-14 Innovation and Research in 2007. We are an academic group who run courses, conferences and do consultancy work.
"We also do serious research into post-14 education, particularly looking at policy. We're constantly talking to ministers and policy makers looking at things like whether A-levels should be replaced with a baccalaureate system [which involves studying a wider variety of subjects].
"We think that would give learners a broader range of skills and prepare them better for work and life."
However, his own preparations for work and life were dealt an early blow with his introduction to schooling at the age of four coming within a hospital setting as he recovered from polio.
The disease left him without use of his left arm, which was amputated four years ago, and a weak upper-body.
"I was more or less the last case of polio in this country, because the vaccination came out a few weeks later," he says.
"I was eventually moved to an old tuberculosis hospital in Windermere where I recovered for the next nine months. My parents [mum Joan and dad Ken] were only allowed to visit once a month and I actually had my first school lessons there.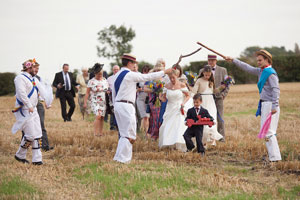 "I think it was natural for me to develop an inclination towards academia as I couldn't play a lot of sport as a child."
He adds: "My illness definitely influenced my career choice, as well as I suppose my parents both having been teachers.
"When you have had polio your options are fairly limited. Teaching was a fairly stable option for disabled people to go into."
Joan started her working life as a junior school teacher, but, said Grainger, government rules at that time preventing married women from teaching forced her to change careers when she tied the knot with Ken in 1949.
"She worked for the Government National Survey doing market research for the rest of her career, which fitted well around raising children," he says.
"My parents were both children when the Second World War started, but joined-up around the time of D-Day and went with the advancing allied forces through France.
I took to FE straight away as it's education for a purpose — teaching young people to engage in the economy and behave as adults

 
"My dad was an RAF weather forecaster and my mother was a radar operator in the Army.
"My dad heard you could get demobbed faster after the war finished if you went into teaching, so that's how it started for him.
"He was promoted quickly and became a head teacher at Cadishead School [in Manchester] aged 35, before moving to the larger Holy Croft School, in Keighley [Yorkshire], which is the main area I remember growing up in from the age of 11. I regard myself as a Yorkshireman."
Grainger would go on to achieve a first class degree in English and politics from Keele University in 1972 and completed a masters degree at the University of Birmingham, focusing on poetry in latin preaching manuals from the 14th Century, a year later.
But, having made a start to his working life at school and then college in Colchester, Grainger's career was put on hold in 1984 when he was involved in a car crash that killed his 63-year-old dad.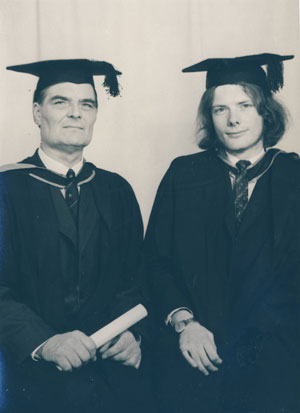 "We were pootling along up the A12 in Chadwell St Mary [Essex] when someone crossed the central reservation and hit us head-on," says Grainger, who lost his 80-year-old mother 18 years later.
"My father was killed and it broke every bone in my body. It's something you never quite get over, as you can't help thinking 'what would have happened if I'd stayed at home that day'."
He took around six months to recover enough to return to work and the traumatic period coincided with Grainger's divorce from first wife Victoria.
He opted for a change of scene the following year, moving to South Thames College, Wandsworth, as head of department overseeing BTec and bridging courses preparing learners who had done badly at school for vocational training.
He then spent five years from 1990 as an FE inspector for Wandsworth Local Education Authority (LEA), in the days before inspections were carried out by Oftsed.
The LEA also tasked Grainger, through his role as an inspector, with improving vocational training facilities at local colleges and schools.
He was given a £2m budget, through the government's Technical and Vocational Education Initiative, to pay for new facilities such as computers and better libraries.
He said: "It was part of a wider move to encourage more students into vocational education, much like what is happening today — so what goes around comes around."
Grainger's next job, from 1995 to 1997, was as vice principal and director of curriculum at Wigan and Leigh College where he says "the local mining industry was being run down at that time and a lot of manufacturing businesses were closing".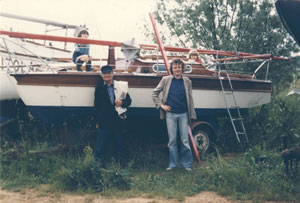 He added: "It meant that fathers and mothers were often being laid-off at the same time and they needed retraining. We did a lot of work re-educating people to use computers and giving them other skills to change careers."
His was appointed vice principal and director of curriculum at South East Essex College, Southend, in 1997 and says: "I worked under a brilliant principal called Tony Pitcher who had a huge influence on me.
"He took a college which had been moribund under the local authority and used the benefits of increased independence through incorporation [from 1994] to make it extremely efficient both in terms of education and finances.
"Our proudest moment was beating one of the local grammar schools in 1999 with A-level point scores. I also oversaw the establishment of links with the University of Essex. It was one of the first moves into higher education for an FE institution."
But Grainger admits to having found it a "bit of a culture shock" when was he was appointed principal of Widnes Sixth Form College in 2000.
"It was quite a lethargic college and I was brought in to shake things up. We expanded and became the Widnes and Runcorn Sixth Form College and our turnover went from £2m a year to £7m.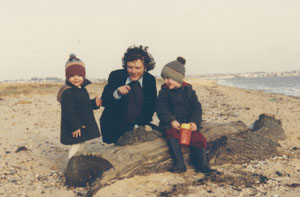 "However, I admit that I misjudged the level of local support for keeping it a sixth form college. I was working towards making it into a general FE college, but my governing board disagreed with me and we agreed to go our different ways in 2005."
Grainger divorced second wife Heidi the following year, but last September married Liz in a service attended by his children Harry, 37, Maud, 34, Imogen, 26, and Marcus, 24, and grandson James, five.
He says: "It is wonderful being married again to a lovely woman. Liz walked across a farmer's field in her wedding dress to the church in the village of Thornton Curtis, North Lincolnshire, where we live.
"My sons dressed in full morris dancing garb and formed an arch of honour for her with their sticks to welcome her.
"It's quite strange sometimes to think that I'm now past the age that my dad passed away, yet I'm still having all these rich experiences and will hopefully have many more to come."
—————————————————————————————————————————————–
It's a personal thing
What is your favourite book, and why?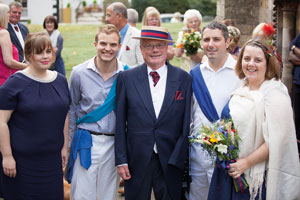 The Voyage of the Beagle by Charles Darwin. It's a young man's adventure story. A trained naturalist sailing round a partially explored world keenly observing strange phenomena. He has not at the time developed the theory of evolution but throughout the book, tantalisingly, the penny is about to drop
What do you do to switch off from work?
I enjoy gardening. I can't play much sport because of my disabilities, so that keeps me fit. It gives you a good all-round workout. Two of my other great loves are drinking a good pint of beer and travelling on steam trains
What's your pet hate?
Management speak — silly phrases like 'going forward' and 'take it on board'
If you could invite anyone to a dinner party, living or dead, who would it be?
John Donne, who I think was the wittiest poet of them all. I would also probably invite Geoffrey Chaucer and another writer from the Middle Ages called William Langland. I would ask Emily Bronte along too
What did you want to be when you grew up?
I very much like the theatre and might have been interested in acting, but that was not really an option because of my disabilities