The projects which will share a £11.7 million fund to help more adults back into the classroom have been announced.
The Flexible Learning Fund will support 32 "innovative" projects across England.
The idea is to "encourage more people to take part in new training or courses that will help them progress in current employment or secure a new job", according to the Department for Education.
"Projects are aimed at a range of skill levels – teaching beginners all the way through to those who already have a good understanding of a topic".
The skills minister Anne Milton hailed the new project.
"I'm really excited about these projects, which will help people learn the skills they need to grow and succeed in lots of different jobs," she said.
"Whether working already or returning to work, it can be difficult for people to fit training around their busy lives.
"This funding aims to find out how providers and employers can work together to better meet the needs of adults of all ages, who want the opportunity to learn important new skills and change their lives.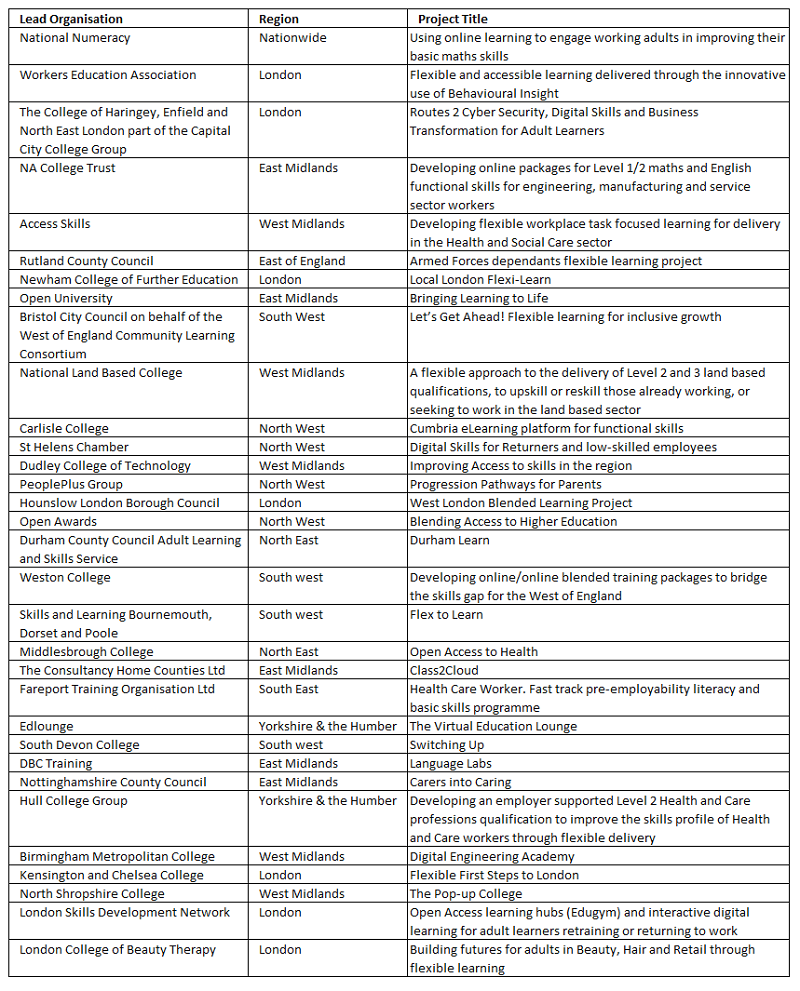 "We were very pleased when this fund was created, and it has been managed well which has resulted in an excellent result for adult community learning providers," said former top skills civil servant Sue Pember, who is now  director at adult community education and learning body Holex. "The subjects and delivery ideas are exciting and should lead to real change."
Among the providers to benefit is Access Skills. 
"We're delighted that the proposal has been selected for support from the Flexible Learning Fund," their managing director Neil Crawford said. "To break the barriers that prevent adults from returning to learning we will use an on-line learning environment to deliver health and social care leadership qualifications in flexible and accessible ways."
"National Numeracy fully supports the aims of the Flexible Learning Fund," added its chief executive Mike Ellicock. "National Numeracy will work with six partners including the John Lewis Partnership, Civil Service Learning and KPMG to deliver basic numeracy skills via an online delivery method either with employers or through direct digital engagement with learners. The project will be aimed at those in work who are looking to upskill and gain confidence in numeracy."