FE champion Shakira Martin (pictured above) has survived a row over allegations of bullying to be re-elected as president of the National Union of Students.
The incumbent scored a comfortable victory over challengers Momin Saqib and Sahaya James at this year's annual conference in Glasgow.
Ms Martin won in the first round with 50.9 per cent of the 694 votes cast.
She scored 352 votes, while Mr Saqib came second with 168 votes and Ms James received 104 votes. Sixty-six people voted to reopen the nominations, and one delegate spoiled their ballot paper.
Ms Martin said "I am honoured and humbled to have been elected as NUS' national president for a second term. I was elected to listen, learn and lead, now it's time to get real about what that means both for all forms of education, and what it means for NUS."
In January this year Ms Martin was alleged to have bullied other NUS staff members.
All elected NUS officers – including its vice-president for FE Emily Chapman – were made to work from home for a week while the claims were investigated.
Ms Martin has been a strong advocate for the learner and apprentice voice since being elected VP for FE in April 2015, when she was president of the student union at Lewisham Southwark College.
She became only the second national NUS president to have attended an FE college when she was elected last year, in a stunning victory over her predecessor Malia Bouattia.
Her successor as VP for FE, Emily Chapman, also successfully stood for re-election this year.
She won 61 per cent of the vote to retain her position as NUS vice-president (further education) until the end of 2018/19.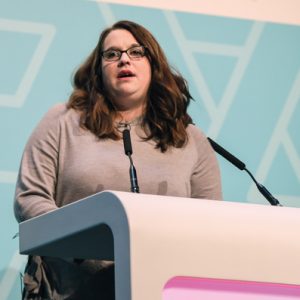 "When you elected me as your vice-president further education last year, I made a promise to get the FE and college voice loud and proud, both in NUS and across the sector," Ms Chapman told delegates.
"That is exactly what I have been doing, and what I will continue to do in my second term. "I will continue to fight for all forms of further education to be free and accessible, I will campaign to reduce travel costs with the #MyFEJourney campaign, and lobby for FE maintenance grants to be introduced, and ensure FE is remembered whenever we talk of loans and fees."