The principal of a large London college has taken a leave of absence following the suspension of an apparently homophobic and racist department head.
Denise Brown-Sackey (pictured centre), at Newham College, and her board of governors took the decision after a recording emerged of dance and drama head Dr Mark Walcott (pictured right) seeming to make vile claims during a staff meeting early last year.
A 50-minute recording was posted on YouTube on November 17.
Newham College's focus remains unwaveringly on its learners.
However, FE Week understands that an eight-month internal investigation into Dr Walcott had already taken place with no action having been taken — until the clip went online.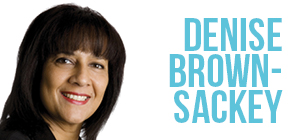 A Newham College spokesperson said: "In light of recent events concerning an online recording expressing views which do not reflect the values of Newham College, and in the best interests of the college, the board of governors has agreed with the principal, Denise Brown-Sackey, that she will take a leave of absence, pending an independent investigation into recent allegations.
"Newham College's focus remains unwaveringly on its learners.
"We are proud of our reputation as a leading college and a fair employer, not least as the only FE College in the Stonewall Workplace Equality Index top 100, and will continue to make this the focus of our work."
Mrs Brown-Sackey will be replaced while on leave by her predecessor as principal, Martin Tolhurst CBE.
She has been principal of Newham College since 2010, moving up from deputy principal when Mr Tolhurst resigned.
She has served at the college for almost 25 years, starting as a lecturer in 1988 and working her way up to principal, with a brief stint as deputy principal at Havering College between 1999 and 2002.
The college spokesperson added: "We will not be commenting on these matters as they are now the subject of an inquiry, and do not envisage it being appropriate to comment further during the course of the inquiry."
During Dr Walcott's recorded rant, he seemed to say that gay people were ineffective and unsuitable teachers who would try to "indoctrinate" students into homosexuality, comparing them to the Nazis and the Ku Klux Klan.
A spokesperson for the college described Dr Walcott as a "contractor", but declined to give further details on any contractual relationship.
Dr Walcott is listed on what appears to be his LinkedIn profile as chief executive of the east London-based London Music and Dance Academy.
Dr Walcott, who has been suspended pending the independent investigation, could not be contacted by FE Week.