A UK competitor has come within the top 15 at the largest virtual pressure test ever run by the WorldSkills international movement.
Isaac George, 18, was placed 13th out of 23 competitors at the IT Network Systems Administration Competition, ahead of Team UK being selected for the next in-person WorldSkills competition in Shanghai next year.
He was just one point off winning a Medallion for Excellence, for competitors who have reached the international standard in their skill – all while juggling preparations for the university exams he is sitting this week.
It marks a good result for the UK, after we also scored two medallions at a virtual cooking pressure test late last month.
UK competitor faced 'tough' competition
George, who studied at NESCOT before starting his computer science with information security degree at Royal Holloway, University of London, called it "brilliant" to test his skills against other nations.
Fifteen other nations took part in the tournament, held on April 24-25 and May 1-2, including Japan, Germany and South Korea.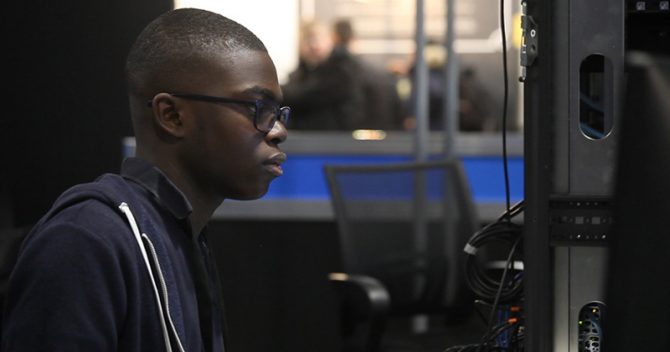 "The competition was tough, but I was really pleased with my performance," he said. "The whole experience has given me a real boost of confidence but has also confirmed to me where I need to work on my skills with the training team and my lecturers."
He said he is "determined" that he has what it takes to be picked for Team UK next year.
His training manager Kevin Large from Remote Training Solutions said he was "very pleased" with the result, after George came second in one of the four modules of the pressure test, despite being the youngest person taking part.
"It definitely showed his potential. It also showed us where his strengths and his weaknesses are, which was one of the big reasons why we wanted to do it the first place."
WorldSkills UK using tests to prepare for Shanghai
The test was split into four modules, with competitors granted three hours for each.
They included tasks such as designing disaster recovery procedures for networks and troubleshooting hardware and software issues.
WorldSkills UK, which initiated the virtual pressure tests, is using them – including this latest one and one held late last year, in electronics, in which the UK beat China – to prepare for Shanghai next year.
Deputy chief executive of WorldSkills UK Ben Blackledge said seeing where our country stands against other nations, and which areas it is particularly strong and weak in, is "the whole point of doing these pressure tests".
He highlighted how the UK's mechatronics team came third at the Europe-wide EuroSkills Budapest event in 2018, because a "really rough" time at a competition several months earlier gave them the "kick they needed and real insights into what they needed to address".
This latest pressure test has also informed WorldSkills UK about how other nations are progressing.
Large said not only had it given them "a lot" of information on how other nations compete, but also the infrastructure they worked on during the competition, which helped to show why different nations did well in certain areas.
Virtual pressure tests could continue after pandemic
The test was the largest virtual one which has been run by the international WorldSkills movement. It worked by having all the competitors taking part remotely, but connected over Zoom call and sharing their screen, so they could be monitored.
To ensure a good connection for competitors, the online tasks were funnelled through Microsoft data centres in America, the Asia-Pacific region and Europe.
Blackledge said there is "definitely" a demand among competing nations for more virtual pressure tests, even after the pandemic passes, owing to the sustainability concerns of jetting competitors around the world to take part in in-person tournaments, as well as financial considerations.
"We think this is a really valuable platform," he said.