Singing, dancing, glow-in-the-dark shows and a bird of prey; Team UK's first outing in Abu Dhabi certainly had it all as they visited a local school ahead of WorldSkills 2017.
For some the highlight was the energetic rendition of S Club 7's smash hit 'Reach for the stars', and for others it was the Scottish highland dancing, but every moment of Team UK's visit to Al Ezza School, in Baniyas East, will be one to remember for the competitors.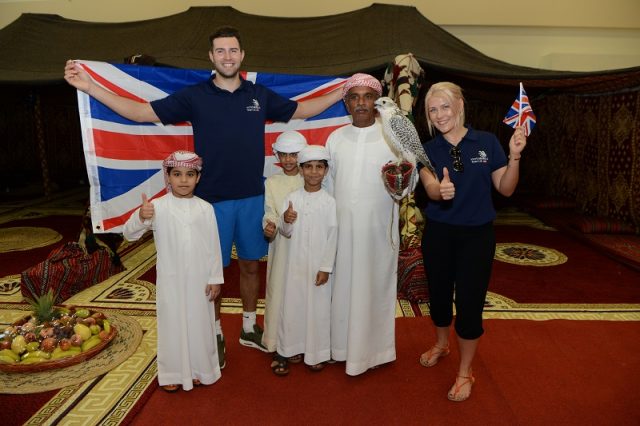 The visit came as part of WorldSkills' One School One Country programme in which all the competitor nations and regions are assigned to a school where children then find out about their team, get to meet them just days before competition and present their findings to the competitors.
Team UK entered the school via a red carpet this morning, and were met with screaming applause from the pupils, who then quickly got into position to perform some authentic Arabic dancing.
They were then moved into the school's main hall where both the UK's and United Arab Emirates' national anthems were sung before a barnstorming rendition of S Club 7, by one the school's own pupils.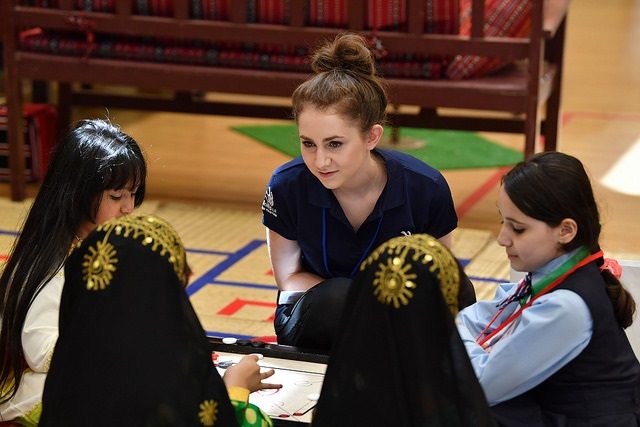 A glow in the dark act took place shortly after this, followed by a shadow show and then a presentation by the UK's team leader Jo Maher, who took the schoolchildren through the history of our country, including traditional dishes like fish and chips, and celebrities like David Beckham.
Workshops followed, where the pupils could have a go at some of the competitors' skill areas, such as jewellery making and restaurant services, and the UAE's national bird – the saker falcon – was on hand to pose for photos.
"The whole day has been so much more than I expected," said Kaiya Swain, Team UK's competitor in beauty therapy who trains at Sussex Downs College. "They've put so much effort into it and it really has blown us all away.
"It has definitely got us pumped up for the competition. It was the boost that we all needed."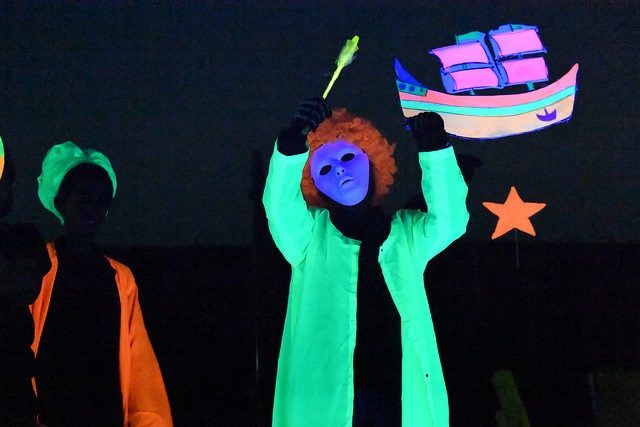 The event will also without a doubt live long in the memory of the schoolchildren.
"WorldSkills means we can share our culture and skills with everyone and learn more about many things," said 10-year-old pupil Salama Salim.
To see WorldSkills competitors meet their young Abu Dhabi hosts for the first time, is an "emotional experience that emphasises the power of forging relationships that know no borders", added Simon Bartley, President of WorldSkills.
"One School One Country demonstrates that the world can be as small and interconnected as we want to make it. Skills are uniting these young people, and this programme makes it possible for them to develop their knowledge and understanding of cultures and values beyond their own."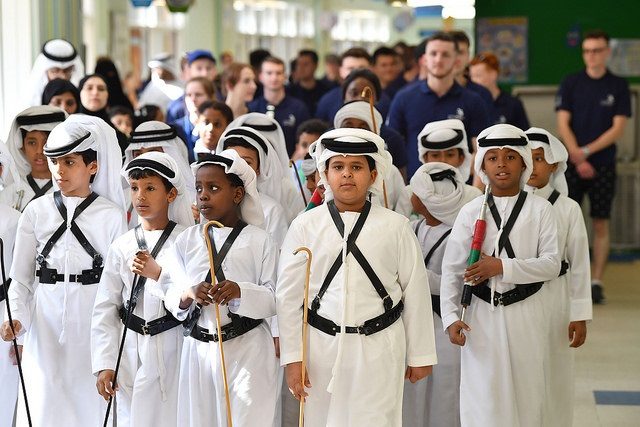 WorldSkills UK chief executive, Dr Neil Bentley, was part of the visiting party all day and took to the microphone to say thank you to the school for hosting the team before joining in with traditional Ayala dancing, also known as the 'stick dance'.
"For me this is one of the aspects of the competition that gives us that real cultural exchange, it has been a unique insight into education in Abu Dhabi and that is what this whole WorldSkills journey is all about," he told FE Week.
"The school itself has put so much effort into it, this is the epitome the competition."