As Gavin Williamson promises to match Germany in the delivery of vocational and technical education in ten years, JL Dutaut looks back at the mismatch between vision and reality over the past twenty years.
It was an education policy announcement that grabbed the headlines. Fifty per cent of young people would access higher education. A policy announced not by a secretary of state for education, but by Tony Blair, a prime minister two years into his first administration. A vision, attached to a target.
Yet, a third element was missing: strategy. It has taken 20 years, three education department rebrandings, six prime ministers and 11 secretaries of state, but finally this month, the target has been met. In the end, it passed with little fanfare and a strong chorus of criticism.
From Aimhigher to higher-level apprenticeships, and from widening participation to broadening curriculum, it is a target that has transformed not only universities but, perhaps just as profoundly, further education.
Was it worth it? It depends where you stand on the balance between student debt and incalculable economic benefit, or between grade inflation and unknowable social capital growth.
Would any politician wish to repeat it? Under one condition: if public support could be so fixed behind the objective that to abandon it would be unthinkable.
Last week the new education secretary Gavin Williamson announced a policy for "the other 50 per cent".
It's the policy equivalent of an iPhone, with obsolescence built in
Set against the backdrop of a Blair success finally delivered under Boris Johnson, and a public discourse shaped by the pernicious notion of "liberal elitism", it has the virtue, from the outset, of expressing a vision, something none of Williamson's predecessors have done with any impact since Michael Gove.
The vision is that by 2029 England will match or better Germany in the delivery of vocational and technical education (VTE).
For now, at least, there is little flesh on the bone. It's a vision with a backstop, the policy equivalent of an iPhone with obsolescence built in, intended to fizzle out behind the pomp of another product launch.
How will it be delivered? Apart from eight new institutes of technology, some specialist maths colleges and the promise of a skills and productivity board, there is little strategy.
How will it be measured? The Department for Education can't tell us.
The Learning Age
To understand what shape it might take, one has to look back again to the Blair years.
In a 1998 green paper, The Learning Age, David Blunkett, then-secretary of state, set out two priorities to make education more responsive to a changing economy: individual learning accounts (ILAs) to subsidise people to take responsibility for their own learning, and a University for Industry (UfI), a network of providers to support people to do just that.
That green paper became the Learning to Succeed white paper, and then the Learning and Skills Act (2000).
By 2002, the ILA scheme, run in partnership with Capita, was wound up amid a fraud scandal that left the public purse lighter by £268 million.
By 2004, UfI, which ran learndirect – an online learning scheme to attract young people and adults to upskill through education and training – had cost £1 billion and was subject to a value-for-money review by the National Audit Office (NAO).
Of the 1.4 million learners the initiative was said to have supported, only 65 per cent had completed their courses and it found itself hobbled by the collapse of ILAs, its main income source.
The ILA fraud left the public purse lighter by £268 million
Its journey after that has been eventful. It has eeked out an existence on Home Office contracts to run workfare programmes, faced financial collapse, was earmarked for a "bonfire of the quangos", and was finally sold to Lloyds Bank's private equity arm LDC in 2011. It has since undergone an Education and Skills Funding Agency (ESFA) investigation, an Ofsted mauling and a public inquiry that left the provider, ESFA, government and Ofsted with egg on their faces.
The apprentices, in the end, were sold off to a private provider, a far cry from Blunkett's vision of 20 years ago, and a testament to the fact that even with a vision, a strategy and targets, the best-laid plans of politicians often go awry.
The economic turn
The transformation of UfI from publicly funded quango to publicly funded for-profit provider shouldn't mask another development in government policy, before even the NAO investigation. It started with education secretary Charles Clarke, continued under Ruth Kelly, and found support in Gordon Brown's Treasury.
A 2003 policy paper by Charles Clarke entitled 21st Century Skills, Realising Our Potential represented a subtle, yet major change in the political philosophy underpinning FE policy. It was a shift from Blunkett's notion of lifelong learning – an individual entitlement and an end in itself, with associated economic and social benefits – to a strongly economic conception founded on international competitiveness.
Perhaps coincidentally, this was also the year of the second round of PISA tests, the dawn of the age of international comparison of education systems. As Gavin Williamson sets his sights on Germany and Singapore today, New Labour had set theirs on India and China.
Earlier in the year, Clarke had set out his vision in a paper called 14-19: opportunity and excellence, which included the notion of expanding the entitlement to literacy, numeracy and computer skills to level 2 standard to age 19.
Train to Gain was sacrificed to the demands of austerity
By the time Kelly took over, all that remained of substance to the FE sector was a commitment to "give employers greater choice and control over the publicly funded training they receive" and to "create a new guarantee of free tuition for any adult without […] a 'level 2' qualification".
Translated into policy and announced at that year's spending review, "choice" and "guarantees" became a public service agreement (PSA) target to "increase the proportion of 19-year-olds who achieve at least level 2 by three percentage points between 2004 and 2006".
But it was another PSA target, aimed at over-25s, which took precedence in the funding decisions. It read: "reducing by at least 40 per cent the number of adults in the workforce who lack NVQ2 or equivalent qualifications by 2010".
A year later, the government had made £1 billion of new money available through the Train to Gain scheme to meet that target. Under-25s were only eligible if an apprenticeship would not have been appropriate, and under-19s were not eligible under any circumstance.
In 2010, Train to Gain funding was cut by £200 million. It was then sacrificed altogether to the demands of austerity.
A third 2004 PSA target went barely noticed, because no baseline data was available against which to measure progress: to increase the proportion of young people who achieve level 3.
From PSA to PSB
If FE policy under the Conservative or Conservative-led governments since 2010 has been mostly characterised by reform of apprenticeships and compulsory GCSE resits, even this reduced ambition hasn't been straightforward.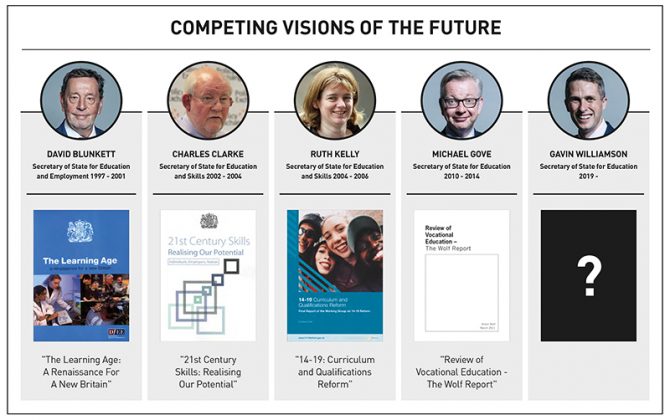 When it comes to apprenticeships, the DfE is investigating a 51 per cent drop in level 2 starts, and a drop of 23 per cent in uptake from 16- to 18-year-olds since May 2017, while apprenticeships for the over-25s continue to grow.
As to GCSE resits, evidence shows that the policy has contributed to a rise from 9 to 21 per cent (an extra 25,000 students) achieving a strong pass in English and maths, but even Ofsted chief Amanda Spielman is critical of the impact of repeated failure on the other 79 per cent.
Into this tableau of dysfunctional policy steps Williamson, committing himself to "the other 50 per cent" let down by Blair, rather than the 'other 79 per cent' let down by long-term failure to grab the bull by the horns.
As well as new institutes of technology and specialist maths colleges, the secretary of state has announced that he is setting up a new skills and productivity board (PSB) to advise him on "what the economy needs". The DfE says Mr Williamson has yet to invite a "suitable leader from the business community" to chair the board, which will be "set up as a DfE expert committee" without "a specified timeframe at inception." In time, an open competition will be used to recruit a panel of "expert labour market economists".
Perhaps a comprehensive spending review is awaited to nail down the specifics. For all the talk of vision, it appears New Labour's economic turn is yet to be undone. Perhaps that forgotten target from 2004 will be revived from inside the bowels of the Treasury – to increase the proportion of (young) people qualified to level 3.
Hindsight has the power to make any vision appear naive, yet without it policy is a firefight in which targets take the place of water buckets and strategy rises little above survival. Our college leaders know this, and they know too that vision without strategy or targets is worse.
For as long as government policy, hemmed in by international comparison, is determined primarily by Treasury memories of wasted billions, education will continue to vacillate between these two poles. The sector must surely hope Gavin Williamson has convinced them he is worth an investment of faith as well as pounds.