Falling FE membership is an issue that has long been playing on the mind of Sally Hunt, general secretary of the University and College Union (UCU).
The union's FE membership dropped by 3,000 between April 2015 and the same month this year, almost a 10 per cent fall, whilst figures suggest that the higher education sector has seen an increase in numbers of around one per cent.
She was open about the problem when we met during the UCU general conference this week.
"I wouldn't pretend to you that it is anything other than a serious issue," she told me.
"I wanted to make it very clear to congress; I didn't want to hide behind no figures and generalities because I think sometimes you have to face up to what's taking place." She believes that redundancies are part of the problem, and an issue that the union needs to keep on top of.
I wouldn't pretend to you that it is anything other than a serious issue
"We know that there is a huge turnover in the sector and it's very hard, with that kind of churn, just to keep track of where people are. As a union we've just got to be a little bit tighter on it," she said.
However she conceded that the age profile of members is another serious issue — core members are older and more of them are leaving the sector, while younger members can be harder to recruit.
She said: "You are having more of our members leaving than proportionately you might expect in terms of the sector overall, so we're taking a bigger hit there.
"But I think that there is also an issue over how we go about recruiting and how we represent ourselves to people coming into the sector."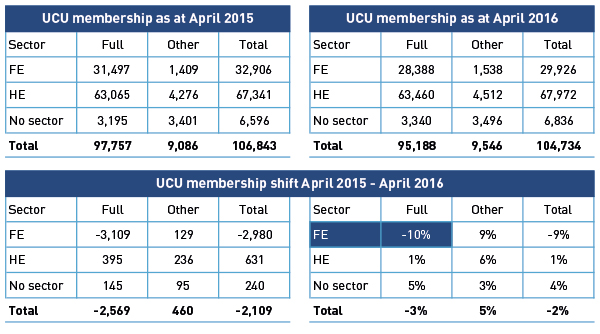 Ms Hunt acknowledged that fewer of the younger generation are automatically joining a union when they start a job, meaning there is now more for unions to do to show what value they can offer.
Offering continuing professional development (CPD) is one thing that UCU has found helpful.
"There are a far higher number of our younger members who are using CPD as opposed to for example who are turning up and wanting to have a debate about industrial issues. They are using their union in a different way," she said.
"Do I think we're turning it around? Well actually yes I do. I'm starting to look at figures that are saying we're starting to turn it around.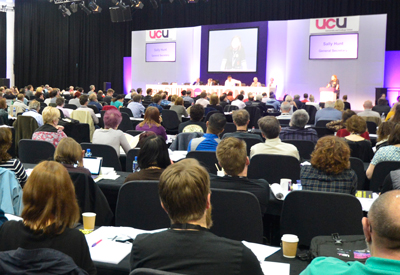 "Do I think we're doing enough? Absolutely not, I think we've got to do an awful lot more."
With the sector focused heavily on apprenticeships at present, in line with the government's target of three million for 2020, I asked her whether this was an area where she felt the union could be more positive and engaged.
She told me: "It used to be that apprenticeships were seen as being out there and other courses were seen as more central. Now what's happening is colleges are reversing that and trying very hard to pull apprenticeships in as the centrality in order to chase the funding.
"Do I think that the union has stood in the way? No, I don't recognise that."
We went on to discuss Nick Boles' comments at the Association of Colleges (AoC) conference in November 2015, where he advised colleges not to let training providers "steal your lunch" when it comes to securing the government's apprenticeship funding.
Ms Hunt surprised me by agreeing with Boles' message.
"One of the things that I have been just watching with interest in how much of the apprenticeship agenda, for example, is not done by core college staff," she said.
"You won't hear me say this often but I think Nick Boles asked the right question there of colleges – 'what are you doing to make sure that you're developing a really strong central brand with well-skilled people who can actually deliver?'"
Another issue that hit the headlines after the 2015 AoC conference was funding, a topic that the UCU has been heavily involved with – leading to a number of strikes in recent months over the AoC pay freeze for FE staff.
The issue clearly has riled her: "We know that they have year-on-year been reducing the proportion of spend that they have on staffing compared with other issues.
"I know that our members are already finding that they are being employed on inferior terms and conditions, on inferior pay, and on a range of salaries nationally that don't bear comparison to previous years."
Nick Boles asked the right question there of colleges
She was explicit in claiming that the AoC has not been pulling its weight: "I think [the AoC] has got a real serious credibility issue, I really do.
"It has struck me for many years, that the more localised funding and management has become, the less it has some kind of coherent and credible story behind it."
She believes the AoC has shown a lack of respect for FE workers in its handling of pay, saying: "I don't think that they are coherently responding to us, or that they are treating our members respectfully.
"I don't look to back away from this or to try and disguise my real concern, and frankly anger, at the way that they treat the negotiations within further education."
She wants to see the problem addressed head on.
"At the moment I think the question is: are they serious about having a negotiation and are they serious about having a national pay spine?
"Employers are not supporting their own national body, and they really have to think about this because it makes it very difficult for us to believe that they are serious about even discussing some of the issues that we want to bring to the table," she said.
She also sees funding as an unwanted backdrop to the government's post-16 education and training area reviews.
The UCU generally supports the movement towards devolving adult funding to the combined authorities, but she believes that there are "some major issues" with it.
She said: "Under Nick Boles what ought to be taking place is cost-cutting and stripping down provision.
"They seem to be saying that merger is the key for merger's sake."
Hunt said that from her perspective, the focus must be on what is best for the community.
"I would be more interested in how the government is translating their agenda in terms of area reviews, if I really felt we were talking about what each community needs and worked backwards from there, not start from saying 'we've got 10 and we'd like to end up with six'," she said.
"I know that there are backroom conversations taking place between principals in order to head off at the pass any imposition of merger."
Over all though, Ms Hunt was eager to emphasise that it was important for the union to highlight the positives, as well as challenge the problems.
She said: "There is a massive opportunity for the sector here. It is an opportunity that they should grab with both hands, but they should do it by articulating that they are the community college and that means skills, but also something much broader as well.
"They have got a very strong part to play in this country and I think that our members are the driving force of that."
NEW UCU PRESIDENTS FROM FE
Vicky Knight is the new UCU vice president and a lecturer in trade union studies at Manchester College. Rob Goodfellow is the new UCU president and a lecturer at Hull College. Mr Goodfellow told FE Week: 'These are difficult times for further education; years of funding cuts have put colleges under real financial pressure, and now area reviews are acting as a catalyst for mergers and cutbacks. "That's why it's never been more important to defend education and reinforce the integral role of local colleges in meeting different learning needs. I look forward to taking on that challenge in the year ahead and working with colleagues to protect and promote the sector.'