Just a third of the government's traineeships budget was spent during the past two years – with education chiefs handing back nearly £230 million to the Treasury, shocking new figures reveal.
The Department for Education last month announced it was axing the flagship pre-employment programme, and instead said it would be "integrated" into existing 16 to 19 programmes and adult education provision from August 2023.
Years of low take-up were to blame for the decision, with starts reaching just half and two-thirds of their respective targets in 2020/21 and 2021/22 despite huge additional investment aimed at helping young people to enter the jobs market during the Covid-19 pandemic.
Fresh figures published in response to a parliamentary written question from Toby Perkins, Labour's shadow skills minister, have now revealed the extent of the flop.
In total, just £119 million of the £348 million allocated for the past two years was spent – 34.1 per cent. Breaking this down by individual years, the data shows that £127 million of the allocated £189 million went unspent in 2021/22 and £102 million of £159 million was unused in 2020/21.
Last year the government reported that a £65 million underspend had been handed back to Treasury officials in 2020/21. FE Week asked the DfE to clarify the discrepancy between that number and the £102 million underspend figure it has now reported for the same year, but the department refused to comment.
The DfE did however confirm that all unspent money on traineeships was returned to the Treasury's coffers, rather than reinvested in other programmes.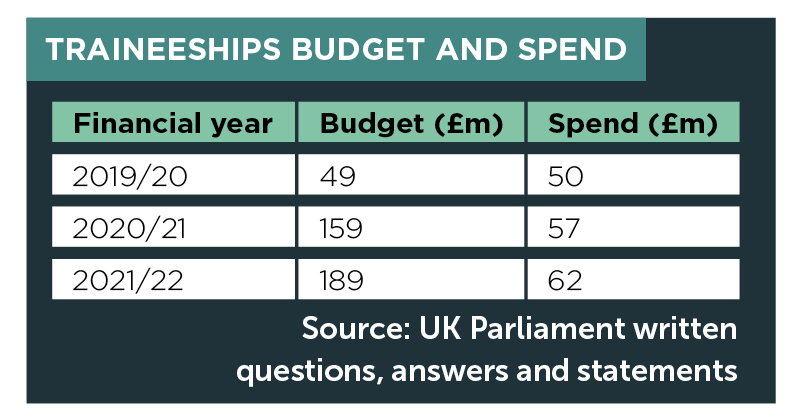 The Association of Employment and Learning Providers (AELP) criticised last month's decision to scrap the scheme, dubbing it "disastrous" and "short-sighted". It called on the government to tackle the reasons for the low uptake rather than stripping away a programme that offered a vital opportunity to disadvantaged learners.
AELP's director of policy Simon Ashworth said the underspend "should have been used to offer trainees a training allowance, which would have made traineeships much more attractive to young people".
Ashworth said it was fortunate the impact of the Covid-19 pandemic on youth unemployment was not as bad as anticipated, while the Kickstart scheme – the government's paid job opportunities programme for 16 to 24-year-olds on Universal Credit – had been more appealing.
He added: "We are in discussion with the Department for Education on how we can mitigate the impact of this decision on learners, providers and communities. To retain expertise and capacity, we are clear that those providers with a standalone 16 to 18 traineeship contract should be able to access 16 to 19 funding and as a result some flexibility from government is required to allow that to happen."
Traineeships were introduced in 2013 to deliver pre-employment training and unpaid work experience for eligible 16 to 24-year-olds. They can last between six weeks and one year, although most do not exceed six months.
The DfE said it had encouraged the growth of traineeships by introducing occupation-specific routes, employer incentives and promotion through its Get the Jump campaign, but starts still remained low.
Figures published in November revealed that just 15,500 traineeship starts were recorded in 2021/22, compared with a target of 43,000.
A high of 24,100 was recorded in 2015/16 while just 17,400 starts against a planned 36,700 were recorded for 2020/21.
Data published this week on traineeship starts between August and October 2022 – just weeks before the programme was axed – indicated just 4,600 enrolments – a fall of 17 per cent on the same period last year.
In May 2022, education chiefs gave the programme a final chance by pleading with employers to rapidly boost their starts. The Education and Skills Funding Agency reminded local authorities of their statutory duty to help 16 and 17-year-olds who were NEET (not in employment, education or training).
The ESFA also provided £1,000 cash sweeteners to employers for each learner they took on through the programme from 2020 up to July 2022.
From August 2023, traineeships can be incorporated into existing 16 to 19 programmes and non-devolved adult education budgets, while mayoral combined authorities, which oversee their own AEBs, can decide what is best in their areas.
During last month's announcement about the ending of the flagship scheme, skills minister Robert Halfon said it was right to focus on mainstream provision and highlighted "great alternatives" such as T Levels and the T Level transition programme, skills bootcamps and apprenticeships.