Consultants working with colleges on FE and skills area reviews have been paid £3.5m in 'transition grants', FE Week can reveal.
But the Department for Education has refused to reveal which companies the money is going to, raising serious questions about transparency.
Previous requests by FE Week for information on the number of grants that had been paid out so far, and the total amount of money involved, were dismissed by the Department for Education.
However, FE Week has been leaked minutes from the government's area review advisory group meeting last month, which said: "As at the end of August, 43 transition grant applications with a total value of just under £3m has already been approved."
After being informed of this, the DfE admitted that 50 grants totalling £3.5m had been approved up to this week.
But it would still not say where the money had gone, what specifically it had been spent on, or how big the total pot of cash available for the payouts was.
A director from a leading audit firm, who did not wish to be named, said the lack of transparency was "unacceptable".
They also called into question whether the grants, which are available to colleges to pay for outside experts to help them implement area review recommendations, could potentially create a conflict of interest for the FE commissioner Sir David Collins' advisers.
Since the transition grants opened for application in April, a number of companies have been promoting their consultancy services as being eligible for funding through the grants.
These include AoC Create, which advertised for new 'change consultants' at almost the same time as the grants were launched.
A director from a leading audit firm, who did not wish to be named, said the lack of transparency was "unacceptable"
The adverts, which specifically refer to the transition grants, were seeking new consultants to "provide advice and guidance on the implementation of restructuring and transformation recommendations".
Skills required of the consultants include commercial, project management, financial and estates planning – all of which are eligible for funding through the transition grant.
FE Week asked AoC Create if any of its consultants, whether existing or new, were also employed by the DfE as an FE Commissioner adviser, but a spokesperson refused to say.
The transition grants are administered by the transactions unit, run jointly by the Skills Funding Agency and Education Funding Agency.
As publicised on .gov.uk, this is led by Matthew Atkinson, who is on secondment from finance and audit firm Pricewaterhouse Coopers.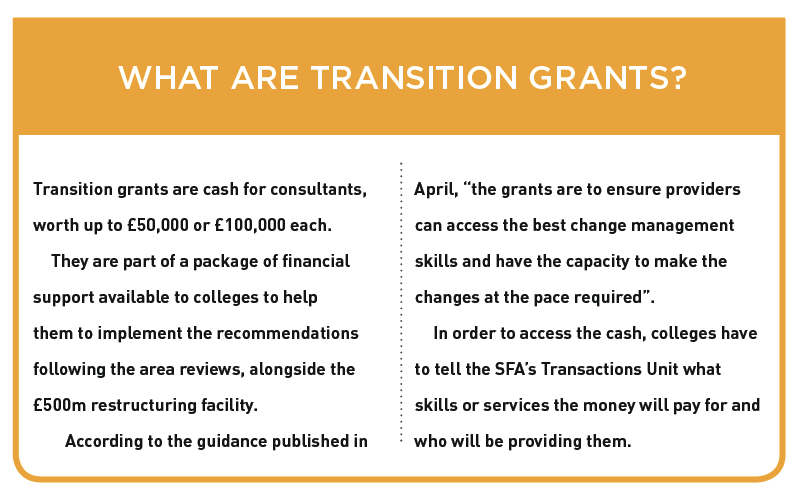 The firm provides financial services to 26 colleges, according to 2014/15 accounts published by the SFA.
PwC was also involved in drafting the as-yet unpublished due diligence framework for colleges post-area review.
This work was promoted in a blog post on its PwC in the West website, dated September 14, which has subsequently been removed.
A spokesperson told FE Week that it was "not engaged to provide services funded by this source of funds [transition grants]".
He also denied that there was any conflict of interest in PwC promoting its involvement with the due diligence framework, and claimed that the blog had only been taken down due to a switch to a new regional website on September 23.
The DfE took responsibility for area reviews and transition grants, following the decision to transfer the skills training remit to the department over the summer.
FE Week understands its mandarins are now taking a close look at any potential conflicts of interest.
A DfE spokesperson told FE Week that there were clear rules in place to prevent this, and that FE advisers had to declare any interest that could influence their judgement.
He added: "Advisers regularly declare conflicts where they arise and withdraw from FE commissioner work where there could otherwise be a perception of conflict.
"No evidence has been presented to us that these rules have been breached."