Provisional figures for the number of entries for GCSE, AS and A-level qualifications in England this summer have been published.
The Ofqual data, submitted by schools and colleges, shows entries up to April 20, meaning final entries could vary.
Small rises in overall entries at GCSE and A-level reflect increases in secondary school-age pupils nationally, while AS-level entries continue to fall following their decoupling from A-levels.
However, movement in entries at subject level offer greater insight into their popularity among pupils.
Here's what we learned
1. EBacc entries continue to rise slowly
The proportion of GCSE entries that were for subjects in the English baccalaureate (EBacc) performance measure continues to slowly increase – from 81.8 per cent last year to 82.2 per cent in summer 2023.
This has risen every year since 2010, when the performance measure was introduced.
As part of the suite of core academic subjects, pupils are expected to study English language and literature, maths, the sciences, geography or history and a language up to 16.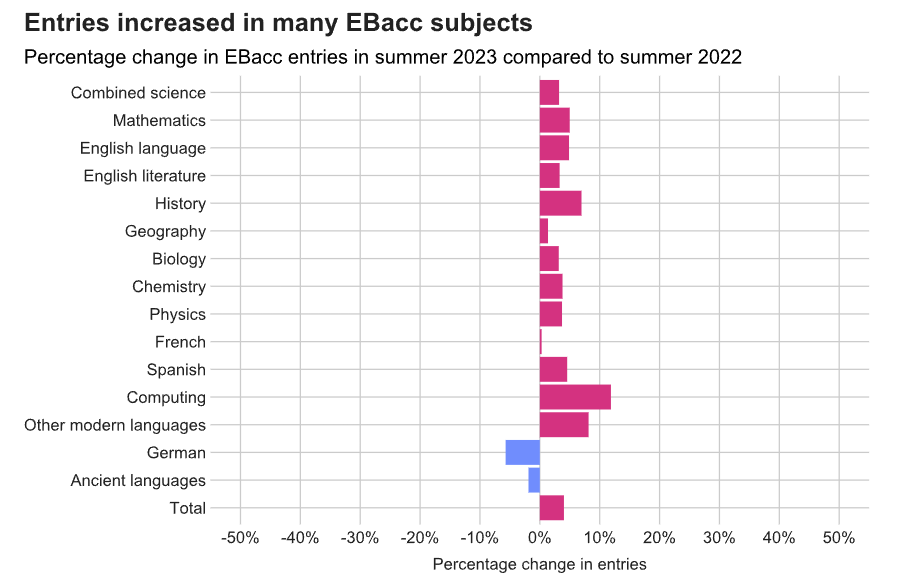 The EBacc subjects that have seen the biggest uptick in entries are computing (11.9 per cent), other modern languages (8.1 per cent), history (7 per cent) and Spanish (4.6 per cent).
But the figures don't show what proportion of pupils have been entered for the full suite of five subject groups. That data will be published later this year.
The government's aim is for 90 per cent of year pupils to enter the EBacc by 2025. Last year the proportion entering was 38.7 per cent.
2. Boost for maths and computing
Good news for Rishi Sunak. Though his pledge to make maths education compulsory to age 18 is yet to be rolled out, entries to maths subjects are already on the rise.
At GCSE, entries for statistics – introduced in 2017 – have grown by 18.4 per cent since last summer, from 22,615 to 26,785, while maths entries rose 5 per cent.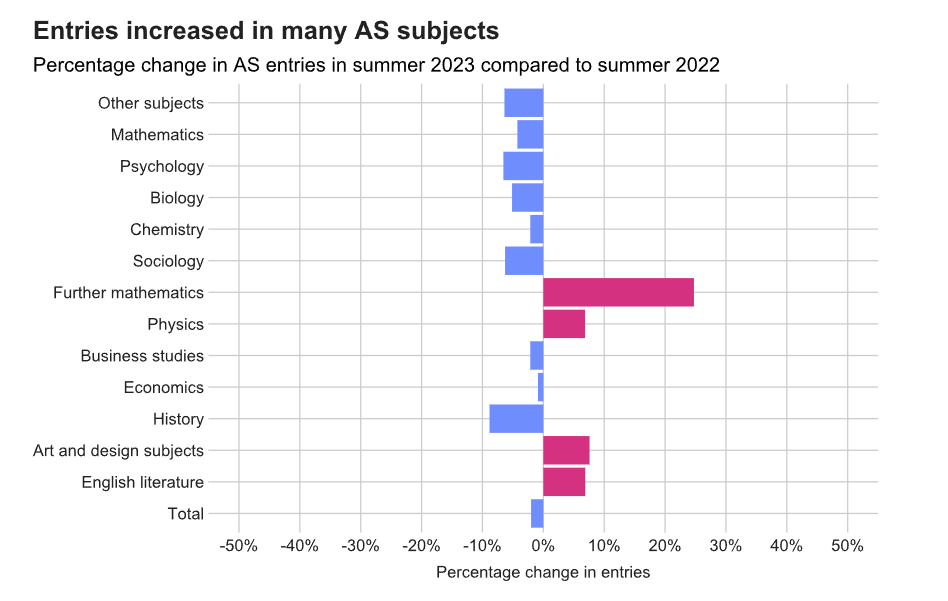 Meanwhile, despite falling AS-level entries overall, further maths entries rocketed almost 25 per cent this year, from 3,730 to 4,655.
As at GCSE, computing A-level entries are also on the rise – up 14.5 per cent from 15,210 last year to 17,420 this year.
3. Languages in trouble
German, Spanish and French are the subjects with the biggest drop in A-level entries this year.
Entries to German fell by 17 per cent from 2,675 to 2,210. Spanish entries are down 12.7 per cent from 8,640 to 7,545. And French entries fell 12.5 per cent, from 7,440 to 6,510.
At GCSE, French entries rose by just 0.3 per cent year-on-year, while Spanish entries are up 4.6 per cent.
But German GCSE entries fell by almost 6 per cent, from 36,000 last summer to 33,945 this year.
House of Commons library research last year highlighted that falling entries in German and Spanish were behind declining entries to modern foreign language qualifications overall.
The government hopes to boost take-up of German through its Language Hubs programme.
4. Boost for classics, but creative subjects decline
It's not just maths and tech subjects enjoying a burst in popularity.
At GCSE, entries to classical subjects rose by 24.7 per cent, from 3,595 to 4.480, while at A-level entries increased by 20 per cent, from 4,875 to 5,855.
However, arts subjects have taken a hit. At GCSE, art and design entries are down 3.3 per cent, music fell 11.8 per cent, drama 7.4 per cent and performing arts 16.4 per cent.
The picture is similar at A-level. Entries to art and design are down 2.8 per cent. Drama entries fell 6.7 per cent. Music entries dropped 6.8 per cent.