Government representatives today dismissed the suggestion of targets for different apprenticeship levels in the race for 3m new starts by 2020.
Lord O'Neill of Gatley, commerci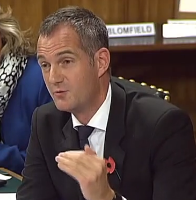 al secretary to the Treasury (pictured above), and Small Business, Industry and Enterprise Minister Anna Soubry were challenged by the House of Commons Business, Innovation and Skills Select Committee.
The duo were quizzed on how their work would ensure that apprenticeship starts counting towards the target were of high quality – but both said focusing on the levels was not necessary.
Committee member Peter Kyle (pictured right) appeared to equate apprenticeship levels with the issue of programme quality when he challenged the duo as to why government had not set a target for higher level apprenticeships — at level four and above.
"All evidence presented to this committee in this inquiry has been that the emphasis should be on quality not quantity — the only target you have is for quantity not quality," he said today in the third evidence session of the committee's inquiry into the government's Productivity Plan.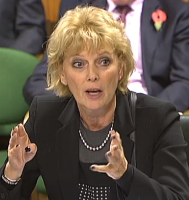 Ms Soubry (pictured left) responded by saying apprenticeships would be "quality-assured by virtue of the Enterprise Bill", which includes a measure to prevent providers — but not employers — from labelling courses as apprenticeship if they do not meet the statutory programme's rules, but added: "I don't know your levels; I don't know the detail of that."
Lord O'Neill said: "I don't see, at this particular point, identifying numbers between various levels of apprenticeship as that crucial to this particular policy — where we're trying to change the game of who drives and contributes to the skills agenda."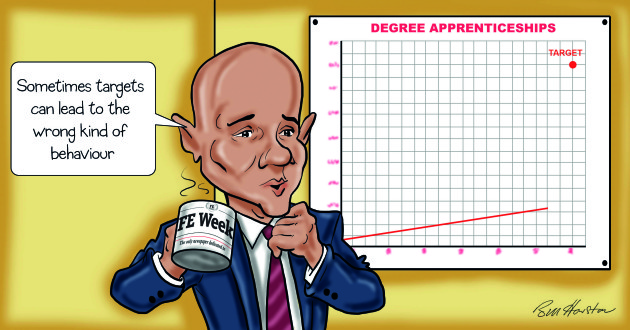 The clash came just a fortnight after Business Secretary Sajid Javid, in front of the same committee in a different one-off hearing inquiry on the work of the Department for Business, Innovation and Skills, ruled out a degree apprenticeships target — warning it would be "too complex" and could "lead to the wrong kind of behaviour".
It also comes with Pippa Morgan, head of education and skills policy at the Confederation of British Industry, having argued in an FE Week expert piece that "there is a distinction to be made between the level of an apprenticeship and the quality of that apprenticeship".
Nevertheless, committee chair Iain Wright described the Productivity Plan overall as very wide-ranging, to the point of being "vague" on details such as measuring success in the different areas it covers and determining whether productivity is actually improving.
The launch of the inquiry into the government's Productivity Plan, which sets out plans for the apprenticeship levy, per-learner funding for adult learning, new institutes of technology to replace some FE colleges and further devolution, was reported in FE Week on July 21.