"Genuine ineptness" has led to a surprise £10 million deficit at a large London college group, its chief executive has told FE Week.
Capital City College Group (CCCG) had budgeted for a £750,000 surplus for 2018/19, which was revised downwards by July to a deficit of £5.1 million and following an independent investigation in September now sits at an eye-watering £9.7 million.
This latest revelation comes after an already rocky few years for CCCG, in which unplanned multi-million-pound deficits of £5 million in 2016/17 and £6 million in 2017/18 have already led to job cuts.
"It was honestly like a punch to the head"
And its boss, Roy O'Shaughnessy, said he is expecting Ofsted to come knocking for the group's first ever inspection between January and July 2020, and he's trying to "dim the expectations" by self-grading at 'requires improvement'.
He joined the college group as chief executive from the charity sector in September 2018 and, despite the historic deficits, persuaded the board in November to end pay disputes by agreeing that staff on the lowest wages would receive a rise of up to five per cent.
In what the University and College Union described at the time as a "landmark pay increase" the college chair, Alastair da Costa, boasted that "we are fortunate that as a group with some financial strength, we are in a position to do so".
And at a board meeting the following month the governors were told "there was nothing to indicate that the budget breakeven position prior to taking into account the impact of the recent pay award, should not be achieved".
O'Shaughnessy says he was alerted to concerns by a new finance director and immediately called in the accounting firm Ernst & Young to conduct a forensic two-week audit in September.
They found that the previous finance team were not matching the right costs into the correct financial year and around half of invoices had no purchase order, leading to final costs coming in much higher than was planned for.
According to O'Shaughnessy, Ernst & Young also discovered that short term agency staff costs had ballooned, the group was over optimistic on some of its income streams, and there were unforeseen additional redundancy costs.
CCCG's board of governors met to discuss the final financial statements today and agreed to sign off on the accounts.
"The fact that we were operating in the blind was a very serious warning"
In a sit-down interview with FE Week, O'Shaughnessy says the news hit him like a "punch to the head" when he found out, and said he felt misled by former staff in some cases.
He added that there were no signs of fraud, but described the issues as "genuine ineptness". Five top management posts in the group's finance team have been replaced over the course of this year.
Speaking candidly, he said the "single biggest learning" for others across the sector is that "if you are going to create these mega groups, you can't just take the personnel who have been running something one third of the size, move them up, not have the software systems and infrastructure in place and expect those people to do it.
"In any commercial activity where you've got a £130 million organisation you've got to be pretty certain that your four to six key people are really up to the task and [our] finance was incredibly under-experienced for that."
CCCG's total operating deficit for 2018/19 actually reached £16.5 million after its pension adjustment was added.
O'Shaughnessy said he has been in communication with the Education and Skills Funding Agency over the shock deficit and they are happy with the actions CCCG has since taken. The group will not be put into formal intervention, but "light touch" monitoring will be in place.
No bailout funding has had to be requested as the group has "no borrowings, a strong balance sheet and a strong asset base".
He said the board has taken the financial situation "very personally" but questioned how it wasn't spotted by the group's own auditors "much earlier".
"I'm not sure that if your auditors do not give you a good heads up and your executive team is not on the ball that the governors could know about it."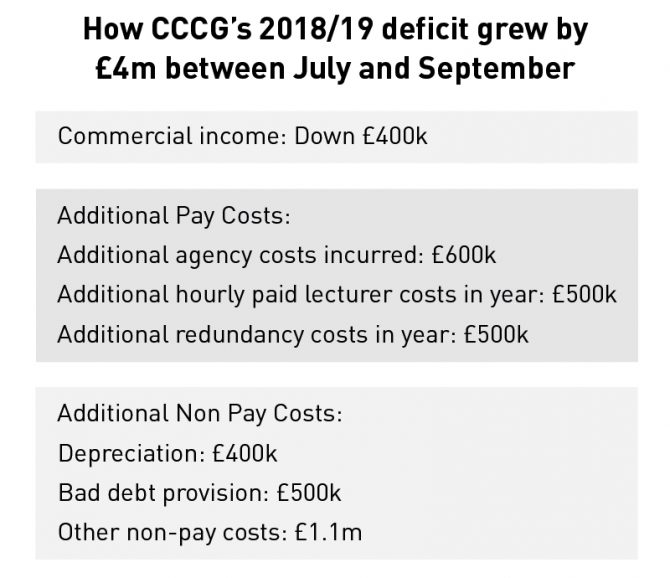 He added, however, that from an executive staff point of view, he has been "absolutely amazed" by the "complete lack of anyone who is willing to say that they are in any way responsible for this from the day this group was put together".
CCCG's landmark five per cent pay rise costs the group over £2 million per year. Knowing what he does now, does O'Shaughnessy regret the substantial award?
"The fact that we were operating in the blind was a very serious warning to any group, but I don't think that the pay award has in any way contributed to this massive problem," he said.
"I believe the FE sector is deceiving itself if it believes it can go year in, year out without balanced, sustainable budgets that include pay awards. I think for us it was right."
Asked if his board agrees, O'Shaughnessy said: "The chair does. I would say the rest of the board haven't expressed strongly that it was a big mistake, but I would completely understand half of them maybe even from the beginning wondering whether it was the right thing to do."
Staff were not given another pay award this year.
Breaking down how last year's deficit suddenly grew by £4 million over the summer, CCCG's new finance director, Rachael White, said around £500,000 was redundancies "where we'd been through some restructuring and had additional costs over and above what we originally forecast".
In addition, £1.1 million was for agency costs where a short term or casual worker filled a post. Westminster Kingsway was the main culprit for this and spent £8 million plus VAT on agency staff in 2018/19. O'Shaughnessy said "someone probably dropped the ball" on this spending and White added that oversight of those costs during the financial year was lacking.
The "single biggest failure", which cost the group an extra couple of million pounds, was that around 52 per cent of invoices had no purchase order record.
"I think that's where there was, maybe not a culture of deceit, but a culture of just not being aware of the consequences of not putting on the table the honest truth and figuring out how the group sits around and solves it," O'Shaughnessy said.
"In some cases I think I was misled but that is probably the case in any organisation where you don't have good leadership management structures."
Lastly, commercial income was down by around £400,000.
White said internal controls were missing, which she put down to the three individual colleges coming together – City and Islington College and Westminster Kingsway College merged in August 2016, with The College of Haringey, Enfield and North East London joining them the following year.
"I think a lot of it has been where colleges have merged and there's probably been no re-alignment or reassessment of what is an efficient or controlled environment to work within."
After discovering the issues, White and O'Shaughnessy put in "really quick controls" to "drive our costs down".
"Roy and I have since physically signed every single purchase order," White said.
"We've had to put a freeze on recruitment of non-teaching roles. We've been stripping back non-pay expenditure that is non-essential and doesn't affect the student experience. We've been moving agency staff over to substantive posts, so a lot of good stuff."
For 2019/20 CCCG had originally planned for a breakeven position, but following recent months they've revised this figure to a £2.5 million deficit, excluding pension adjustments.
This would be some achievement considering last year's £9.7 million deficit, but O'Shaughnessy has a plan in place to reach it.
"It doesn't look like it was fraudulent, genuinely ineptness"
Firstly, CCCG has a house near Arsenal football stadium on its books which it rents out. It has taken the decision to sell it this year, but only if it goes for £1 million.
The group is also planning to consult on a restructure which will mostly impact management, corporate services and back office staff.
"We are now going systematically through our back office services and bringing them down to really benchmark standards rather than what has probably grown with the three groups just throwing people together," O'Shaughnessy said.
"We don't want to be using taxpayer money for any role that is not actually contributing to the student experience."
He added: "We're taking this very burdensome senior structure that starts with the group and goes down to deputy principal level, really fine tuning that and making it lower cost."
Andy Forbes, who was principal of City and Islington College, left in November and his position hasn't been replaced. Meanwhile Kim Caplin, the principal of Westminster Kingsway College, is retiring in April.
An advert for a new "executive" principal will go out in January but CCCG's new "best" structure, the model of which is still to be decided on, could involve having two principals leading the three individual colleges, with O'Shaughnessy leading the group.
O'Shaughnessy warns of 'too cosy' FE sector
Roy O'Shaughnessy joined CCCG in September 2018 following a 20-year career in the charity sector.
He spent the previous 10 years at Shaw Trust, which helps disabled and disadvantaged people into employment and independent living.
Speaking as an "outsider", he said he has found the level of staff commitment to be "absolutely incredible" but warned the FE sector is "too cosy".
During his interview with FE Week, he offered the following advice for improving the sector.
"I'm really glad I took the opportunity [to join CCCG], I haven't doubted it except for a brief moment when Rachael told me about the new deficit in September.
"The power of FE to transform lives is incredible – as strong as anything I've seen in the charity sector.
"My belief is it is still too cosy in FE"
"The challenge we face – and it cannot be impossible to solve – is to balance our budgets whilst providing appropriate pay awards and ensuring effective wraparound services for our most complex (roughly 25 per cent) learners, to ensure all of our learners are given the high quality education and support they need to succeed and to transform their lives.
"My sense is this problem of chronic underfunding has been building for ten years and so anyone thinking that there can be an instant answer has got their head in the sand.
"At the same time, if we are able to come up with fit-for-purpose models going forward, there is no reason why FE shouldn't lead all of the private training. I think the fixed costs that we have, which constrain how agile and flexible we can be, are a much bigger challenge.
"FE still feels quite a lot like a traditional charity sector model whereby you are paid by inputs or processes. In Shaw Trust, we made the shift to an outcomes-based funding model in 2009 with the Work Programme, and I think it will be important to do the same in FE now.
"People are very afraid of losing the heart of FE. My belief is it is still too cosy in FE, people don't realise the world is changing around them and if we don't adapt others are going to take our space. We need to lead the way rather than saying 'why we can't lead the way?'
"I am a fan of being held accountable for what you're paid and what the results are. I think there should be a very strong correlation between what it costs and what the outcomes are.
"This is a hard thing to say, but I don't think people in jobs in FE actually have had to deal with as much change as the private sector and charities and all those who were dependent on their performance judging what they were going to get next.
"It can sometimes feel like there is a 'them and us' culture in the sector between managers and teaching staff. To win the day we will need to work as one and trust each other that we are trying to achieve the same thing. We will only do this by being open, transparent and honest with each other."