An FE comeback for Sir Vince Cable will see him lead a new research project for the National Union of Students into how major reforms coming for the sector should be tailored for learners.
The former business secretary, who told Liberal Democrats' conference delegates two years ago that he was responsible for blocking moves in 2010 to enforce drastic funding cuts for "post-school" training, is taking charge of the new project with NUS vice-president for FE Shakira Martin.
It will be called Students Shaping FE, and their findings will be published in a report by autumn 2017.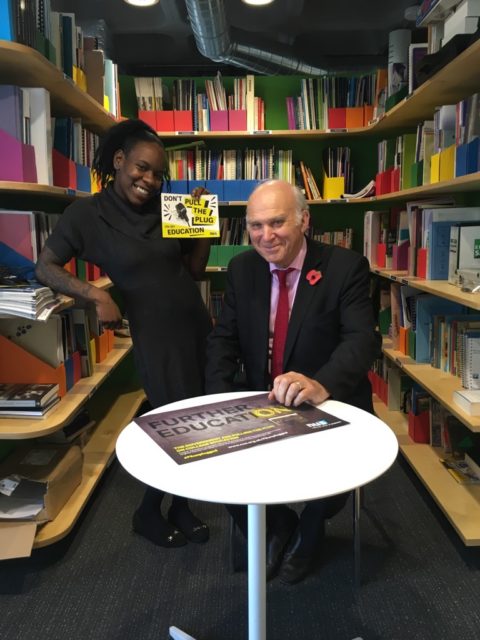 Sir Vince told FE Week today: "I am a firm exponent of FE and did my best to defend it in government. "It is embedded in me, as I saw first-hand how colleges transformed lives in my family – my father was a lecturer at York Tech College and my mother was in many ways saved after a period of personal trauma by adult education classes. I now want to do my best to help future students."
He added: "There is a natural tendency in government to look at it as a debate just between principals and civil servant and ministers, , but I want to get a handle on how all these reforms are affecting students and what policies are needed to help them.
"It's a good time to do this, now the new skills and education minsters have bedded in and we have seen a lot of detail of reform plans, for apprenticeships for example."
When asked to expand on areas he sees as priorities for students at present, Sir Vince mentioned collective representation.
"I know the NUS is already trying to organise apprentices better," he said, for example. "That's needed because a lot of them are very poorly paid and having bad experiences."
Sir Vince, who was profiled by FE Week last September, said the plan is for him and Ms Martin to visit as many FE providers across Britain as possible.
"In the old days, I would turn up in the ministerial car and just speak to senior staff who told me what they thought I wanted to hear, now the key thing will be talking to students.
"That won't just be with traditional FE student colleges either, as I know a lot of apprentices are trained by private providers."
He admitted to not being fully versed with plans for 15 new post-16 'professional and technical' routes, announced through the Skills White Paper in May.
However, Dr Cable raised concern about associated plans to channel students into either technical or academic education.
"I'm against the artificial divide between the two routes – and even though I'm a grammar school boy fear that plans for more selection will set back education greatly.
"I'm also really interested in learning more about the role FE plays in rehabilitating offenders, and giving people across a broad spectrum a second chance."
Ms Martin spoke about her excitement at working with the former minister.
She said: "We both came at FE from different areas, but are both totally committed to it, and I hope working in partnership will reflect the diverse approach we want to take with this.
"Going to college transformed my life, and I know it did the same for Vince's family members."
She saw a key issue facing students being the lack of consultation over apprenticeship reforms.
"The fact that there is not going to be, as it stands, a student voice on the apprenticeship policing body, the Institute for Apprenticeships is a disgrace. That's the sort of thing we need to address.
"It will be a pleasure working on this ambitious project together."