The new apprenticeships reform policing body's boss insisted a shortage of approved end-point assessors is not a serious problem – despite a roomful of Association of Employment and Learning Providers Autumn conference delegates disagreeing.
Peter Lauener, who is interim chief executive of the new Institute for Apprenticeships, as well as chief executive of the Skills Funding Agency and Education Funding Agency, told a packed audience that having no approved awarding organisations for over 40 per cent of learner starts on new standards is "not ideal" but the situation was "manageable".
He added that he did not think "there's a consensus" view that the situation was a serious problem or that apprentices should not start their courses without an end-point assessor in place.
However, when AELP chief executive Mark Dawe took a poll of the audience, not a single hand went up to say it was acceptable for an apprentice to be studying on a course that had no end-point assessment organisation assigned to it.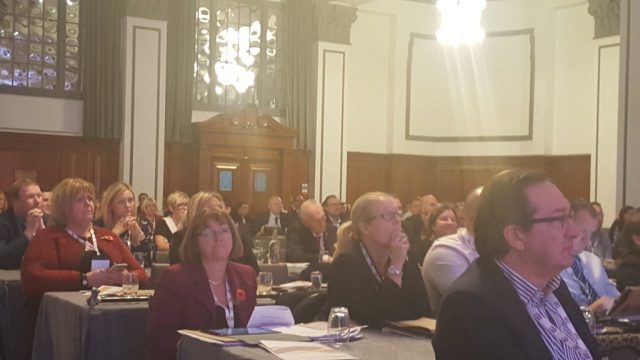 Mr Lauener responded by commenting: "Well, I did say I didn't think it wasn't ideal."
He added: "There are 4,200 starts on standards, and there are 800,000 apprentices, so come on, let's get this in proportion."
Mr Lauener disputed the comments of Dr Sue Pember, who stood down as the civil service head of further education and skills investment in February 2013, in a previous FE Week article on October 14, in which she said it is "diabolical to let an apprentice start a programme, without explaining not only what the end test will contain, but where it will be, what shape it will take and who will be the organisation to oversee and manage the process".
He said: "We don't expect any of the apprentices that are in training at the moment to reach their end-point assessment without having an end-point assessor provider rightly in place."
"That's what I would regard as a disgrace, if we were to get anywhere near that – we're not in position, we don't think we will get to that position as of the changes we're making."
Mr Lauener concluded by saying that it would be "an even bigger mistake" t0 "sacrifice quality in end-point assessment for speed."
Mr Dawe responded by saying that AELP was willing to work with Mr Lauener in addressing the problem, highlighting that his organisation is involved in a new programme targeted at tackling the shortage of end-point assessors in apprenticeships, but added that "there is a concern I think still during this interim period about the gap".
Update: Reaction to Peter Lauener comments from Dr Sue Pember, former top civil servant responsible for apprenticeships 
Dr Pember told FE Week: "Whether it is 4,000 or 100,000 it needs to be sorted. The young people involved will never be able to recapture these years again and they need to have a secure transparent route to success. I agree with Peter the end test must ensure good quality. However, there are certain management actions that could be taken now that would resolve the matter:
Stop registering apprentices onto new apprenticeship standards where there is no apprenticeship assessment organisation (AAO) appointed.    
Urgently work with employers and other organisations to appoint AAOs to the current approved standards that do not have an AAO.
Ensure potential AAOs are engaged early on in the process for developing new standards, before agreeing to the standard being developed.
Reintroduce parity of esteem and protect apprentices' interests by ensuring they all end up with a vocational sector qualification as part of the programme and not just those on a level 4
Rethink the implementation process bearing in mind that there could eventually be some 2,000 apprenticeship standards. At the current rate of progress it could be around 100 years before the changes are implemented. This is unsustainable, a radically rethink of the implementation processes is needed whilst retaining policy intent the Government is rightly trying to achieve."