At least 1,300 apprentices are still studying without an apprentice assessment organisation in place, FE Week can reveal.
The scale of the problem has improved little since last October, when one former civil servant called the situation "diabolical" and "disrespectful" to apprentices.
Analysis of the latest statistical first release shows that 140 of the 1,300 apprentices actually began their standard in 2014/15 – meaning that they have been on their course for at least two years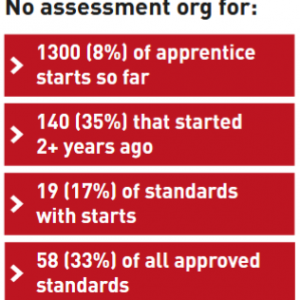 without an assigned AAO.
In total, a third of all apprenticeship standards (58) presently have no approved assessment organisation, while another 33 per cent so far only have only one.
A spokesperson for the Institute for Apprenticeships said: "We are working to ensure that all apprenticeships are covered by an apprentice assessment organisation that has met rigorous quality criteria and is independent from those delivering training.
"98.9 per cent of apprentices who are due to complete end-point assessment within the next 12 months are covered by an apprentice assessment organisation."
FE Week understands there is currently no way to independently verify this statistic.
The spokesperson added: "The Education and Skills Funding Agency is proactively working with the very small numbers of apprenticeships not yet covered by an apprentice assessment organisation."
FE Week has followed the issue for months, as it has had the sector increasingly worried given the major recent reforms.
Back in October, we reported that some AAOs applying to the register were being turned away because their plans for end-point assessment were inadequate, after the interim chief executive of the IfA, Peter Lauener, told the parliamentary subcommittee on education, skills and the economy that the SFA had "knocked back quite a lot" of applications.
His comments followed FE Week research that revealed there were no approved AAOs for over 40 per cent of learner starts on new standards at the time.
This revelation provoked Dr Sue Pember, who stood down as the civil service's head of FE and skills investment in February 2013, to describe the situation as "diabolical".
But in November, Mr Lauener told a roomful of delegates at the AELP autumn conference that this shortage of approved end-point assessors was not a serious problem. He accepted that the situation was "not ideal" but insisted it was "manageable".
In March this year, Stephen Wright, chief executive of the Federation of Awarding Bodies, told FE Week that the current apprenticeship system contains "too many uncertainties", and that awarding organisations are likely to be "cautious" about engaging in any assessment that might "compromise their reputation".
"With the high development cost and the memory of previous failed initiatives it isn't surprising that many awarding organisations have taken a wait-and-see approach," he said.
The July FE and skills statistical first release also revealed that there were 20 standards approved for delivery for over 12 months which had no apprenticeship starts at all as at April – with two of them approved a worrying 27 months ago.