Every year the further education sector spends an unlimited time working on Strategic Enrolment Management Plans.
The focus of these meetings is to enhance a range of outcomes, to make sure new students receive a smooth and positive experience, ensuring that there is a range of measurability reports including, the total number of enrolments taken, non-attendees, the value of enrolment intake, to name but just a few.
In 2020, the Covid-19 restrictions meant that FE colleges were forced into taking a new digital approach for their enrolment intake, a culture shift to the face-to-face interaction that the traditional method has to offer.
The digital experience has had both positive and negative outcomes. This year colleges will no doubt be assessing this before moving forwards. At the same time allowing, for the fact that the government roadmap may not effectively go to plan, and colleges may have to change the goalposts yet again.
IPS Ltd Provides Software Solutions for Traditional and Digital Enrolment
Established for over 12 years, IPS Ltd has been working with the FE sector to give them the ability to provide effective end-to-end solutions. Our software can enable colleges to capture the benefits of both the traditional and digital methods needed for the enrolment process.

"Our purpose for FE is to provide systems to assist with reducing staff workloads so that they can focus on their daily duties. With our systems we have built in reports that education providers require, better still our systems integrate with yours, from your MIS system to access control systems. The list of experiences that staff and students receive with our systems and integration is endless."  Robert Powell, Managing Director, IPS Ltd.
North Kent College states:
"We have gained many advantages with the IPS Ltd systems, they are flexible, scalable, modern and web-based, meaning that the software is available everywhere and as a manager, I don't need to be at a desk to look at information or reports, which is an effective and well-received change.
With the help of IPS Ltd systems, we know that our enrolment process is smooth and efficient across all North Kent College sites."  Sean McCormick, Executive Director of Facilities and Resources, North Kent College.
Online Payment Platform
IPS Ltd's i-Pay system; has a multitude of opportunities, is a central hub for staff, parents, and students. Integrated to your website and your MIS system i-Pay, can be used for new students to apply, and even pay for courses. The system has reporting features so that you can identify how many students have applied or enrolled on each course. It has document upload facilities for the necessary evidence required for the enrolment process completion.
This system keeps on giving. Out of the enrolment environment, it enables staff, students, parents, and guardians to top-up accounts, pay for trips, purchase from and online shop, pre-order food and better still with the current lockdown situation that students and parents face, this system will be able to offer them online therapy and mental health sessions.
ID Card Management System
Combining the i-Pay system with our i-Card system means that you also have a range of further strengths. Data from your MIS system is pushed into here and you also have the facilities to bulk print ID Cards or print on a one-to-one basis, the i-Card software as a print audit log with a dashboard that shows the ID Card printer status.
i-Card uses Mifare technology which means that you have the opportunity for an overall user experience, watch our video here to see a student's journey.
Windsor Forest Colleges Group states:
"Out of all the systems, my preference is the i-Card system because of its flexibility. The opportunities with it mean that it is not just a standard card-based system. It is web-based and works with network printers, meaning that it is easy to use, and we can send prints directly to the nearest printer.
It also facilitates bulk printing, which we use during our enrolments, helping to reduce processing times. Last year we bulk printed between 800 to 1000 ID Cards per day, sorting, both by course and alphabetical by surname. All we need to do is monitor it and top-up the cards when needed, meaning that a staff member could continue to do their day-to-day work at the same time." Roberts Disbury-Mockett, Group Director of Information and Business Systems, Windsor Forest Colleges Group.
Finalise your Strategic Enrolment Management Plans with IPS Ltd systems
If you have already started your Strategic Management Plans, then no doubt by now, you have a range of objectives to resolve.
On Thursday 25th March '21 from 2 pm – 3 pm, IPS Ltd is hosting an i-Enrol webinar, and we would like to invite you and your work colleagues to join us.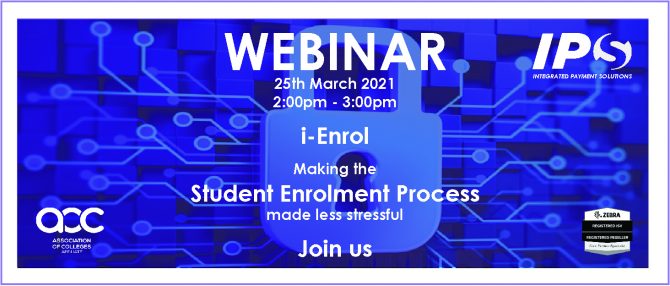 The event will give you a range of information, enabling you to resolve your objectives and provide you with solutions for both the digital and traditional methods of the enrolment process.
It will also give you knowledge of how our systems integrate into your college systems including, the MIS system, an overview of our i-Pay and i-Card software and there will also be an opportunity for you to ask any questions that you may have, click here for further information and to register your place/s.
If you would like to contact us for a one-to-one demonstration or have any questions please contact sales@ips.software or call 01202 006 677 where one of the IPS Ltd team members will be able to help.