What happens when you combine a booming construction industry, a shortage of skilled trade professionals and a fall in net migration from the European Union?
You get rapid growth in the demand for apprenticeships – and JTL is leading the way in providing high quality training and development for the next generation of electricians, plumbers and heating engineers.
"We now work with approximately 3,000 businesses and train more apprentices than anyone else in the building services engineering sector," says Julie Asher-Smith, JTL's Human Resources Director, "and the need for apprentices is set to expand further with the Government's target of delivering a million new homes by the end of the decade. It's an exciting challenge and we're building our training teams throughout the country to help us meet it."
We're building our training teams throughout the country
Other factors are also driving investment in apprenticeship training. Apprenticeships are increasingly seen as an attractive alternative to university, offering young people the chance to earn while gaining a valuable qualification, without taking on the burden of student debt. Apprenticeships also represent good value for money, with the government suggesting that every pound invested in level 2 apprenticeships returns £26 to the UK economy. More than that, surveys show that employers report benefits in productivity, competition and employee retention from taking on apprentices.
JTL has played a key role in raising the profile of apprenticeships in the UK, not just by challenging negative perceptions of their value and relevance, but by creating one of the most innovative and supportive training environments in the building services engineering sector. Their high quality, work-based training programmes are funded by the government and offer qualifications across four trades – electrical, plumbing, heating and ventilation, and mechanical engineering.
Each apprenticeship takes up to four years to complete, combining college education with on-the-job training and experience designed to equip individuals with the knowledge and skills to deliver real value to local businesses. "Eighty nine percent of employers say apprentices make their business more productive," says Julie Asher-Smith. "And as for apprentices themselves, eighty five percent of them stay in employment upon completing their apprenticeships, and two thirds stay with the same employer. It's a win-win for everyone involved."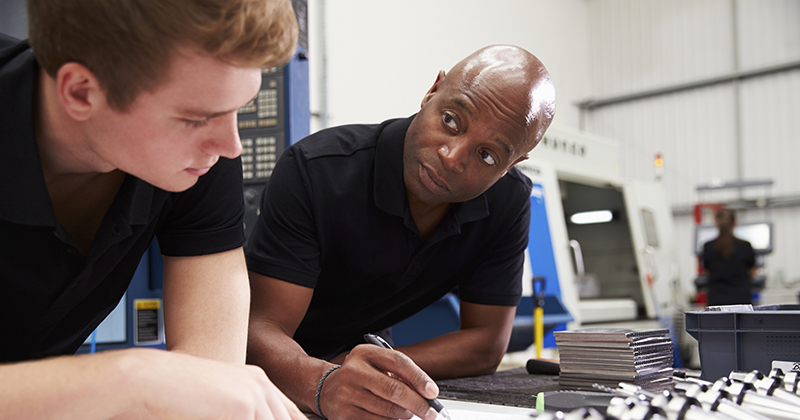 Growing demand for its services means that JTL is looking for a range of qualified trade and training professionals to strengthen its teams across the UK. The people who join JTL are typically experienced plumbers, electricians or heating and ventilation engineers who have practical experience of mentoring and developing trainees – or a real desire to develop those skills as part of a supportive team. Some involvement in government training schemes and National Vocational Qualifications is desirable, of course, and everyone on the team must have relevant industry experience and an up-to-date knowledge of industry working practices and techniques relevant to the building services engineering environment.
There are multiple roles at JTL – including Training Officers, Tutors and Assessors – but they all focus on engaging with young apprentices and creating a blended learning environment that brings out the best in them, both technically and personally. That takes more than a good technical knowledge in a specific trade discipline; it requires first-class communication skills, the ability to set rigorous standards of performance and the willingness to mentor, guide and inspire apprentices at every level of their development.
We try hard to create a team that's as diverse as the communities we serve
Having the opportunity to influence the future of vocational training is just one of the advantages of being part of JTL. The company has also created a unique working environment that offers a combination of flexibility, ongoing development and some of the most attractive benefits in the sector.
"Many of our training and assessment professionals are based from home, which offers them a level of autonomy and control that few other organisations can match," says Julie Asher-Smith. "They get to blend real independence with the confidence that comes from being part of a well-resourced and supportive team that can help them achieve the best outcomes for both themselves and our apprentices."
There is a strong emphasis on continuing professional development as well. The company has held Investors in People status since 1995 and works hard to ensure that every member of the team has the training they need to perform well in their particular roles. This includes one-to-one coaching, specially tailored courses and the open sharing of ideas, knowledge and experience with the JTL community itself.
Diversity is another important aspect of JTL's vision. It has been at the forefront of attempts to expand the reach of apprenticeships by tackling barriers that have made it hard for underrepresented groups to pursue a career in the sector – for example, by launching its "ambassador" programme to encourage more women and diversity into the building services engineering sector. That ethos informs its recruitment objectives too, says Julie Asher-Smith: "We want the best professionals on our team and try hard to create a team that's as diverse as the communities we serve. So we don't just welcome applications from all sections of society, we actively encourage them."
In addition, JTL offers a comprehensive range of benefits designed to recognise and reward the contribution of its team members. Along with competitive salaries, they can expect a personal pension, BUPA, life insurance, occupationally relevant training and even financial support in pursuit of relevant professional qualifications.
"As an organisation, we can only ever be as good as the people who work for us," says Julie Asher-Smith. "That's why we've tried so hard to create an environment that values their talent, encourages their creativity and gives them the resources to make a real difference to the industry and the lives of the young people they support."
For more information on our career opportunities, click here.