Sixth-form colleges have been driven to "tipping point" through repeated funding cuts, the body that represents them has said, after FE Week exposed a sharp drop in top Ofsted grades.
Our exclusive analysis, using the same methodology as Ofsted's own annual report, has shown an eight-point fall in those with a grade one or two for 2017, compared with the previous year.
This week saw two SFCs fall from 'outstanding' ratings in the last two days: John Ruskin College in Croydon, and King Edward VI College in Stourbridge.
Until 2017, the number of SFCs receiving the top two ratings had climbed every year since 2012.
It rose from 72 per cent five years ago to an impressive 89 per cent in 2016.
But figures to September this year show that the proportion rated 'good' or 'outstanding' had dropped to 81 per cent.

The Sixth Form Colleges Association's deputy chief executive, James Kewin, pointed out that Ofsted boss Amanda Spielman had acknowledged "a tipping point" at which funding levels start to harm quality and the curriculum offer at the SFCA conference in June.
He believes it is "very possible we have now reached that point".
"Colleges have done everything they can to protect exam performance and in doing so have had to cut back on the support services they can offer students," he said.
"But the two are inextricably linked, and outcomes will inevitably dip if colleges are forced to exist on starvation rations for much longer."
Despite the fall, the SFCA said the sector was "still performing extremely well", given that over 80 per cent are rated 'good' or 'outstanding'.
King Edward VI drop to grade two, while John Ruskin fell to grade three.
John Ruskin was criticised for being "slow to address the decline in standards", with too few learners completing courses and achieving qualifications and teachers "failing to engage and motivate learners fully". Managers were said to not be tracking the progress of apprentices accurately, particularly those managed through subcontractors.
Although it remained a 'good' provider, Ofsted raised concerned that too many of the "most able students" at King Edward VI were not achieving the grades they were capable of and sufficient support was not provided for students wanting to progress directly into employment and training.
In 2016/17, eight sixth-form colleges fell from the top two grades to the bottom two.
Among these were Holy Cross College in Bury, which fell from 'outstanding' to 'requires improvement', and Leicester's Gateway SFC which dropped from 'good' to 'inadequate'.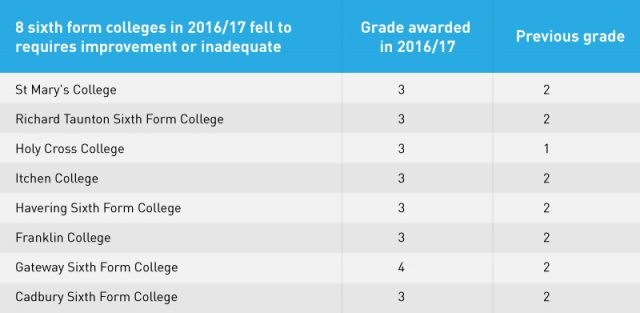 During the same period just two colleges climbed into the higher tier: Strode's College in Surrey, and Bilborough College in Nottingham, which both rose from grade threes to twos.
A survey published this week by SFCA found that the cuts to 16-to-19 funding has forced two thirds of colleges and schools to cut extracurricular activities and student support services.
Ofsted was asked to comment on FE Week's findings.