New applicants trying to get onto the refreshed apprenticeship provider register have been left hanging by the government six months after its launch, and officials can't say when they'll be told if they've been successful.
The register of apprenticeship training providers finally reopened on December 12 with more "stringent and challenging entry requirements".
This was more than a year after the last window closed – a time period which left my providers wanting to get on frustrated. Some even exploited a loophole and attempted to buy their way on.
It is our aim to assess applications within 12 weeks
Since the register's reopening, FE Week understands the Education and Skills Funding Agency has received a higher than anticipated number of new applicants.
This will largely be because the register now requires all subcontractors delivering apprenticeships to be listed on it, including, for the first time, those delivering less than the previous threshold of £100,000 a year.
The ESFA's "aim" is to assess applications within 12 weeks.
But none have been added to date. At the time of reopening the register in December, 2,571 providers were on it. In an update published this month, it went down to 2,545.
Numerous organisations have got in touch with FE Week to express their frustration at the delay and want to know what the hold-up is.
A Department for Education spokesperson couldn't shed any light on the situation or say when the new providers will be added.
"As outlined in our guidance it is our aim to assess applications within 12 weeks," she said.
"However, there may be occasions when this will take longer as we have been working through the applications to ensure we are consistent and robust.
"More details on the next stage of applications will be available in due course."
All providers currently on the register are being asked to reapply in segmented groups throughout this year – with those that are deemed "high risk" and not delivering training being invited first.
FE Week analysis in December showed that almost a third (580) of providers on the register did not deliver any apprenticeships last year.
Any providers without any delivery within a 12-month period face being removed, under the new strict rules.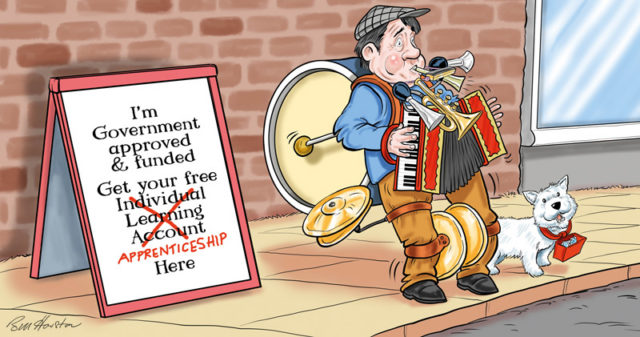 The government began inviting reapplications in January. If all of the inactive providers were chosen to be reassessed at the beginning of this year that might go some way to explaining why the ESFA hasn't got around to sorting the new applications yet.
Key changes to the register include that it will stay open indefinitely – meaning that providers can apply on a rolling basis, rather than having to wait for an application window.
New questions during the application process have been introduced to "test a provider's ability to deliver" high standards.
There will also be greater scrutiny: companies will have to have traded for 12 months at least in order to be eligible for application and provide a full set of accounts to be on the register.
All providers can make two applications to RoATP within a 12 month period.
The changes come after FE Week has reported extensively on the problems with the original application process, and discovered, for example, one-man bands with no delivery experience being given access to millions of pounds of apprenticeships funding.