The new boss of the Institute for Apprenticeships is not giving anything away. After 37 years in the military, Sir Gerry Berragan seems more comfortable dealing in facts than stories about his life.
But this might be just the kind of discipline the organisation needs, after a year under a caretaker chief executive and a list of gripes from employers and providers as long as the Bayeux Tapestry.
To this end, the institute's first official publication, issued shortly after Sir Gerry's appointment in November, was a stroke of genius. The simple two-pager, 'Faster and Better' was all substance and no style, and promised to rationalise processes and accelerate decisions.
In short, if the IfA is aiming to project a much-needed new front of efficiency, it's working. All that's left now is to deliver.
I want to take on responsibility. I want to lead people
It has promised a fuller explanation of the new process in early February, designed, Sir Gerry avers, to "reduce the time and the pain that trailblazers go through in developing these things. Because I understand that they're all busy people and they've got day jobs too."
The new boss's understanding reaches beyond empathising with employers, deep into the world of training and apprenticeships. Less than a decade ago he was in charge of training for the entire army, which is "probably one of the biggest providers of apprenticeships in the country".
During his three years as the army's director of recruiting and training, he oversaw the plan to map all its internal training, onto what he calls "civilian standards" such as NVQs or BTECs. As framework apprenticeships came in, they took a similar approach, so by "maybe seven years ago, about 85 per cent of people who joined the army as soldiers were on apprenticeships."
These are the kind of facts the former adjutant-general is willing to share. But asking Sir Gerry about his own life feels a bit like trying to solve one of those puzzles on the Crystal Maze. There's a list of details, both personal and professional, that he has decided he's willing to divulge, but you don't know what they are, or in which part of his 60-year life history they lie.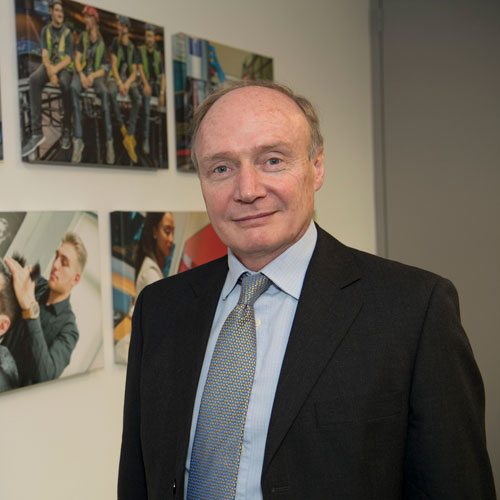 A service child himself – he's a fourth-generation serviceman – he grew up all over the world, in so many places he claims he can't remember exactly where and when. "I enjoyed my time in Malaya but I was probably between six and nine, I think," he says, while Germany and Hong Kong were also in the mix.
So were there any places that left a particularly strong impression on him when traveling the world as a military kid? "Not really, no."
He's similarly quiet about what inspired him to join up, but admits that his itinerant childhood no doubt influenced his personality: "I do think that life gave you a degree of resilience, because you were moving, you were making new friends, you were sort of self-reliant from quite a young age."
He applied to Sandhurst at 19, shortly after completing his A-levels. And while he denies that was a childhood ambition, he did know university wasn't for him – he was too keen to "get out there and do something and have some adventures". So after trying his hand at "all sorts of odd jobs," he decided civilian life was too boring and joined up in 1979.
The difference between a non-graduate who decides to apply to the officer track, as he did, and one who joins the ranks is "a lot to do with willingness and preparedness to take responsibility. So if you go in as an officer you're basically saying, 'I want to take on responsibility. I want to lead people'."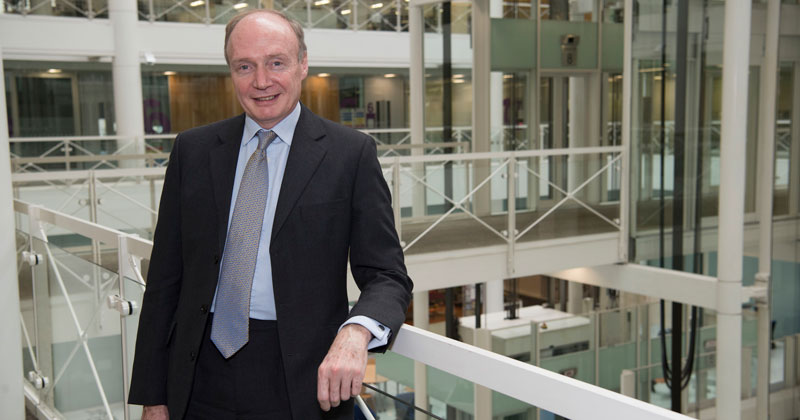 This statement of purpose seems an apt description of a man who has held command appointments in the army at pretty much every level all the way up to adjutant-general – which is only one rung from the top.
Having chosen a leadership path, that was indeed what he got: by 22 he was already training troops of 30 recruits, tasked with turning them from "civilians into soldiers" over about three months.
"That was tremendous fun, really seeing the transformation in those guys," he recalls. "When they came through the door they wouldn't look you in the eye, they'd shuffle their feet, they had their hands in pockets, and by the end they talked to anyone, they were confident – they just had an aura about them."
Some of the recruits had no qualifications from school, and he found it satisfying to watch them grow in confidence as they passed their army exams. The experience obviously marked him, and remains part of why he has a passion for his current role.
Sometimes youngsters don't see the point of some of the education they get at school
"I think sometimes youngsters don't see the point of some of the education they get at school, whereas with vocational it's got a reason and it leads to something tangible. And I think that's why that's always stuck with me," he says.
Ten years later he passed the competitive staff college exams and was put onto an army fast-track, leading initially to a posting in the first Gulf War as a brigade chief of staff.
Over the next couple of decades, he moved up the ranks in postings across the UK and worldwide, including in Germany, Canada and Kenya, until, on returning from Baghdad at the end of 2007, he was handed what he describes as "a huge job" as director of recruiting and training. He attempts to provide an idea of the scale of the task. There were about 25,000 people working for him, and that was just the staff, on something like 30 sites, spread around the country.
While Sir Gerry's personal area of expertise was gunnery, army training isn't just about preparing troops for combat. Construction engineers, for example, receive basic training and combat engineer training before going on to become bricklayers, plasterers, plumbers, electricians, or even air-conditioning engineers.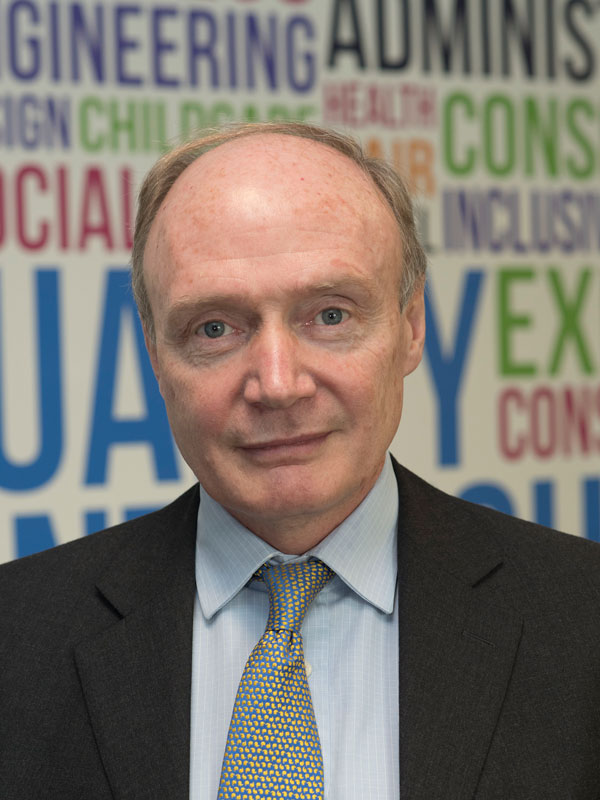 The army is often required to build camps that are effectively entire towns, he explains, pointing to the famous Camp Bastion in Afghanistan.
"Back in 2005 it didn't exist – it was a blank piece of desert, 20 miles from the nearest town. And within three years it was a town the size of Basingstoke with two hospitals, an international airport that was almost as busy as somewhere like Gatwick," he recalls. "It had catering facilities, it had accommodation, it had drainage, it had water supplies, it had electricity supplies, you name it."
After three years Sir Gerry became director of personnel, before rising 18 months later to the rank of adjutant-general, responsible for everything from recruiting and training to personnel, career management, the Sandhurst officer academy, and even schools for service children.
"In effect I had my own local education authority spread around Brunei, Germany and the Falklands," he quips.
And then at the end of 2015, after 37 years' service, he decided it was time to retire from the military, but insists he "never stopped enjoying it".
I'm prioritising where I speak and who I go and see on the basis that I really need to be around here quite a lot of the time
After such a storied career, some might decide it was time to tend the allotment, but Sir Gerry soon began looking around "to see what things I could usefully do with my background and what could I contribute". That's when he saw the advert for the board at the Institute for Apprenticeships.
His experience made him a natural fit, but he was the only person from a public sector background on the board – most are employers, with a couple from FE and one from an independent training provider.
Unsurprisingly, perhaps, he has high praise for the IfA's governance body: "I think it is fantastically diverse and really cohesive board. I was amazed at how they were all very accomplished in their own fields, and I think they've been a good sort of governance mechanism for the Institute as it has developed."
After six months on the board, his decision to move from governor to chief executive wasn't a given; in fact, he insists he wasn't looking for a full-time job, and it wasn't until the board's recruitment committee had been through two unsuccessful rounds that he decided to put himself forward.
So what flicked the switch?
He describes a working dinner with the chair, the former Barclays chief executive Antony Jenkins, and fellow board member Dame Fiona Kendrick, who chairs Nestle UK, during which it began to dawn on Sir Gerry that he might be the person for this role.
The three were meeting in their capacity as the board's strategy group, and Mr Jenkins was relating their trouble finding a suitable candidate. "That was a frustration," explains Sir Gerry, "because we knew Peter [Lauener] was going to retire at the end of the year, there was a bit of an imperative to get someone in place."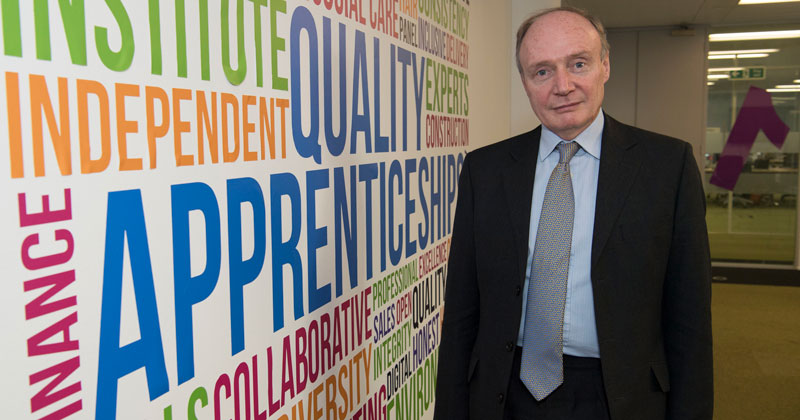 The group's conversation turned to other matters, but an idea had begun to form in Sir Gerry's head. Over the course of the two-hour meal, he mulled it over quietly, and then "at the end I said 'look, you know, if it helps then I'll throw my hat in the ring'. And that's why I am where I am," he concludes, matter-of-factly.
A "mini recruitment phase" followed, "to make sure everyone was happy", including interviews with the chair and one of the other panel members, and also with skills minister Anne Milton, after which he was offered the job.
The somewhat unconventional way in which he was selected – without competing directly against other candidates – meant that he has been appointed only for a two-year period.
But in contrast to the IfA's previous chief executive, Sir Gerry doesn't see himself as a caretaker boss.
"I think two years is quite a long time," he declares. "I think you can do quite a lot in two years."
Mr Lauener, he points out, was appointed additionally to his role at the head of the Education and Skills Funding Agency, and "he was basically trying to do both jobs for most of that year".
His successor, however, has "no other distractions". "I'm on this full time," he insists, though he's equivocal on what happens after two years, when he would have to reapply: "Let's see when that comes."
You can do quite a lot in two years
Mr Lauener's deputy, Michael Keoghan, who was in charge of much of the day-to-day running of the institute, has since left to pursue his "dream job" as chief economic advisor for the Department for Business, Energy and Industrial Strategy. But the handover has been positive: "Luckily, we've had the best part of two months together and he's been giving me a lot of really helpful, constructive advice."
They won't be hiring another deputy, in favour of a chief operating officer, whose appointment should leave the new boss more time in the field.
"At the moment I'm prioritising where I speak and who I go and see on the basis that I really need to be around here quite a lot of the time," he explains. "Once I've got a chief operating officer in place I can get out more."
Tomorrow is Sir Gerry's 60th birthday, and it seems an appropriate moment to wish him all the best for the next phase of his professional life. By all appearances, at least, the IfA appears to be in steady hands.