32-year-old Jo Maher was recently appointed principal and CEO of Lincolnshire's Boston College, so how is she coping with the pressure of such a high-profile job? FE Week went to find out.
When leading an institution of tens of thousands of students through a massive, systemic overhaul, there are a variety of attitudes one can take.
The stance adopted by the principal of Boston College reminds me of an elite sailor in an ocean race, watching the weather to predict the next squall, bringing her sails to optimal tension at the precise moment it hits.
"If they hold back the proliferation of apprenticeship standards to harmonise the T-levels behind them," she says, when I suggest the skills minister's attention might be divided between T-levels and apprenticeships, "then it's good to have a handle on both. Because the initial concept was this 20-per-cent difference…"
Firing her words fast and with precision – weaving talk of FE college strategy with the language of high-performance – it's not long before Jo Maher loses me. And since I get the feeling she's too generous to notice, I help us both out by professing an ardent interest in something more concrete: the trajectory that brought her to be principal of the Lincolnshire FE college, barely 10 years after graduating from university.
I'd like to be judged on my competence, not my age
"I'd like to be judged on my competence, not my age," she declares. "For me, it's about building that credibility, based on my actions."
Ofsted gave her just that opportunity last November: as she was preparing to pack up for the Association of Colleges' annual conference in Birmingham, she got 'the call'. But the 32-year-old insists she wasn't fazed.
"I'm very calm in my style," she explains. "I've been through that many Ofsted inspections now, that having one eight weeks into post… my staff team were confident, calm and controlled."
The sports psychology graduate has been working in colleges since she was a student, initially as a sessional lecturer at Loughborough College and running their netball academy while studying for her masters at Loughborough University. She applied for a full-time job as she was finishing her degree.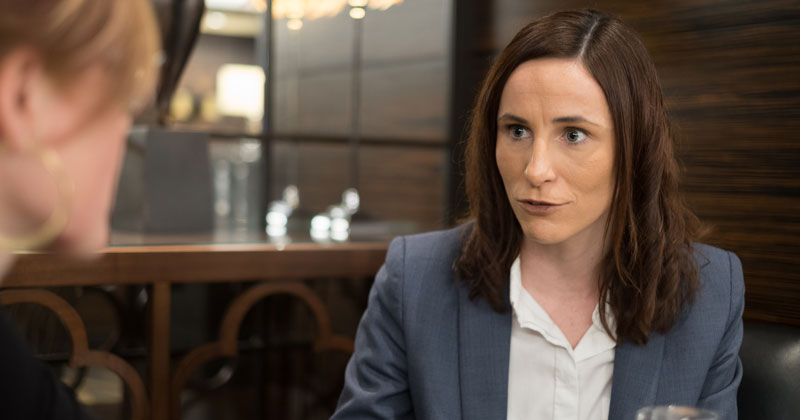 "The day I handed in my thesis, I started my full time contract the next day … I've always been busy and had a lot of energy," she says – aware she isn't the norm.
In her capacity as a sports psychologist, she has supported Olympic athletes, professional golfers and rugby players, worked with Crewe Alexandra football club and WorldSkills Team UK, all the while working her way up steadily through the ranks of the college world.
"I was very passionate early on in my career that I wanted to go through every single level," she insists, "so I progressed naturally through."
Maher attributes her incredible work ethic to this background in sports.
"I think my competitiveness within my career is because I had to retire from sport young," she admits, recalling an injury sustained at Loughborough, a stress fracture in her back. "I should still be playing football, really. I'm only 32, I should be still playing at the level I retired at."
The ex-club footballer's backstory is somehow mundane and remarkable at the same time.
I should still be playing football, really
At the age of seven, she used to jog two and half miles to get a lift to the stables on the weekend to earn herself free horse rides: "I've always been fit, I've always been into horses, and that was the work ethic; if you can muck out 12 horses at seven in the morning in minus two, you just develop it."
A love of horses – and animals in general – runs in the family; her mum joined the mounted police immediately after school, and she traces her lifelong obsession back to her grandad's work with shire horses on the milk floats in Liverpool. Her dad, also from a working class family in the centre of the port city, wasn't sporty, but she has a fond early memory of him helping her mum prepare for the fitness bleep tests, post-maternity, in a car park.
"He put the cones two metres wider so she thought it was really hard," she says. "And he knew on the day she'd breeze it."
After taking her GCSEs at a comprehensive in her home town of Widnes, near Liverpool, Maher took five full A-levels at a local sixth-form college.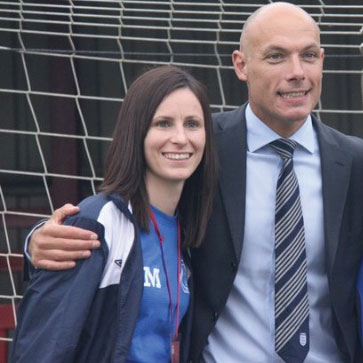 Desperate to get the two As and a B required for Loughborough University's prestigious sports science course, she took PE, "obviously", biology, which was required for the course, adding English literature and language as her strongest subject, and then to hedge her bets she threw in psychology and general studies, just to increase her chances of getting enough top grades.
She stayed at Loughborough College for nine years after graduation, progressing from sessional lecturer right the way through to head of department, during which time she taught "the whole suite of FE, higher education and apprenticeships". This was followed by two years as assistant principal at Reaseheath College, a specialist land-based college in Cheshire.
WorldSkills came calling in 2012, because of the work she was doing with an Olympic athlete, and her first global tournament was in Leipzig. Since Maher was the first psychologist used by Team UK at WorldSkills, she found herself building a programme from scratch, including a whole series of boot camps to prepare the competitors both physically and psychologically.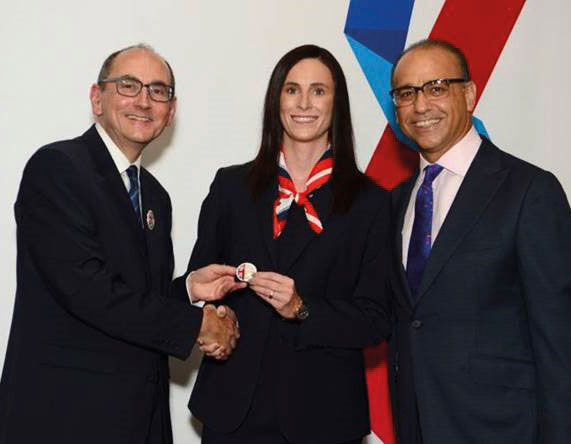 "It doesn't matter if you're a welder or a beauty therapist. We're looking at high performance, how they cope under pressure."
While there was plenty that could be transferred from the world of elite sport, some challenges were intense in a different way: "If you're a 100-metre sprinter, you're performing five times potentially for 10 seconds. Some of these are 16-hour competitions. It's brutal."
Sustaining that over three or four days, psychologically, can be draining, and Maher accompanies the student competitors to the venues and is available for them throughout.
"I'm their 24/7 psychological support. If they ring me at three in the morning in my hotel room because they're having an anxiety attack, guess who's there?" she says.
Despite taking the top job at Boston, she still went to WorldSkills in AbuDhabi last October as the team's practitioner psychologist. As well as an ethical commitment to the mission, she explains that after supporting the team for two years, "to withdraw three weeks before wouldn't be the right thing". She has donated the money from WorldSkills to a charitable fund, supporting learners from her college with aspirations – whether they need travel to an international sports competition or simply access to a food bank.
If you're doing a good job, any auditor, any inspector can come in on any day, because that should be the level that you are performing at
A sports evangelist, she points out that "if physical activity was bottled as a tablet and people just had to take it, it would be bigger than antidepressants". The trick is getting people to make the lifestyle change before the platform is burning, which is why she's big on wellbeing initiatives, such as coffee-and-chat breaks, or "getting staff to own physical activity and invite their peers along, because it builds self-efficacy".
Having attended university with elite athletes and future England football players, Maher doesn't seem to question the premise that one should aim for excellence in every aspect of life.
"I've come out of the world of sport," she says, "Olympic-standard, where we talk about marginal gains and one-per-cents, and we want reflective practitioners who are always aspiring to get that extra second."
She applies the same philosophy to her college, which, despite having just received its second 'good' Ofsted rating, she insists is "really on that journey to 'outstanding'".
It is not uncommon for leaders of educational establishments to admit, when pressed on whether there is really a difference between 'good' and 'outstanding', that the distinction is moot, inspectors' judgments are unreliable, there's unconscious bias, and it's always going to be something of a fluke whether you get a grade two or one.
But the idea doesn't seem to compute: "My clear message to the staff is that if we have no external quality-assurance tomorrow, what does excellence and high performance look like for Boston?" she responds. "If you're doing a good job, any auditor, any inspector can come in on any day, because that should be the level that you are performing at. And I really believe in the staff team to do that."
It's a personal thing
Best work trip?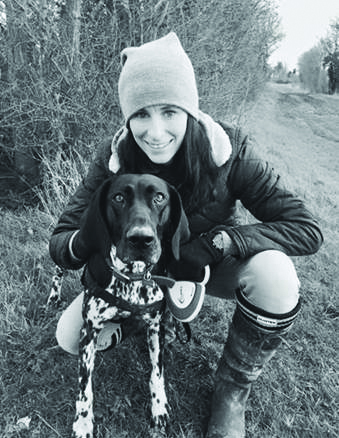 It has to be Turkmenistan. We went with Loughborough University to consult on building their capacity to host the Asian indoor martial arts games. I went in as a sport educationalist to see how they would train their coaches, infrastructure and staff to improve in the world rankings.
Best memory of a sports tour?
Playing netball against the Trinidad and Tobago under-21 national team in Barbados. I dislocated my shoulder, put it back in my socket and carried on, but it was an unbelievable experience. We did yoga on the beach every morning.
Ideal gift?
An experience. Either to a different country – I love travelling – or to a fine dining restaurant, but I don't really like opening things.
Favourite book?
Sue Grafton's alphabet crime series. She wrote the books all the way up to Y, then she died this Christmas – I was gutted.
What motto would you like your staff to see every morning?
Wake up every morning with energy, enthusiasm and resilience.
This article was corrected on 05/02/18 to reflect the fact that Maher worked at Loughborough College, not Loughborough University.