Skills Funding Agency funding and programmes director Keith Smith (pictured above) has warned college leaders they were facing a "huge challenge" when the apprenticeship levy allows subcontractors to receive funding directly from the government.
He said the changes could have a serious impact on college funding, during an update he gave in a breakout session at the Association of Colleges annual conference, in Birmingham on Wednesday (November 18).
"Colleges are spending at the moment just under 20 pence in the pound on apprenticeships," he said.
"However, in the adult world … over 40 per cent of that you are subcontracting out. "So if you convert that into how much money is going directly to you, in worse cases it is an average of less than 10 pence in the pound.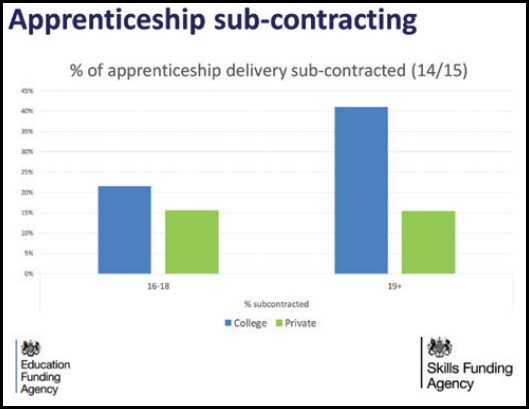 "You might be benefiting at the moment from subcontracting bringing money in, but from April 2017 those subcontractors will take that capacity and they will get funded directly through the apprenticeship voucher system." Mr Smith advised colleges leader to think carefully about how to address these issues, adding: "This is a huge challenge for you."
The government's large employers' apprenticeship levy reform changes set to come into action in April 2017 will mean that colleges no longer have a funding allocation for apprenticeships. Instead, employers will be able to approach subcontractors to work directly with them, potentially leaving colleges in the cold.
Mr Smith said he proposed a "two-fold" challenge to colleges — firstly to do more apprenticeships and secondly to rethink their delivery models and structures for securing business.
In response to a question from FE Week, asking how serious the problem is and what colleges could doing, Mr Smith said: "In a model where the provider is the central element of the funding system I think the subcontractor and the college can plan that sort of strategy. I don't think that strategy works at all in the system we [SFA] are talking about designing. So I think it is a huge problem."
He said many of the subcontractors colleges used were also prime contractors in their own right and added: "I would have to seriously question the motives for some of that and of course those organisations will need no encouragement at all to say 'yes' to employers."
Mr Smith said colleges should not waste time in addressing the challenges the apprenticeship levy would bring.
He advised conference audience members that it was "hugely important — you don't think about this in a year's time when the detail of the new system is finalised. You must be thinking about this now."