A member of the Commons Public Accounts Committee has "serious concerns" about the government allocating one provider up to £40 million in nine months to teach a controversial management consultancy apprenticeship.
Layla Moran, the Lib Dem education spokesperson, was responding to an FE Week analysis that showed the level 7 accountancy/taxation professional standard had 3,250 starts from November 2017, when it was approved for delivery, to July 2018.
As the standard has an upper funding band of £21,000, these starts would have used up to £70 million in 2017-18 from the apprenticeship levy pot.
In total, 88 per cent of the starts between November and July were delivered by four providers – Kaplan, Financial Limited, BPP Professional Education Limited, Ernst & Young LLP, and First Intuition – with Kaplan delivering 59 per cent on its own, which would be worth up to £40 million.
Apprentices on this course can expect to go on to careers as management consultants, financial accountants, management accountants and business and tax advisers, according to the Institute for Apprenticeships and Technical Education (IfATE).
This includes jobs at big financial advisory firms such as Deloitte, Ernst & Young and KPMG, which helped to develop the standard.
Level 6 and 7 apprenticeships have proved controversial after the IfATE estimated the apprenticeship budget could be overspent by £0.5 billion in 2018-19, rising to £1.5 billion by 2020-21.
A National Audit Office apprenticeships progress report earlier this month warned there was "clear risk" that the apprenticeship programme was not financially sustainable after the average cost of training an apprentice hit double what the government predicted.
The problem –despite a dip in the number of starts – is the result of higher per-start funding than first predicted, largely driven by the sharp rise in expensive management apprenticeships, which FE Week was first to warn about in 2016.
Last week the Association of Employment and Learning Providers made the radical proposal that all level 6 and 7 apprenticeships, including those with integrated degrees, should be removed from levy funding to relieve mounting pressure on the budget.
And on Monday, the Department for Education's permanent secretary admitted to the PAC that "hard choices" would need to be made in the face of the imminent apprenticeship budget
overspend.
Asked whether the government should be limiting the use of the apprenticeship levy, Moran said: "While I cannot pre-empt the committee, my personal view is there are serious concerns about both cost and the subsidising of qualifications, such as level 7 accountancy/taxation
professional, at the expense of lower-level apprenticeships that do actually need taxpayers' funding.
"This will become a greater issue when money is tight, and qualifications such as this one should be the first to be excluded."
In March last year, Anne Milton, the skills minister, told a House of Lords inquiry that fears of a "middle-class grab" on apprenticeships were valid.
The accountancy/taxation professional standard is the most popular level 6 or 7 apprenticeship, with 5,790 total starts to December 2018; about 1,000 more than the second-placed chartered manager degree standard.
But scrutiny of the providers that offer the standard is thin.
Although Kaplan was graded "requires improvement" by Ofsted last year, it would not have been inspected on its level 6 or 7 provision, including the accountancy/taxation professional standard, as the watchdog only inspects up to level 5.
Inspectors criticised Kaplan's managers for not having "sufficient information about apprentices' progress so that they can act quickly when apprentices fall behind".
They also found its "talent coaches do not always set apprentices sufficiently challenging learning targets, and as a result, too many apprentices do not complete on time".
When FE Week shared the analysis of the standard with Amanda Spielman, Ofsted's chief inspector, she said she "very much hopes people will see the logic in us doing level 6 and 7
apprenticeship inspections".
She also discussed her concerns about repackaged graduate programmes now being sold as apprenticeships (see below).
When asked about its provision of the accountancy/taxation professional standard, and for comment on the AELP proposal, a Kaplan spokesperson said: "We continue to support the
government's strategy on apprentices."
BPP declined to comment on its provision of the accountancy/taxation professional standard, as did Ernst & Young and First Intuition.

---
'Graduate schemes are completely unscrutinised'
Ofsted's chief inspector is worried that some level 6 and 7 provision, which includes "repackaged
graduate schemes", is going "completely unscrutinised" because of government policy.
Speaking at FE Week's Annual Apprenticeship Conference this week, Amanda Spielman said these "expensive" apprenticeships were "high-cost programmes that soak up a lot of money".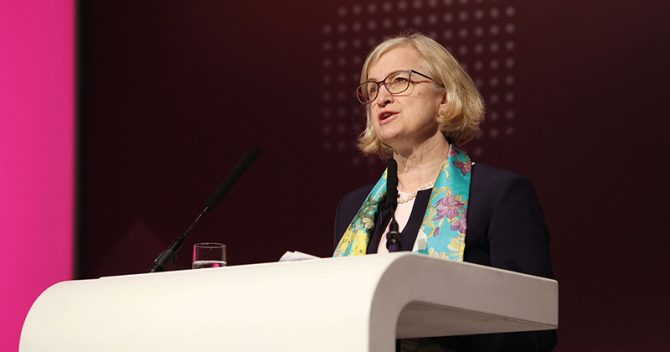 She referred to how graduate schemes were, in effect, being "repackaged" as apprenticeships, an
issue she raised in her 2017-18 annual report.
She was also concerned that Ofsted could not inspect level 6 and 7 apprenticeships and if the standard did not have a degree element, it would not be regulated by the Office for Students (OfS) if the provider offering it was not on the office's register, as revealed by FE Week in November.
"There are places that go completely unscrutinised because they don't come within OfS arrangements and they don't come within our space."
Spielman said the first FE inspection she observed found a large accountancy firm had "very clearly" turned its tax graduate trainees into level 4 and 7 apprentices.
But because of a policy decision made by the government and "not us", Ofsted could only inspect the level 4 provision, while in another room level 7 apprentices were not being reviewed.
"It was very clearly a graduate training programme that existed for many years that had been reframed slightly to make sure it genuinely did meet the requirements, but nevertheless was the kind of training that firm would have always have been providing and paying for," she told FE Week.
"We were there to look at only one piece of this graduate traineeship programme, which made for an extraordinarily artificial conversation."
Asked if she would like Ofsted to inspect level 6 and 7 provision, Spielman said: "I very much hope people will see the logic in us doing it."
Higher level apprenticeships now make up more than a quarter of the number of starts, which the chief inspector said "narrows the options for the third of young people who leave school without a full level 2 qualification".