The selection process for the new register of apprenticeship training providers has been branded an "omnishambles", after providers with no delivery experience whatsoever have found their way onto it while numerous huge, established colleges have missed out.
The Skills Funding Agency this week published the full list of 1,708 providers which will be eligible to deliver apprenticeships from May, whittled down from 2,327 applications.
Many colleges with significant current apprenticeship allocations, including Bournemouth and Poole College, Hartlepool College, Birmingham Metropolitan College and Northbrook College, have expressed dismay after they didn't make it onto the list.
To add insult to injury, FE Week analysis shows, for example, that one person operating from a rented office in Knutsford, Cheshire has succeeded in getting their three companies, Cranage Ltd, Obscurant Limited, and Tatton Solutions Ltd onto the approved 'main route' register – even though none of these companies has any experience of running government-funded apprenticeships.
The shadow skills minister Gordon Marsden told FE Week that the register was "looking like an omnishambles".
He continued: "I fear that this reflects the concern I've been expressing for months that the SFA just doesn't have the resources to carry out due diligence on this scale.
"The SFA should now give a clear indication of how thorough the checking process has been."
Cranage, Obscurant, and Tatton Solutions were all incorporated between August and December 2015, and their first sets of annual accounts are due within months.
Another private training provider, the Hertfordshire-based Apple Training Academy, is on the RoATP despite having ceased trading, while the Essex-based Firm Training only launched in February 2017 – from a residential address (see below).
A DfE spokesperson told FE Week that "all providers were given a clear set of criteria they had to meet, in order to ensure they can receive public funds for apprenticeship training: due diligence, financial health, capacity and quality".
He continued: "We will provide personalised feedback to all providers who do not make it onto the register to help them understand what they need to do to be successful in the future."
The process was geared towards "ensuring excellence for apprenticeship provision", and it "cannot compromise on our commitment" to rigorous quality tests.
The director of Cranage, Obscurant, and Tatton Solutions is Peter Sherry, the former chief executive of the National Skills Academy Logistics which went into liquidation in 2013 after the Skills Funding Agency pulled its financial support.
Obscurant is also on the old register of training organisations (Roto) – but Cranage and Tatton are not.
Mr Sherry confirmed that just 16 people work across all three companies, but added that with Cranage, which still has no official website, "we are still effectively looking at where we will run".
"We are looking at senior management qualifications," he added. "But in doing those we want to see whether we can work with a third party, maybe even a college or another prime."
The SFA declined to comment on whether connected companies were supposed to apply for the register, though Mr Sherry said: "We are finding employers, now in control of apprenticeships funding, are often now looking to work with a number of different specialist smaller companies. That is the model we plan to follow."
He added: "Some employers see it as a massive advantage that you have not offered apprenticeships previously. They like it if we come to them fresh and with a different approach."
The inclusion of his firms on RoATP will surprise many in FE, who were led to believe that only providers with a firm track record in delivering apprenticeships would be allowed onto it, in order to maintain quality.
Peter Lauener, the head of the SFA and shadow chief executive of the Institute for Apprenticeships, told FE Week's Annual Apprenticeship Conference a year ago that the new register was being introduced "to make sure any provider available for an employer to use meets the right standards".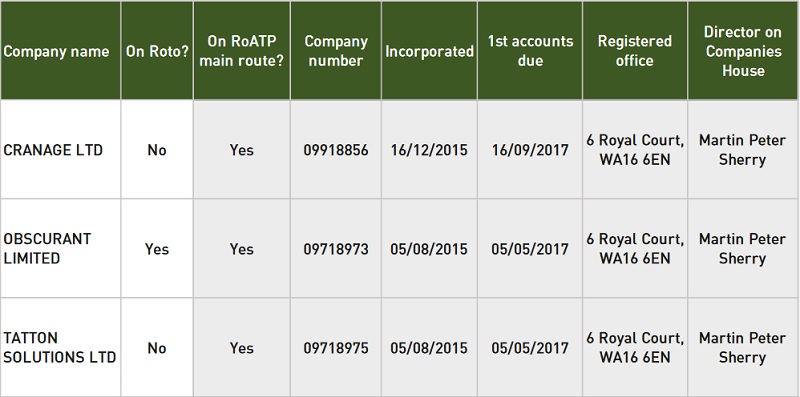 Small distance learning provider 'delighted'
An Essex-based private provider has been accepted onto the RoATP despite only being incorporated in February last year, apparently from a residential property.
Firm Training says it delivers distance learning specialising in online access to higher education for courses including nursing and midwifery, according its website.
However there is no evidence of the provider having any experience of running government-funded apprenticeships training.
It is not on the SFA's general register of training organisations and its website lists no address.
Firm Training is however registered on the UK register of learning providers to a residential property in Essex.
FE Week asked Firm Training if it had ever delivered government-funded apprenticeships, and what types of apprenticeships it would offer now it's on the register.
A spokesperson would only say: "I would like to say that we are delighted to be added to the register and are now situated in an office (waiting for the registered address to be amended)."
Firm stops trading days before register success
A private training provider is on RoATP despite having ceased trading.
Hertfordshire-based Apple Training Academy is listed as a main provider on the register, but is understood to have gone out of business this month.
FE Week has been unable to contact Apple Training Academy directly, as the provider's phone is no longer working and our emails have not been answered.
However, a spokesperson for the provider's accountants, Lawrence and Company, confirmed it had ceased trading and was currently going through insolvency.
Apple Training Academy is not listed on the SFA's current register of training organisations, nor does it appear on the SFA's subcontractor list.
According to its website, which is still up and running, it had offered a range qualifications in health and social care, child care, business and management, and training.
A news story posted on February 27 indicated that it would be offering apprenticeships from May.
"New apprenticeship funding is available from 1st May. Don't miss out!" it said.
The provider's Facebook page is full of comments from angry customers who have lost money, having paid for training but not received it.