Senior figures from across the FE world gathered for the official launch of the Learning and Work Institute (LWI) at London's Canary Wharf.
The new organisation was formed through the merger of the National Institute of Adult Continuing Education (Niace) and the Centre for Economic & Social Inclusion (Inclusion).
More than 100 guests, including Jeremy Benson, executive director for vocational qualifications at Ofqual, David Harbourne, acting chief executive of The Edge Foundation, and Carole Stott, chair of the board of the Association of Colleges, attended the launch at JP Morgan, on Wednesday (January 13).
David Hughes, former chief executive of Niace, who has taken up the role of chief executive at LWI, thanked them for showing support, adding he assumed they would agree the organisation's new website was "sexy".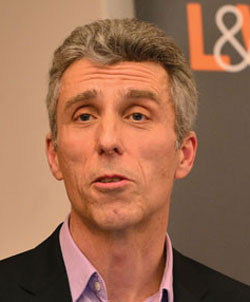 He said: "It is great to see so many friends of both Niace and Inclusion.
"I hope you realise how excited we all are about the new organisation. The logo of course is brilliant, the branding is amazing, the new website is really quite sexy, I'm sure you'll agree."
"We have a very ambitious vision," added Mr Hughes. "We don't think that everyone has equal life chances and can realise their potential in life and are ambitious to change that."
"We really want to make inroads into poverty and disadvantage. To achieve that, we have to work with all of you [bodies represented by the guests]."
"On the one hand this is a new organisation," said Mr Hughes. "But we also want to continue the legacy of two really, really important long-standing organisations [Niace and Inclusion]."
Reflecting on what learning and work will mean to LWI, he said: "By 'learning', we mean expansive lifelong, all forms, all types and for all sorts of people."
"We have a very broad sense of what that means and we think 'work' needs to be a good experience," he added.
Other speakers, including Jeremy Moore, director general at the Department for Work and Pensions, and Matthew Taylor, chief executive of the Royal Society for the encouragement of Arts, Manufactures and Commerce (RSA), reflected on how their organisations had worked with Niace and Inclusion in the past and could now help the new organisation achieve its aims.
The other speakers were Hang Ho, head of Europe, Middle East and Africa, JPMorgan Chase Foundation, and Helen Chicot, skills and employment manager, economic affairs at Rochdale Borough Council.
A spokesperson for the LWI, which launched its website on Tuesday (January 12), told FE Week on Tuesday (January 12) that no staff members from either body had been laid off as a result of the merger.
Niace, based in Leicester, and Inclusion, based in London, announced their alliance in February 2015 and said at the time that future merger could not be ruled out.
The full merger and was confirmed at the IntoWork Convention on July 14, 2015.
The new name of the LWI had previously been approved by Niace members on November 4.
[slideshow_deploy id='43542′]